Food delivery offers unrivalled convenience. You get to enjoy delightful meals at home while avoiding grocery trips. If cooking, food subscription boxes will help cut down on the cooking time (it's possible to put together a meal in 10 minutes!) and take the guesswork out of cooking. 
There are plenty of diverse food delivery services available in the UK. You can opt for pre-prepared meals, desserts, vegan meals, calorie-conscious foods, and even a fine-dining experience without the need to ever leave your house.
In this article, we have compiled a list of our top picks for meal delivery services that are bound to accommodate your food preferences.
Best recipe boxes.
Hello Fresh.


HELLO FRESH
£47 off your first order
#1 recipe box delivery service, dinner is solved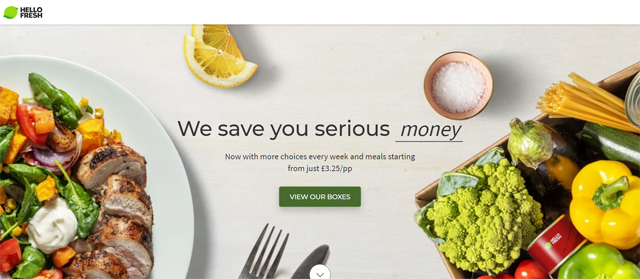 Hello fresh is one of the leading and most recognizable food delivery services in the UK. A great perk of their meal kit is the time-conscious recipes. For instance, in 20 short minutes, you can prepare and enjoy a delicious meal of soy and honey chicken, served with rice and green beans. 
The Hello Fresh meal subscription boxes also ensure that your meals are interesting. You can experiment with new ingredients and try new recipes. If the kitchen is not your strong suit, you can utilize their recipe cards which feature pictures of the various steps. The meals start at £3.25/ pp.
Gousto.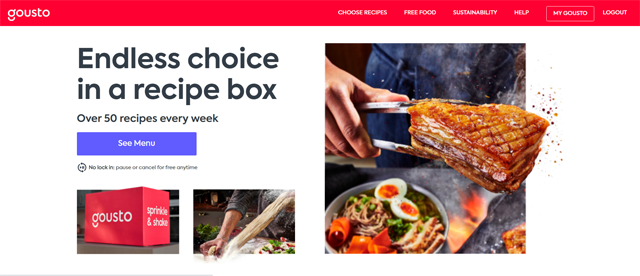 With Gousto, everyone is bound to find meals that they fancy. Their ingredients are just enough to prepare your meal which cuts down on food wastage. You can choose from over 50 recipes each week (cooked from 10 minutes) and create your perfect food box. 
Gousto acquires all their meats from trusted suppliers in the UK. All their meals come with a serving of varying vegetables. This makes it very easy for you and your kids to consume and enjoy your daily greens.
To get you started on Gousto, you can grab a deal of 50% off of your first box.
With this deal your meals will cost you as low as £1.99/ pp. You can also receive £15 credit by referring a friend.
Feast Box.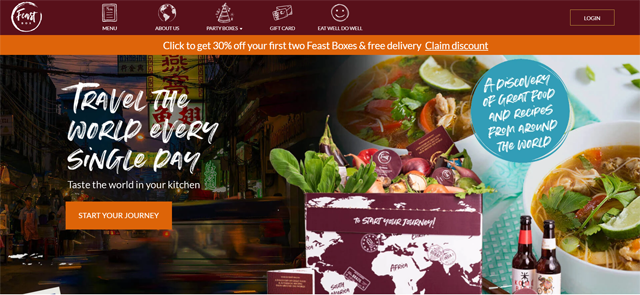 With Feast Box, cooking truly is an adventure. Their recipes feature meals from around the world, using ingredients that you'd normally never pick up. You can make Indian, Chinese, Korean, Japanese, Thai, etc dishes right at home.
We also appreciate that Feast Box has absolutely delicious vegan and vegetarian options. A plus with this meal recipe box service is that they recommend the perfect wines to go with the food.
Feast Box has an amazing offer for first-time users of the service. You can get £10 off your first order and a free bottle of wine to go with it! With this deal, the cost of meals starts from £2.60/ pp. You can also refer a friend and earn £10 credit. 
Pasta Evangelists.

If you are passionate about pasta then this recipe box service is perfect for you. Their pasta is authentic and simply delicious, and the accompanying sauces are made from the finest Italian produce. The meals come together quickly with some requiring as little as 5 minutes!
You can choose from recipes such as Sea Bass Ravioli with a sage butter sauce and Tagliatelle with Beef Ragù. Pasta Evangelists also includes vegetarian and gluten-free meals in their menu.
Best Pre Prepared Meals.
Modern Persian Kitchen.
Are you a fan of Middle Eastern cuisines? If yes, you absolutely need to try this food delivery service. Their meals are varied, and you'll get to experience modern cooking infused with the rich Persian culture. Needless to say, Modern Persian Kitchen delivers hearty, flavourful, ready to eat meals. 
All-Plants

As the name would suggest, All-Plants caters to individuals on a plant-based diet and vegans. The company works with nutritionists to ensure that your meals are not only delicious, but also balanced, healthy, and nourishing. With all-plants, you'll only need to reheat your meals before diving in.
Best recipe boxes for health and fitness. 
Mindful Chef.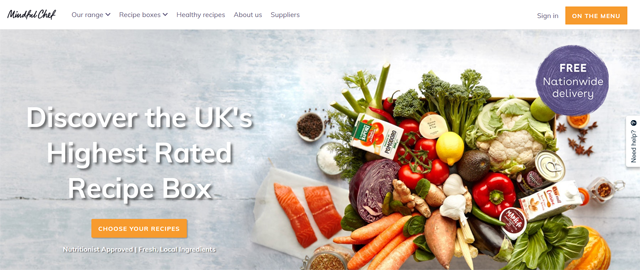 There are lots of reasons to love the Mindful Chef meal recipe box service. First, all the meat delivered is free-range, grass-fed, or sustainably caught. Mindful chef makes it a lot easier to eat healthy and ethically as all ingredients are also gluten-free, dairy-free, and devoid of refined carbohydrates.
In addition, the company is charitable. Mindful Chef donates a school meal to a needy child for every meal bought from them. There are also vegan and pescatarian meal options.
Mindful Chef has an offer of 25% off your first 4x boxes. With this offer, you can eat healthy and ethically from just £3.94/ pp. If you tell a friend about the service, and they end up buying from Mindful Chef, you'll earn a £10 credit.
Fresh fitness foods. 
If you are into health and fitness, you'll definitely love Fresh Fitness Foods. The company works with nutritionists and Michelin Star trained chefs to ensure that your meals are delicious and match your specific nutritional requirements. 
You can easily track macros with the Fresh Fitness Food App. Regardless of your fitness goals, the team at this recipe box company will tailor a bespoke plan for you and help you attain your objectives.
Dishy. 
Dishy is the perfect meal recipe box service for vegetarians and individuals following a plant-based diet. With meals such as the Mushroom and Hazelnut Rigatoni and their tasty Veggie Burgers, you are bound to love Dishy. 
This company is also very environmentally conscious. 
Best Michelin starred food boxes.
Tastily.
Tastily allows you to enjoy global cuisines that have been crafted by a Michelin star trained chef. These exotic cuisines include meals such the Moroccan lamb Tagine and Jamaican Jerk pork. 
With the Tastily food boxes, you get to enjoy healthy meals without compromising on flavour, or having to endure the troubles of cooking. All their meals come with a minimum of 3 portions of veggies and have 400-500 calories. 
Love Yourself.
Michal Snela, a chef who has worked in a Michelin restaurant, is the man behind this meal box service. As can be expected, the meals delivered are top-notch. 
Love Yourself delivers you freshly made food on a daily basis. A box comprises five meals, i.e., breakfast, lunch, dinner and two snacks. The meals are pre-made and only require a few minutes of reheating.
A plus with this company is that they don't use processed meats, additives, or preservatives. 
One Fine Dine.
With One Fine Dine, you can celebrate a special occasion or treat yourself to a fine-dining experience from the comfort of your home. The dishes delivered are truly spectacular and only require a few minutes of reheating in the oven or microwave.
To elevate your fine dining experience, you can expertly plate your food using their pictorial flashcards.