How to claim your free Carfume discount code
Click on the 'Get Code' button, copy your free Carfume discount code from a new window and proceed to the Carfume website.
Create your order and continue to checkout. Once when you're at checkout, you'll see an empty text box for your discount code on the right. Paste your free Carfume discount code and click 'Apply'.
Once your discount is applied, enter your contact information and shipping address on the left. Select a shipping method, change billing information if needed, and choose a payment method. Enter your payment details, review and place your order.
About Carfume
Carfume offers a variety of premium car fragrances. It was founded in 2019 in the UK, with a mission to enhance the driving experience for its customers. In addition to car fragrances, it also offers cute Carbears in four colours (pink, blue, grey, and white). There's a wide range of fragrances to choose from, so you'll surely find the one that suits you and your senses. Your fragrance should last you around 4 weeks, and once you need more, you can simply order a refill from Carfume. All Carfume Original and Premium fragrances are UK made. 
Carfume Delivery
When ordering to the UK, you can choose between Standard Delivery, available for £1.50, and Express Delivery, available for £3.95. If you select Standard Delivery, your order will be dispatched the following working day and will arrive within 5 working days from the dispatch date. With Express Delivery, your order will be dispatched on the same day if placed by 10.30 am, and will arrive within 2 working days from dispatch. Carfume delivers its orders outside of the UK, as well. Delivery rates and time will depend on the location you're ordering to, and will be displayed at checkout.

Carfume Returns Policy
If for any reason you want to return a product you've ordered from Carfume, you should first contact its Customer Service via email. Products can be returned within 14 days of the purchase date, as long as they are unopened and in the original packaging. If the product has been opened, Carfume may offer you a credit note. You should cover the shipping charges when returning the product, however, Carfume may offer you a refund once it receives the product.
Carfume FAQs
Do Carfume sell refills for their air fresheners?
Yes, you can find them under the 'Refills'. Select a refill suitable for your Carfume fragrance (Original, Premium, Deluxe, or Carbear), and remember to change the corkscrew to avoid oversoaking and to maximise the effectiveness of your fragrance.
Is there a Carfume subscription?
Yes, Carfume does offer subscriptions. When placing your order, you can choose between a one-time purchase and a subscription. To subscribe, pick a product, and select a delivery frequency before placing your order. Once you subscribe, you'll get 15% off your order. You can easily manage your subscription from your subscription dashboard. 
Does Carfume offer a student discount?
Yes, Carfume offers a 20% student discount. To access your student discount, you must verify your student status with Student Beans.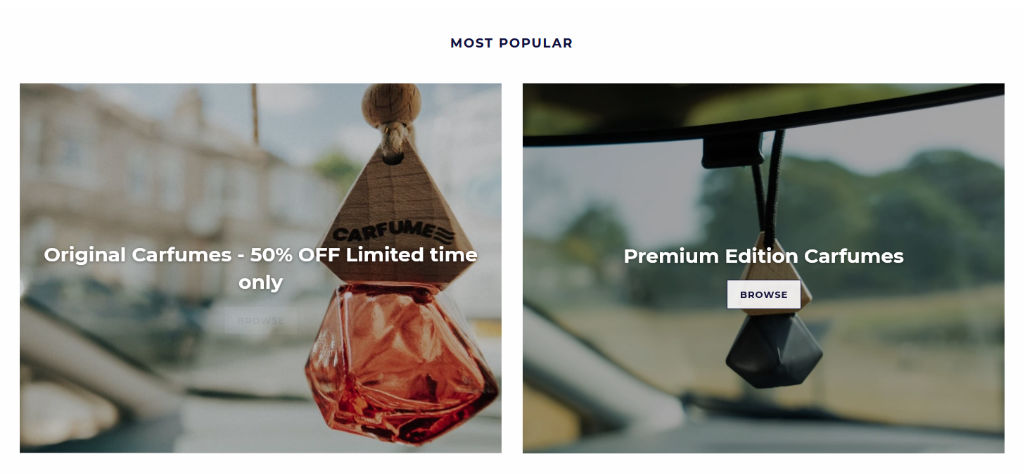 Is there a 'Sale' section on the Carfume website?
Yes, there's a 'Sale' section on the Carfume website. There you'll find all of the items on sale, as well as limited edition items from previous collections.
Is there a gift wrapping service?
When placing your order, you can add a gift bag to your order. The medium gift bag is available for £3.95, while the large one is only £4.95. You can fit one product in the medium bag, and up to 5 (or one of the gift sets) into the large one. Your products will be wrapped in tissue paper and a ribbon will be hand-tied to the gift bag. 
Are Carfume fragrances cruelty-free and suitable for vegans?
Yes, Carfume fragrances are cruelty-free and suitable for vegans so you can enjoy them guilt-free. 
Does Carfume have a rewards programme for its customers?
Yes, Carfume has a rewards programme you can join free of charge. With a Carfume rewards programme, you'll have a chance to get some special offers. You'll earn points as you shop, and you'll get £2 for successfully referring a friend to Carfume (your friend will get £2 off, as well).

Carfume Reviews
Carfume has nearly 500 reviews on reviews site Trustpilot and has an average rating of 4.3 out of 5 stars. Customers have praised the quality of both the products themselves and the customer service the company provides.