How to claim your Graze discount code?
Claiming your free Graze is a seamless process. Start by clicking the get code icon and copy your free discount code.
Proceed to the Graze website and select the type and number of snacks that you want to purchase and add them to your basket.
Click the checkout icon. You can either log in to your account or use the guest checkout option.
Paste your free discount code on the empty discount code box and click apply.
Enter your contact information, shipping address and wait for your Graze order to arrive.
About Graze
Graze is a company that offers healthy snack choices. By using the best plant-based ingredients that nature has to offer, the company has come up with a wide range of quality snacks, perfect for anyone. Regardless of your flavour preferences, you will get wholesome and delicious snacks that never use artificial flavours, colours or even preservatives. All you need to do is let the taste experts know what you like and voila, you will get your snack preferences tailored specially for you. By offering a wide variety of snacks, Graze plays a huge role in looking after our planet as well as the people who make them. And with the company being a Certified B corp, you are not only assured of quality products but also those that benefit the planet, workers and the entire community.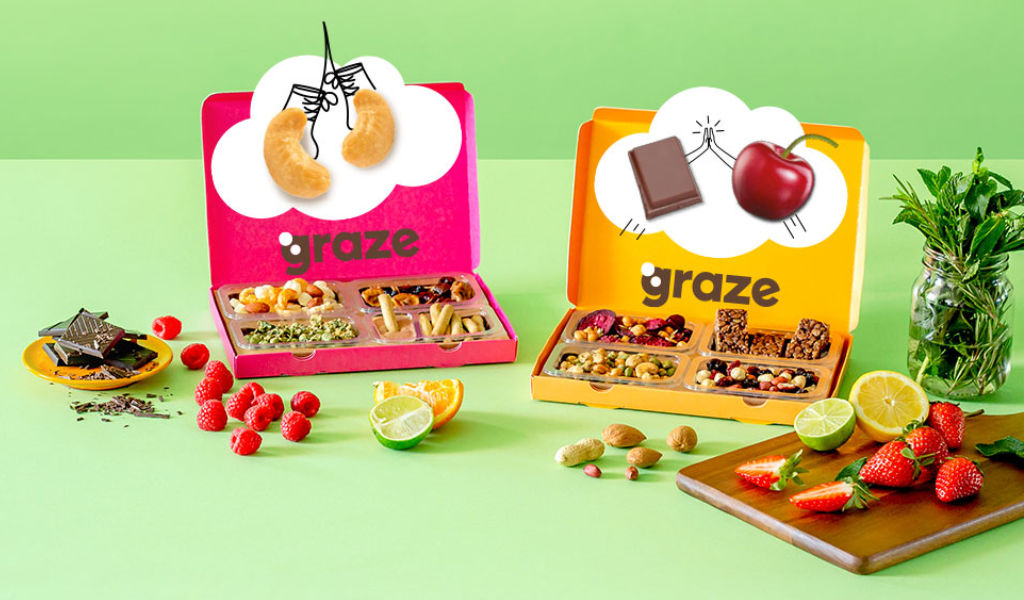 Graze Delivery
Graze ensures that your snacks are delivered promptly throughout the UK, Netherlands and the Republic of Ireland. Your order should take approximately 3-5 days to arrive. You will be charged £2.80 for standard deliveries. However, orders over £20 will be delivered at no extra charge. All premium deliveries will be shipped via APC for £5.80. If you place your order before 2 pm, you will receive it the next day excluding public holidays and Bank holidays. All orders over £40 will be delivered via premium delivery at no extra charges.
Graze Returns Policy
You will love your Graze snacks. However, if you have any issues prompting the need to return your purchases, reach the Graze team on email via shop.uk@graze.com.
Graze FAQs
What is a graze box?
A graze box is a snacks subscription where you get to customize your snack preferences. 
How much is a graze box?
Normally, a graze box costs $4.49. However, you even get a better offer by paying half price (£2.24) for your first box.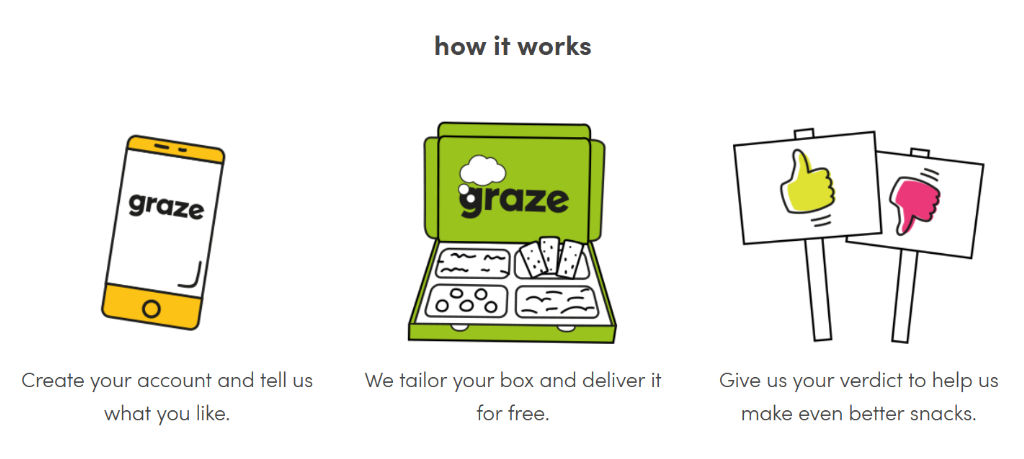 I love my graze box! Can it be delivered weekly?
Yes. Your Graze box can be delivered weekly, twice weekly or even fortnightly.
What if I am not around during the delivery period?
If you plan on travelling or even have had an emergency making you unavailable to receive your Graze order, you can snooze it on your Graze account. And when you get back, you can reactivate your subscription.
How can I cancel a graze subscription?
If you need to cancel your graze subscription, the company ensures that you do this seamlessly. Log in to your Graze account and cancel your subscription from your orders page or your boxes list.
Does graze offer high-protein snacks?
Graze has a wide variety of snack options. If you are looking for high-protein snacks, you will be spoilt for choice. Get to choose your favourite high-protein snack from the wide variety including the marmite peanuts multipack, natural protein nuts multipack and the sweet & salty veggie protein power multipack as well as others.
Can I add gift messages to my order?
Yes. You can add gift messages to your order. However, this is only available for Graze four-snack gift boxes. Gift messages cannot be included with other snacks such as sharing bags, multipacks or even bundles.
Can I cancel my Graze order?
Graze ships your orders promptly. As such, it is not possible to cancel or amend your order after you've placed it. Ensure you double-check all the details to avoid costly mistakes such as your delivery address.
Can I still buy Graze snacks if I have allergies?
If you have allergies, Graze products may not be suitable for you. This is because the foods are packed in the same place, hence the risk of cross-contamination. Graze snacks may contain eggs, soya, nuts, gluten, sesame, mustard and even peanuts.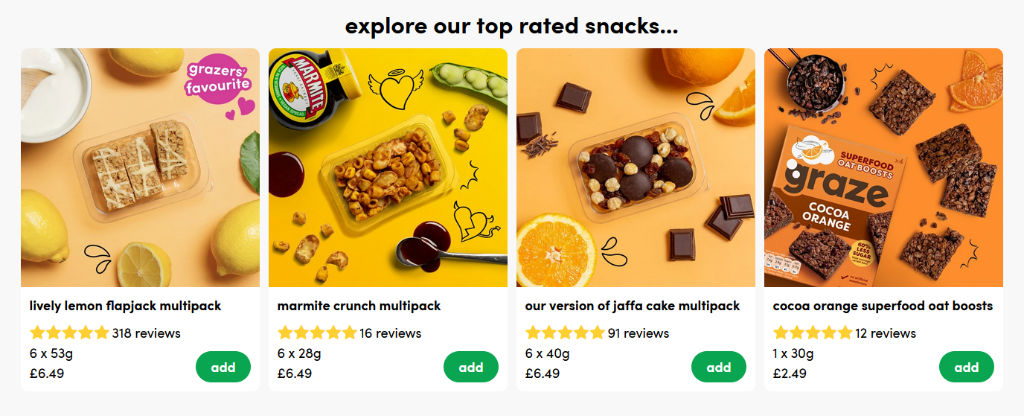 How can I contact Graze?
If you wish to contact Graze, reach the team via email at hello@graze.com. You can also use the contact form on the Graze website.
Graze Reviews
Graze has a 41. Rating among 3,317 reviews on Trustpilot. The customers love the healthy and delicious snacks, the wide variety of snack options, speedy deliveries and excellent customer service. 
Our Graze referral codes can offer significant savings when making a new purchase.We update our promotional codes frequently, so make sure to check back before making your purchase.
Check out the latest Graze referral codes to make huge savings. At Newbie Deals, we actively seek out the best offers for our readers to ensure you make significant savings. If Grazev offer a refer a friend program, we'll publish it. If they offer a discount code, we'll show it. If they have an exclusive offer, you got it, we'll bring it to you. By shopping with Newbie Deals and taking advantage of our Graze referral codes, you can ensure you get the best deal in town.
Why Use a Graze Referral Code?
Simply put, it can save you money, and who doesn't like making savings? With Newbie Deals, you can save on your next Graze purchase, by simply using our links. When you use our referral codes(or refer a friend scheme) nothing else changes other than the price you pay, it really is as simple as click, buy and save.