How to claim your free musicMagpie discount code
Click on the 'Get Code' button, copy your free musicMagpie discount code, and proceed to the musicMagpie website.
Click on the 'Start Shopping & Renting' button and you'll be redirected to the musicMagpie online shop. Find a product you'd want to buy or rent. Add it to you basket, add insurance and accessories if needed, and continue to basket.
Add your free musicMagpie discount code above your order's total, and once your discount is applied, click on the 'Checkout Securely' button.
Select your prefered checkout method, fill out all of the required information, and pay for your order.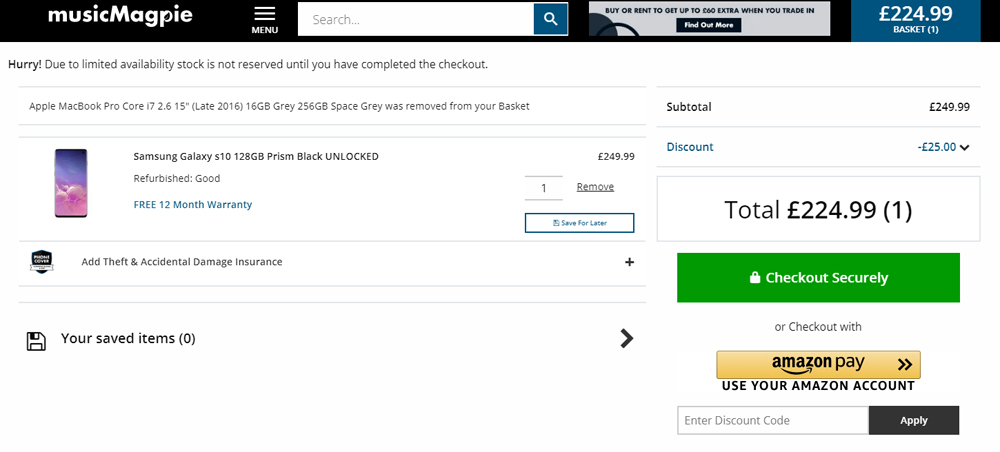 More electronics brands similar to Music Magpie
About musicMagpie
musicMagpie is a perfect place to buy or rent certified refurbished phones and tech, or to sell your unwanted tech, games, books, and more. With more than 6 million happy customers, over £300 millions paid, and several awards won through the years, musicMagpie is the UK's top recycling service. You can use musicMagpie to buy, rent, or sell phones, tech (such as tablets, smart watches, iPads, and more), tech accessories (including cases and protection, headphones, speakers, and more), and consoles, accessories, and games, as well as CDs, DVDs, and books. You can even sell your authentic LEGO® bricks, as long as they are in good condition. When selling with musicMagpie, you'll get the first they offered or you'll get your stuff back, free of charge. 
musicMagpie Delivery
When selling your items with musicMagpie, you can send them for free.Once you complete your order, you'll get an email with everything you'll need to send the items. Pack all of the items you're selling in one box (you can use any suitable box). And if you're shopping or renting from musicMagpie, your order will by default come with a standard delivery option, free of charge. You can upgrade to express delivery at checkout but you'll be responsible for all additional charges. Tech items with individual value of £750 or more will be delivered via Royal Mail Special Delivery service, free of charge, as well. Tech orders should arrive within 2-3 working days, while for Media orders you'll have to wait 3-7 working days. To read more about the delivery, refer to the 'musicMagpie Store Help Centre' on the musicMagpie website.
musicMagpie Returns Policy
If any of the items (both Tech and Media) you've received is faulty, you can return it free of charge with a returns label provided by musicMagpie. However, if you're returning an item because you simply don't want it anymore, you'll be responsible for any shipping charges. You can return an item for a refund or a replacement (depending on stock levels). To read more about the returns process for both Tech and Media, refer to the 'musicMagpie Store Help Centre' on the musicMagpie website.
musicMagpie FAQs
Is there a warranty on items bought on the musicMagpie website?
Yes, musicMagpie offers a free one year warranty for all tech items bought on their website. The warranty period starts on the day you place your order. You can read more about what is covered and what is not if you select 'Warranty' from the menu on the bottom of the musicMagpie website.
Does musicMagpie have an app?
Yes, musicMagpie has an app you can get for free on Google Play Store or download on the App Store. Use the app to turn your phone's camera into a barcode scanner, allowing you to sell your stuff faster.
Does musicMagpie have a student discount?
Yes, musicMagpie has a student discount. You'll get 10% off if you want to buy pre-owned CDs, DVDs, books, and more, or get 10% extra cash if you want to get rid of your unwanted stuff.
Does musicMagpie have a referral programme?
Yes, musicMagpie has a referral programme. For every successful referral, you'll get £5, and a friend you've referred will get £5, too. Get your musicMagpie referral code and share it with your friends. You can refer as many friends as you want.
musicMagpie Reviews
If you're looking for musicMagpie reviews, you'll find more than 200,000 customer reviews on Trustpilot. With a TrustScore of 4.6/5 stars. musicMagpie is rated as excellent. It's ranked in the top half among companies in several categories on Trustpilot, including 'Online marketplace' and 'Cell phone recycling and unlocking service'.
Our Music Magpie referral codes can offer significant savings when making a new purchase.We update our promotional codes frequently, so make sure to check back before making your purchase.
Check out the latest Music Magpie referral codes to make huge savings. At Newbie Deals, we actively seek out the best offers for our readers to ensure you make significant savings. If Music Magpiev offer a refer a friend program, we'll publish it. If they offer a discount code, we'll show it. If they have an exclusive offer, you got it, we'll bring it to you. By shopping with Newbie Deals and taking advantage of our Music Magpie referral codes, you can ensure you get the best deal in town.
Why Use a Music Magpie Referral Code?
Simply put, it can save you money, and who doesn't like making savings? With Newbie Deals, you can save up to 20% on your next Music Magpie purchase, by simply using our links. When you use our referral codes(or refer a friend scheme) nothing else changes other than the price you pay, it really is as simple as click, buy and save.