How to claim your free Ordnance Survey discount code
Click the 'Get Code' button, save your Ordnance Survey discount code, and continue to the Ordnance Survey website.
Find a product you want to purchase and add it to the bag. Proceed to checkout.
Select your preferred checkout method, and click on the 'Add a discount code' link below the items in your bag. Paste your Ordnance Survey discount code, and click on the 'Add Code' button.
Enter your billing address on the left and change your delivery address if needed. Continue to delivery. Choose a method for your delivery, and continue to payment.
Accept the Ordnance Survey Terms & Conditions and pick a payment method. Enter your payment details and place your order.
More outdoors brands similar to Ordnance Survey
About Ordnance Survey
Ordnance Survey is British mapping agency that's surveyed around 240,000 square kilometres of GB. Today, it has become a big data powerhouse that offers not only printed leisure maps but digital maps, GPS devices, and a selection of outdoor gear, from towels and picnic blankets to camping equipment and more. Each day, it makes up to 20,000 updates to its database. Pick a walking, hiking, or cycling route, and enjoy the fresh air while exploring stunning routes across Great Britain.
Ordnance Survey Delivery
When ordering to the UK, place your order by 4 pm on a weekday. Standard Delivery will take up to five working days, while your order will be delivered on the next working day if you select the Next Day Delivery. However, you should know that Custom Made maps will take one additional day for printing. Handmade products (such as framed and canvas products) may take 10-12 working days to be dispatched. You'll see the estimated delivery date once at checkout and you enter your address and pick your delivery method. Your order will be delivered via Royal Mail. Standard UK Delivery is available for free, while for the Next Day Delivery you'll have to pay £3.99.

Ordnance Survey Returns Policy
Before returning an item, you should first contact Ordnance Survey Customer Service. If the items you're returning are under £100, send them to FREEPOST Ordnance Survey, while for the items over £100, Customer Service will arrange a secure collection. Unwanted items can be returned within 14 calendar days of receiving the order. For additional information, visit the 'Delivery and returns' page on the Ordnance Survey website.
Ordnance Survey FAQs
Is there an Ordnance Survey map app?
Yes, there are Ordnance Survey apps that will help you make the most of your time outdoors. Download the OS Maps, Secret Stories, GetOutside, or OS Locate app and see what each of them offers. All apps are free to download.
Does Ordnance Survey offer gift items like map puzzle books?
Yes, Ordnance Survey offers gift items. You can browse them by price (under £25 and under £50) or interest (for walkers and dog walkers, for time out with friends & family, for cyclists or runners, and for children).
Can I use Ordnance Survey maps offline?
Yes, if you're a subscriber to OS Maps, you can download maps for offline use. There are two methods you can use, you can either download a map for a route or download a specific area. The list of maps you've downloaded will be available in the menu under 'My offline maps' and 'Custom offline maps'.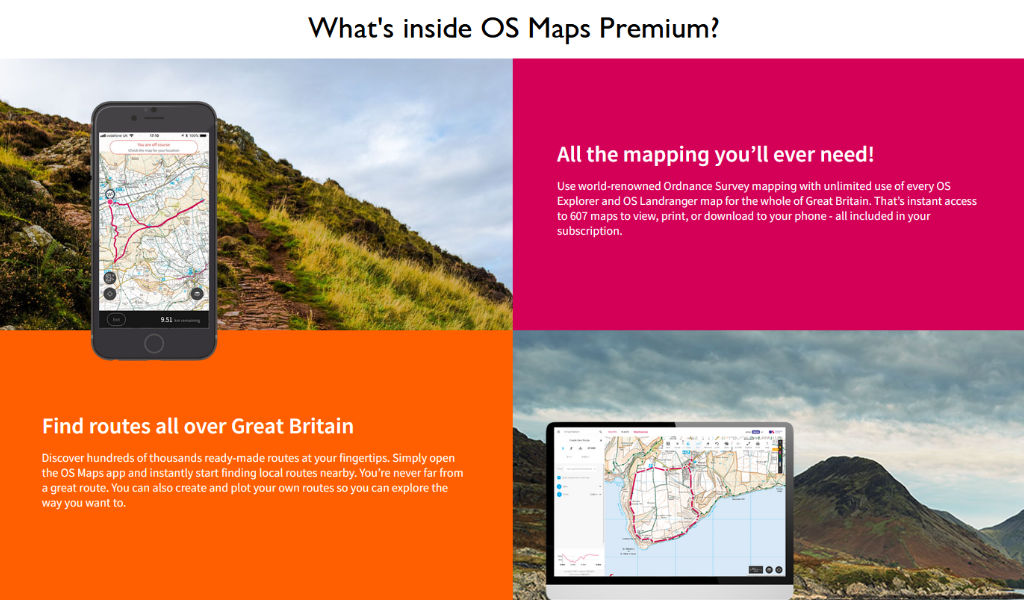 Can I get a duplicate of the Custom Made map I've ordered before?
If you contact Ordnance Survey within 6 weeks of your initial order, you'll be able to get a duplicate of your Custom Made map. If more than 6 weeks have passed, you'll have to remake your map.
What types of maps does Ordnance Survey offer?
Ordnance Survey offers various maps such as OS Explorer, OS Landranger, OS Tour, OS Road, and many others, suitable for different activities. Read more about each of these maps so you can make an informed decision when choosing which map is right for you.

Ordnance Survey Reviews
If any of the products you're interested in has reviews, you'll see them on the product page, below the product title. With more than 35,600 reviews on App Store, the OS Maps App has a 4.7/5 star rating and is rated as #11 in Navigation.
Related Offers


Lifeventure is a global retailer of durable outdoor gear. It offers products that are brightly coloured and easy to spot in an emergency, as well as practical and secure storage solutions for the adventurous lifestyle. Don't forget to take advantage of our 20% off Lifeventure discount code for you to add at the basket. 



Lifesystems is a global leader in outdoor living and emergency preparedness gear. They offer essential survival and first aid equipment for outdoor explorers, adventurers, campers, hikers, and anyone looking to explore the great outdoors. Lifesystems products are designed to provide peace of mind no matter where you explore. Invest in the best equipment and receive an extra 20% Lifesystems discount code to use at checkout.