How to claim your free Pasta Evangelists discount when you refer a friend. 
You can use Pasta Evangelists refer a friend programme to send a friend £10 off their first order. You'll also receive a £10 discount during your next purchase. 
At the top of the Pasta Evangelists website, click on the "Offers" tab, and select "Refer A Friend."
Click on "Get £10 off."
Fill in your name and email address and click on the "Register" tab.
You can share the link with your friends or tell them to use your name at checkout.
Once your friends are done shopping at Pasta Evangelists, they'll need to click on the "Been referred by a friend?" link at checkout, and enter your name.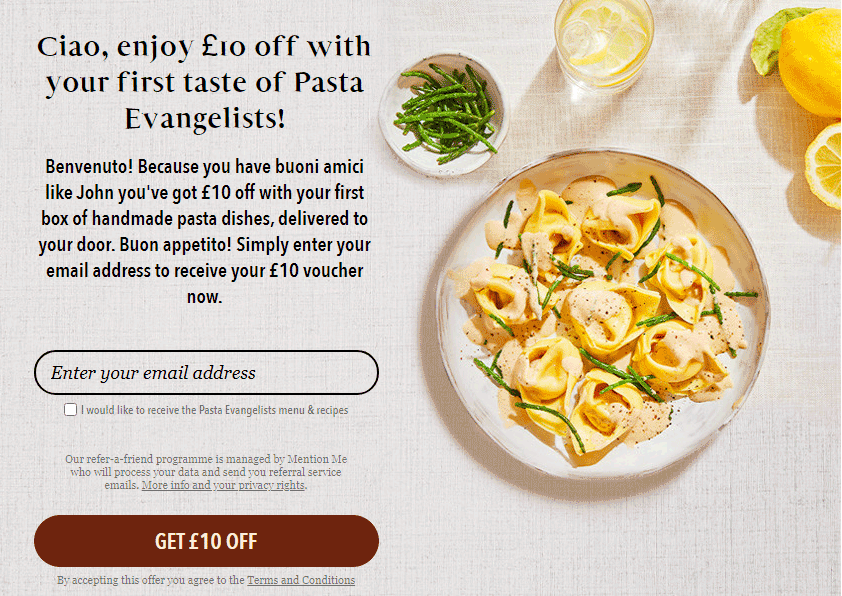 More prepared meals brands similar to Pasta Evangelists
About Pasta Evangelists.
Pasta Evangelists was founded by Alessandro Savelli in 2016 with one mission: to make pasta taste better. He is dedicated to bringing fresh and quality pasta to homes across the UK. 
Each week, you can choose from a selection of 15 tasty pasta recipes. You'll receive all that you need to prepare restaurant-quality pasta at home including, fresh pasta, sauces, garnish, and even cooking instructions. Your pasta is delivered chilled, and you can choose any day of the week for your delivery. 
Pasta Evangelists uses responsibly and sustainably sourced ingredients for their recipes. They acquire their ingredients, including their authentic sauces and garnishes, from Italy. This Pasta delivery service is also very kind to the planet. They have a model designed to minimize food waste, and they use recyclable and reusable packaging to deliver your food. Pasta Evangelists also gives back to the community.  

Pasta Evangelists Delivery.
Pasta Evangelists deliver their mouth-watering recipes, all across the UK, every day of the week. They offer next-day delivery for orders made before 2 pm or 8 am on Sundays. 
In some of the regions outside mainland Britain, e.g Channel Islands and Northern Ireland, Pasta Evangelists will only deliver from Tuesday to Saturday. 
Pasta Evangelists Return Policy.
Pasta dishes are highly perishable, and as such, Pasta Evangelists does not accept returns. If you're unsatisfied with your delivered pasta meals, you can request for a refund or a replacement delivery from the online retailer. 
Pasta Evangelists FAQs.
Does Pasta Evangelists offer vegan and vegetarian dishes?
Yes. You can choose from a number of vegetarian and vegan dishes offered on their weekly menu. These dishes will have an icon indicating that they're vegetarian or vegan. 
What comes in my Pasta Evangelists box?
When you make an order from Pasta Evangelists, you'll receive everything that you need to prepare restaurant-quality pasta at home. This will include fresh pasta, sauces, garnish, and even cooking instructions. 
Where can I find the nutritional information for my Pasta Evangelists meals?
You can access all the nutritional information for your pasta dishes through the recipe cards that come with your order or via the Pasta Evangelists website (select the recipe from the weekly menu and scroll down to read the information). 
How long do Pasta Evangelists recipes keep for? Can I freeze them?
You can store your recipes in the fridge for up to a day after delivery. You can also opt to freeze them for up to a month. Your recipe booklets will include heating instructions for the dishes. 
What happens if I'm not home during my Pasta Evangelists delivery?
You can issue instructions on a safe place where your package can be left if no one will be home to receive it. These instructions will be applied to future deliveries, and you can update the information as needed. 

Can I skip a week of Pasta Evangelists delivery?
Of course! Pasta Evangelists offer a highly flexible service. You can choose to have recipes delivered on the regular when it suits you. You can also pause, skip, or cancel your subscription at any time. 
Is Pasta Evangelists packaging recyclable?
Yes. Pasta Evangelists are committed to sustainability, and therefore, they'll deliver your delicious meals in boxes that are 100% recyclable. You can also choose to freeze their ice packs and use them later or send them back to the company free of charge. 
How do I contact Pasta Evangelists customer services? Do they have a phone number?
You can either email the Pasta Evangelists customer services through chef@pastaevangelists.com or call them through 020 3828 7042. 
Pasta Evangelists Reviews.
Pasta Evangelists has an excellent 4.5-star rating on TrustPilot from over 2,700 reviews. Customers are delighted with the delicious and fresh pasta, and their customer service. 
Pasta Evangelists has an equally as impressive 4.6-star rating on Google Reviews. 
Related Offers



If you find yourself with little to no time for cooking, KBK's Meal Prep can deliver freshly prepared cooked meals straight to your door and even better you get it an an incredible new customer discounted rate. Newbie Deals have teamed up to offer you an exclusive KBK Meal Prep discount code with up to 40% off! They offer free nationwide deliveries and use sustainable packaging so that the environment is not negatively impacted by these convenience-based purchases. You do not need any prior food preparation experience or skills - simply choose from one of their many meal plans depending on how much weight loss/gain you are looking for (1lb per week). Alternatively they have a list of all ingredients required in each recipe along with calorie information available online if desired! This service seems like an easy way out when it comes down to preparing quick healthy meals during busy work weeks or while juggling other responsibilities at home.



GOUSTO
65% off first box + 30% off first month
Gousto: The Easiest Way to Cook, Delivered.
Forget the hassle of planning and prepping meals! Gousto takes care of everything by sending you fresh ingredients with easy-to-follow recipes every week so all you have to do is cook. Try it today with 60% off refer a friend link.