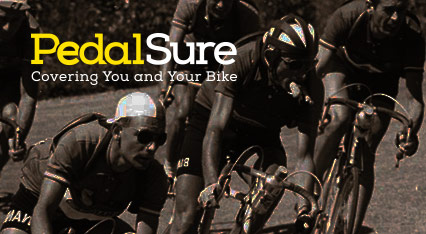 How to claim your free Pedalsure discount code
To get your free Pedalsure discount code, click on the 'Get Code' button on the right. Copy the code from a new window and follow the link to the Pedalsure website.
Click on the 'Get a quote' button. Enter bike replacement value, your age, and your postcode on the right side of the screen, and click on the 'Get my quote' button below. Review your quote and click 'Continue'. Select how you'd want to continue.
Answer a few questions, and once you're done, click on the 'Buy Now' button. Create your Pedalsure account. Add your details and agree to the Pedalsure terms and requirements listed in the Declaration, Terms and Conditions, and Policy Document.
Click on the 'Pay' button below.Add your card details and place your order.
More bike insurance brands similar to Pedalsure
About Pedalsure
Pedalsure is a bicycle insurance company founded in 2014. It provides the most comprehensive insurance at a fixed amount each month so you'll always know how much you have to pay. No hidden fees. Pedalsure prides itself for the best value at the most competitive price. Not only is Pedalsure fast when giving you a quote but it'll also pay out faster than anyone else. It's rated excellent by e-bikers across the country. Pedalsure can cover bikes for persons over the age of 16 and minimum value of £400. Under one insurance policy, Pedalsure can cover up to a maximum of 5 bikes, as long as they are owned and ridden by the named policyholder. Answer a few questions on Pedalsure website and get your quote in under 60 seconds.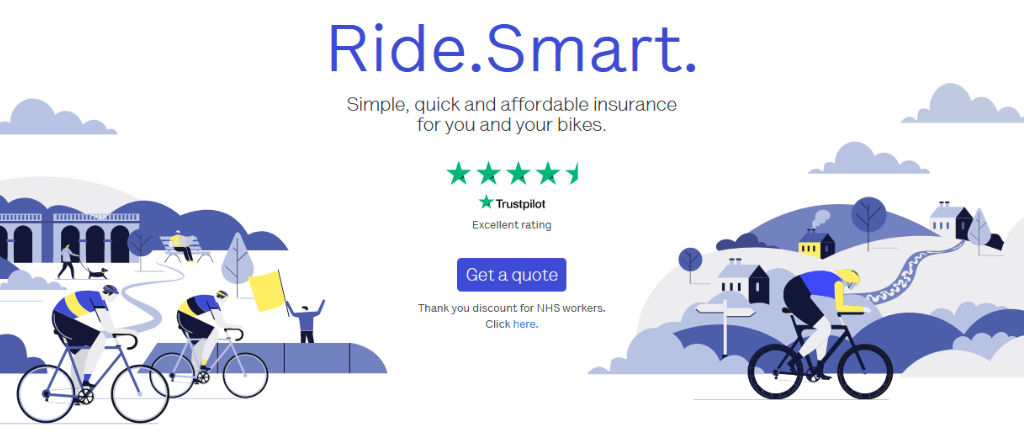 Pedalsure FAQs
Do Pedalsure insurance policies have an excess?
Yes, Pedalsure insurance policies have an excess - £75 or 10% of the claim payment value whichever is the greater.
What is the maximum bike value Pedalsure can insure?
Pedalsure can insure a maximum of 5 bikes up to a total aggregate value of £30,000 (however, you can insure bikes up to an individual value of up to £15,000). If Pedalsure agrees to provide additional cover, this'll be reflected in an endorsement to your Policy Schedule.

Where can I find the list of Pedalsure approved locks?
To see the full list of Pedalsure approved locks, select the 'Policy Details' from the menu on the bottom of the Pedalsure website. Open the 'Approved Lock List' where you'll find additional top security tips, as well.
Will Pedalsure cover for my bike accessories and personal items?
For an additional charge, Pedalsure will cover accessories and equipment which are not essential to the bike's operation (mudguards, saddle bags, lights, etc.) but are added and fixed to the frame of your bike, as well as your personal possessions such as cycling helmet, clothing, and equipment.
Can I add personal injury cover to my Pedalsure insurance policy?
Yes, you can choose between three personal cover packages - bronze, silver, and gold. Refer to the policy document for full details and requirements.
What other optional extras can I add to my policy?
In addition to Accessories & Personal Effects Cover, as well as Personal Injury Cover, you can add some other optional extras to your policy - Competition Cover, Foreign Travel Cover, Loss of Earnings cover, and Personal Liability cover.
What is a Hiplok offer?
Pedalsure partnered with Hiplok, giving you a free gold-rated Hiplok DX D-lock worth £69.99 with your new Pedalsure policy. Keep your bike as safe as possible. For additional information and terms and conditions, refer to the 'Hiplok offer' page on the Pedalsure website.
How do I cancel my Pedalsure policy?
If you're not satisfied with your policy and think it doesn't meet your insurance needs, you should contact your agent within 14 days from the purchase date or the day on which you received your policy documentation. If you haven't made any claims, your premium will be refunded. For more details about canceling your Pedalsure policy, refer to the Pedalsure Policy document.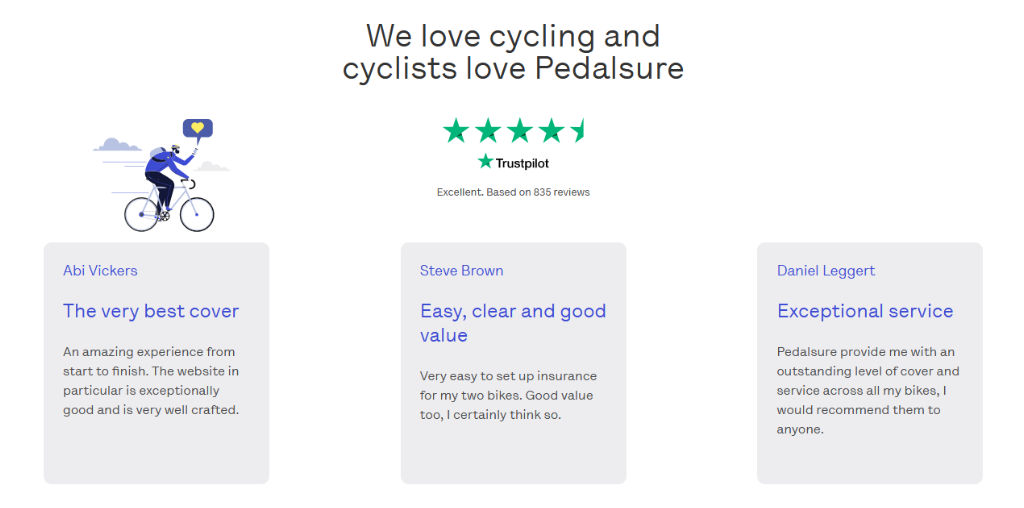 Pedalsure Reviews
According to more than 800 reviewers on Trustpilot, Pedalsure provides an excellent service. It has a TrustScore of 4.6/5 stars. It's customers were satisfied with the best value at the most competitive prices, as well as super-fast service. You can also find some old customer reviews on Feefo.
Our Pedalsure referral codes can offer significant savings when making a new purchase.We update our promotional codes frequently, so make sure to check back before making your purchase.
Check out the latest Pedalsure referral codes to make huge savings. At Newbie Deals, we actively seek out the best offers for our readers to ensure you make significant savings. If Pedalsurev offer a refer a friend program, we'll publish it. If they offer a discount code, we'll show it. If they have an exclusive offer, you got it, we'll bring it to you. By shopping with Newbie Deals and taking advantage of our Pedalsure referral codes, you can ensure you get the best deal in town.
Why Use a Pedalsure Referral Code?
Simply put, it can save you money, and who doesn't like making savings? With Newbie Deals, you can save up to 20% on your next Pedalsure purchase, by simply using our links. When you use our referral codes(or refer a friend scheme) nothing else changes other than the price you pay, it really is as simple as click, buy and save.