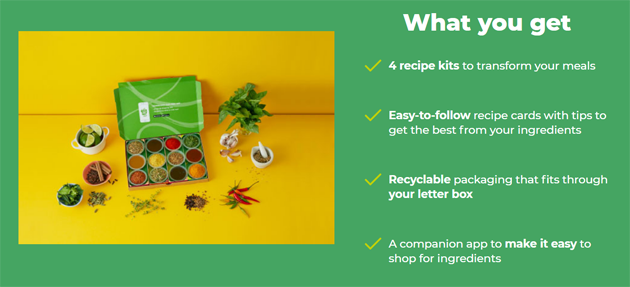 How to claim my free SimplyCook discount code
To claim your discount code, click "Get Code".
Copy the code shown
Tap 'Continue to Simply Cook'
Open the navigation bar and select the "Products" menu
Add your favourite recipes and click "Select".
In the field "Order Summary" click on the option "Got a voucher?"
Enter your discount code and click on "Apply Code"
Fill in your email address, first name, last name, and click on "Continue".
Put in all of the Shipping and Billing information to place your order.

More spice kits brands similar to SimplyCook
Do SimplyCook have vegetarian options?
Of course, they have! When choosing your box, in the Menu bar, just select the option "Vegetarian". They are trying to meet the demands of all consumers, and many of them are vegetarians. Tending to fulfill the requirements of this category of consumers, Simply Cook has 11 uniquely prepared trial box recipes for vegetarians, and after your trial is finished you get to choose from a range of 45 vegetarian recipes!

Are they offering gluten-free options?
Simply Cook is designed to ease your life and facilitate the whole habit of cooking. And it would be ungrateful if they exclude people that have problems with gluten. That's why there are over 65 gluten-free recipes that can help you to easily make a dish without doubting if the ingredients included are gluten-free or not.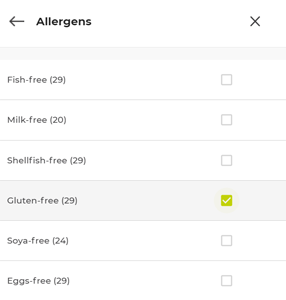 What would compliment a SimplyCook meal?
What is a good meal without a glass of wine or a big mug of beer?
To have complete enjoyment of your dinner night, check out our special deals for drinks delivery. If you are in love with your glass of wine, while eating good pasta, check out our offers for wine delivery, and if you are more a beer lover who wants to enjoy appetizers or watch a football match with a cold drink, check out our massive beer discounts and choose your delivery service.
Do they have a send a gift program?
Yes. If your friend is a well known "foodie", then you can surprise him/her and buy them the tastiest present that they will ever try. You can order a box full of stocks, spices, rubs, and pastes and by following the recipes with fresh food, your friends can make them an easily prepared and delicious meal. You can also customize the recipe box, and you can choose how many months they would receive your gift. It would be a gift worth remembering!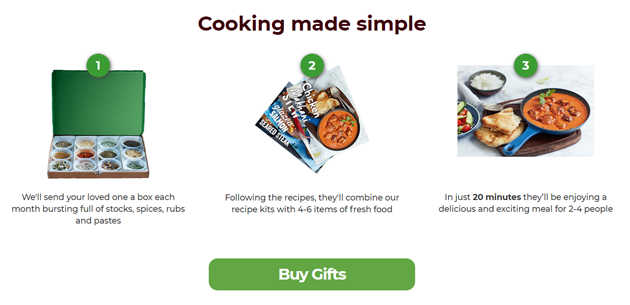 During the trial period, you can also get your first 4 recipes for just £3 and save 70%. And, if you are not sure if you want to continue receiving recipe boxes, you can cancel the subscription anytime you want, there are not any commitments and you won't be charged.
Other Sign Up Offers
If you are in a hurry or you are looking for already cooked meals, protein-rich food, or sports supplements, you definitely must check Muscle Food! It is a great British food retailer that produces and delivers food in top-quality temperature controlled boxes, so the food stays fresh for up to 48 hours. You can also freeze the food for up to 3 months and enjoy it anytime you want.
Our SimplyCook referral codes can offer significant savings when making a new purchase.We update our promotional codes frequently, so make sure to check back before making your purchase.
Check out the latest SimplyCook referral codes to make huge savings. At Newbie Deals, we actively seek out the best offers for our readers to ensure you make significant savings. If SimplyCookv offer a refer a friend program, we'll publish it. If they offer a discount code, we'll show it. If they have an exclusive offer, you got it, we'll bring it to you. By shopping with Newbie Deals and taking advantage of our SimplyCook referral codes, you can ensure you get the best deal in town.
Why Use a SimplyCook Referral Code?
Simply put, it can save you money, and who doesn't like making savings? With Newbie Deals, you can save on your next SimplyCook purchase, by simply using our links. When you use our referral codes(or refer a friend scheme) nothing else changes other than the price you pay, it really is as simple as click, buy and save.
Related Offers



GOUSTO
65% off first box + 30% off first month
Gousto is a recipe subscription service that delivers fresh ingredients and delicious recipes to your door every week. Sign up now and receive 60% off your first subscription box with our Gousto refer a friend link..