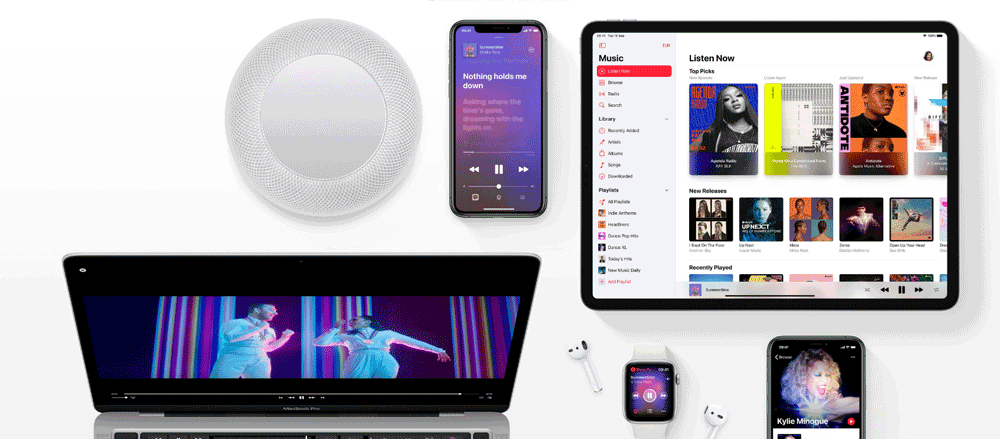 How to claim my 90-day free trial?
To claim your 90-day free trial, click on the "Get it" button.
On the Apple website, click on Sign-in or Sign up with a new Apple ID
Enjoy your 90-day free trial and get millions of songs free for 3 months.
Is Apple Music worth having?
If you want to listen to over 60 million tracks you should start using Apple Music. You can download them, plus have access to your entire music library on all your devices. Apple Music is available on iOS and Android devices, and in iTunes. You can stream on-demand, or you can listen to already created playlists. You can also discover new songs from your music picked, listen to the radio station Apple Music 1, Apple Music Hits, and Apple Music Country. They broadcast live to around 200 countries, 24 hours a day. With Apple Music, you will also get access to your entire iTunes library on the go. It will also show you new album releases from artists, upcoming album releases, and playlists created especially for you by the Apple Music team. Depending on your preferences and the music you have listened to, you will also get new music suggestions. In the search bar, you can find artists, albums, songs by name or lyrics, Apple Music users, etc. There are also trending searches that would appear below the search box.
Can I listen to podcasts on Apple music?
If you have an iPhone, you will probably use the Apple Podcast app. With Apple, you can discover popular and featured audio stories that would inspire and entertain you while listening to podcasts. The podcasts app for iOS devices allows you to subscribe to certain podcasts, and listen to any episode you like. You can also listen and download them on different iOS devices like iPhone, iPad, iPod. There is an option to listen to the latest episodes from your favorite shows in the "Listen Now" box, or just go to the library and choose whatever you want to listen to.
Can I listen to audiobooks on Apple Music?
Yes. You can listen to audiobooks with Apple Music. If you have an internet connection, there is an option to stream audiobooks from your iPhone or iPad, or play audiobooks that you have already downloaded without the need of being online. You can purchase audiobooks and listen to samples and part of the audiobooks in the Audiobooks Store. Explore and find the one you like, because there are a lot of choices out there! You can search by book store sections, genres, featured audiobooks, or by narrators. The moment you have bought it, you can listen to it immediately across all your iOS devices. You can listen to your favorite audiobook even on your Apple Watch.
Is there a free version of Apple Music?
No, there is no free version of Apple Music. After your 90-day free trial, you won't be able to listen to their streaming service for free.
How much is the subscription for Apple Music?
There are a few plans to choose from. After your 90-day free trial, the monthly subscription is $9.99. You can also get an Apple Music Family plan that you could share with your family, more exactly with up to 5 people, and it costs $14.99 monthly. If you are a student, there is also an Apple Music Student plan that costs only $4.99!  
What are some alternatives to Apple Music? 
If you are not an iOS lover, you should try the Amazon Music sign up offer, which also gives a 90-day free trial period. If you are addicted to listening to audiobooks and podcasts, it would be best to enjoy the Audible promotions and subscribe.
Other Sign Up Offers
If you are looking for a great television service, see Now TV's welcome offer and enjoy a lot of live channels!
Our Apple Music referral codes can offer significant savings when making a new purchase.We update our promotional codes frequently, so make sure to check back before making your purchase.
Check out the latest Apple Music referral codes to make huge savings. At Newbie Deals, we actively seek out the best offers for our readers to ensure you make significant savings. If Apple Musicv offer a refer a friend program, we'll publish it. If they offer a discount code, we'll show it. If they have an exclusive offer, you got it, we'll bring it to you. By shopping with Newbie Deals and taking advantage of our Apple Music referral codes, you can ensure you get the best deal in town.
Why Use a Apple Music Referral Code?
Simply put, it can save you money, and who doesn't like making savings? With Newbie Deals, you can save on your next Apple Music purchase, by simply using our links. When you use our referral codes(or refer a friend scheme) nothing else changes other than the price you pay, it really is as simple as click, buy and save.