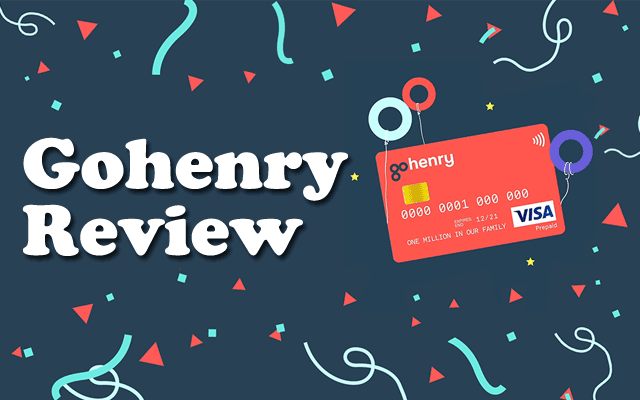 GOHENRY
Exclusive 2 months free when you sign up
Making every kid good with money
Gohenry is a parent-managed, prepaid debit card and app, designed for children between the ages of 6 and 18 years. This financial service has been around since 2012, and it currently boasts over 1.5 million users across the UK and the US.
In this gohenry review, we'll explore the features of this pocket money app, its pricing, and the pros and cons of the service.
What does gohenry offer?
Let's take a look at some of the key features of gohenry.
Prepaid Visa debit card. Parents can load money onto this customisable card, and kids can then withdraw the funds from ATMs, or make purchases in-store or online.
The Gohenry app. You can either use Gohenry online or opt to download their mobile app. There's a child and parent variation of this app.
Savings goals. This feature allows parents to view the saving goals of their kids, monitor their progress, and even set new goals for them. Kids can create new targets, and track their progress towards their existing savings goals.
Spending notifications. Both the adult and child will receive an instant alert when a payment is made using the gohenry card.
Parental control. Using a parent account, you can set spending limits, block and unblock gohenry cards, and even choose where the card can and can't be used.
Task management system. The earning tab allows parents to assign tasks/chores to their kids, and mark them as complete once they're done. The children can also keep track of their accomplished and outstanding tasks.
How much does gohenry cost?
To use this financial tool, you'll need to pay a monthly membership fee of £2.99 per card. You can, however, take advantage of our exclusive deal and join gohenry free for two months.


GOHENRY
Exclusive 2 months free when you sign up
Making every kid good with money
You'll get one free top-up to a parent account every calendar month. Additional loads will cost you 50p each. You can easily bypass this charge by loading a larger amount of money into your parent account at the start of each month. For instance, you can load £20 onto your account, and set up a weekly allowance of £5 for your child.
The standard gohenry card is issued free of charge. If you, however, opt for a customisable card or the Eco card, you'll incur a one-time fee of £4.99.
Pros of gohenry.
What are some of the features you'll love about this money management app?
Gohenry is an effective financial education tool for children.
It allows parents to manage and keep an eye on their child's spending.
Kids can add a personal touch (name and image) to their gohenry cards.
With the gohenry free trial, you can try out the service without making a financial commitment.
Cons of gohenry.
Here are some of the downsides to gohenry.
Gohenry is a relatively expensive service. The membership fees and top-up charges can quickly add up, especially for families with more than one child.
With this money management app, one parent account can only manage up to four children's accounts. This can be a challenge for larger families.
To close your gohenry account, you'll have to either email or call the customer service team, which can be an inconvenience.
Our Verdict.
Gohenry is overall a solid product. It allows children to develop invaluable financial skills through their experiences. Parent accounts act as a control centre for children accounts, and therefore, adults can support their kids' financial education from a distance.