How to claim your free Honest Brew voucher code
First, click on the 'Get Code' button. Then, copy the Honest Brew voucher code and proceed to the Honest Brew website.
Click on the 'Add to Order' or 'Add to Case' button below each of the products you want. Once your order is ready, click on the beer case in the top right corner of the website. Click 'Checkout'.
Click on the 'Click here to enter your code' link and paste your Honest Brew voucher code into the empty text box. Click 'Apply Coupon'.
Enter your billing and payment details, and place your order.
More beer brands similar to Honest Brew
About Honest Brew
Honest Brew is the leading craft beer retailer in the UK. It stocks some of the best craft beers from independent breweries from all over the world. If you're on a mission of discovering innovative and exciting brewers, you're in the right place! Depending on your preferences, you can pick your own beers, get one of the curated boxes, save with an Honest Brew membership, or enjoy regular deliveries with the Honesty Box subscription service. Honest Brew has something for everyone - from bargain beers (under £3) from top breweries to exclusive beers you may not be able to find anywhere else. 
Honest Brew Delivery
When ordering to the UK, you can choose between Standard and Express delivery. You'll be charged £4.99 for Standard delivery (free on orders over £50), or £6.49 for Express delivery (£1.49 for orders over £50). If ordering to one of the remote locations (the Channel Islands, Scottish Highlands & Northern Ireland), you may have to pay additional shipping costs and your order may take longer to arrive. Additional shipping charges will be automatically calculated in your cart based on your postcode. Once your order is dispatched, you'll receive an email with a tracking number you can use to track your order.

Honest Brew Returns Policy
If any of the beer bottles is missing from your order or arrived broken, you should contact the Honest Brew team via its contact page, to resolve the issue for you. If you've changed your mind and no longer want your order, you should contact the Honest Brew team within 14 days of receiving your order. Honest Brew has a no questions asked return policy.To be eligible for a refund, your order must be unused and unopened. You cannot exchange your order. Please note that delivery charges cannot be refunded unless there was an issue with your order. The customer is responsible for all shipping charges when returning the order as well as for the safe return. It's advised you use a trackable delivery service when returning the order.
Honest Brew FAQs
Does Honest Brew offer a subscription service?
Yes, Honest Brew offers a subscription service. Select your plan (Mixed Styles or Pale Ales & IPAs), how many beers you'd want to receive in your case, and how often you'd want your box to arrive. Subscription can be paused or cancelled any time.
What is an Honest Brew membership programme?
With an Honest Brew membership programme, you can pick your own beers from a selection of more than 300 beers, or you can let the Honest Brew team pick the beers for you. As a member, you can invest beer money each month, save up to 15% on all products, and enjoy other perks such as early access to new beers. You can pause or cancel your membership any time.
Does Honest Brew offer free delivery?
Yes, Honest Brew offers free delivery on subscription boxes (Honesty Box), as well as on Pick and Mix and Mixed Cases if the order is over £50.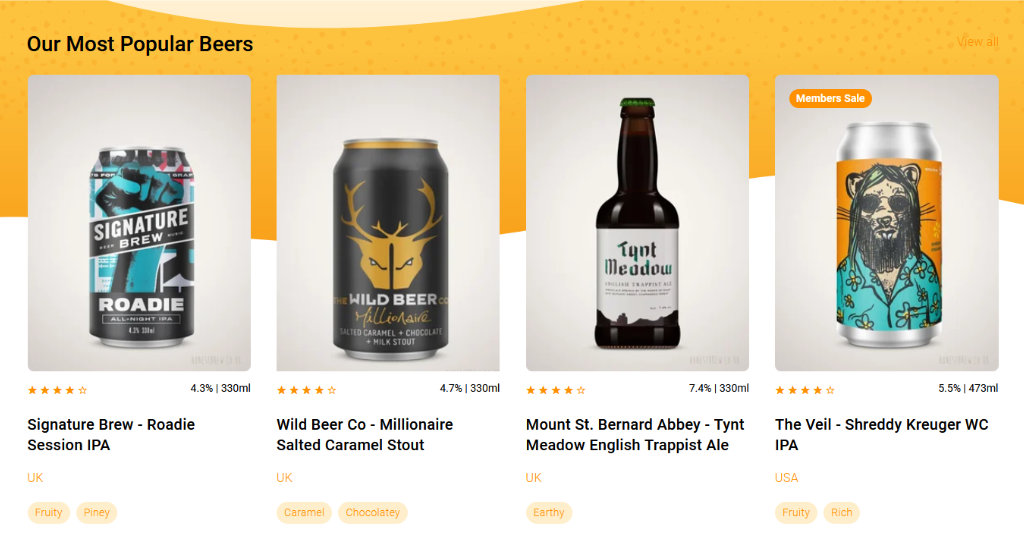 What happens if there's no one at home to accept the delivery?
If there's no one at home to accept the delivery, the driver may try to deliver your order to one of your neighbours. If this isn't possible, delivery will be attempted on three consecutive days, after which your order will be transported to the local depot for 7 days for you to collect.  
Does Honest Brew have a referral programme?
Yes, Honest Brew has a referral programme. All you have to do is register, and share a link with your friends or tell them to enter your name at checkout. Your friend will get £10 off their first order, and you'll get £5 beer credit you can spend on your future order!
Does Honest Brew offer gift cards/vouchers?
Yes, Honest Brew offers both physical gift cards (delivered by post) and gift vouchers (delivered via email). You can choose between three available amounts - £20, £30, and £50.
Can I purchase low or no alcohol beers from Honest Brew?
Yes, Honest Brew stocks a variety of low and no alcohol beers, too. 
Can I find beers according to my dietary preferences?
If you have any dietary preferences, you can filter out your beers by 'Vegan' or 'Gluten free'.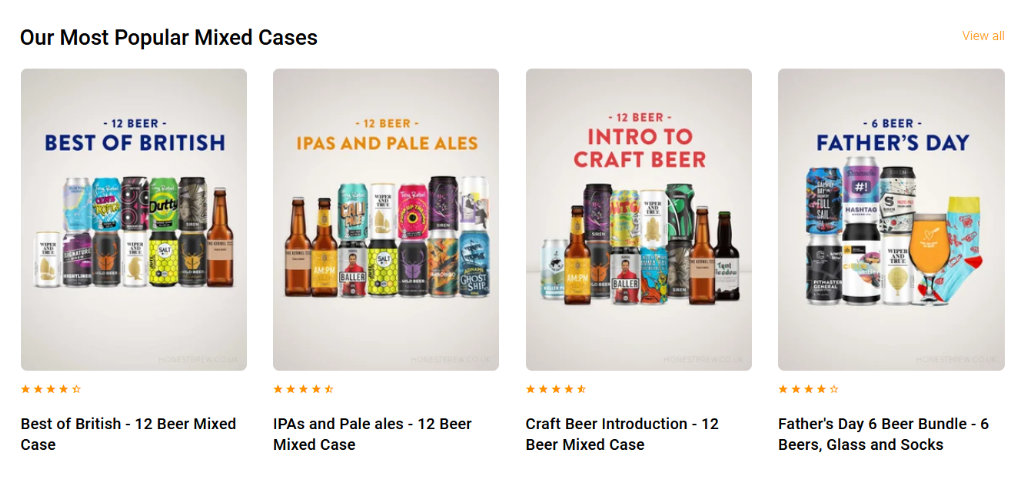 Does Honest Brew offer anything else except beers?
Yes, Honest Brew also offers glassware, mini kegs, and homebrew kits, as well as snacks, gins, and more. You can find all of these products in its online shop.
What should I do if a beer I want is out of stock?
If any of the beers you want is out of stock, you can sign up for the waiting list and you'll be notified via email once the beer is back in stock.
Honest Brew Reviews
According to more than 5,400 unique customer reviews on Trustpilot, Honest Brew has 4.4 out of 5 stars and is rated as excellent. Its customers were mostly satisfied with a great service, speedy delivery, good selection of beers, and the ability to save for beers and get discounts through a membership.