Similar deals to Muscle Food


GSN
Exclusive 5% off all orders

WARRIOR
Exclusive 35% off all Warrior products
Sports proteins & supplements


THE GOOD GURU
Exclusive 25% off all orders
Organic, vegan multivitamins & supplements
How to claim my MuscleFood discount hidden code?
To claim your discount code, click on "Get it".
On www.musclefood.com, select "Choose your meals now".
According to your preferences, choose one of the three offered meal options.
Click on "Change my selection".
Apply your discount hidden code in the field.
Choose the delivery date for your basket, and click on "Pay Now".
Fill in your information.
Put in all of the Billing and Payment details and click on "Complete order".
More protein brands similar to Muscle Food
How long do MuscleFood meals last?
MuscleFood is providing all that you need and whenever you need it. Their meals are best served fresh from the kitchen, but if you prefer to cook and reheat, it is better to consume the products within 24 hours. When it comes to freezing the food, it can be kept up to 3 months.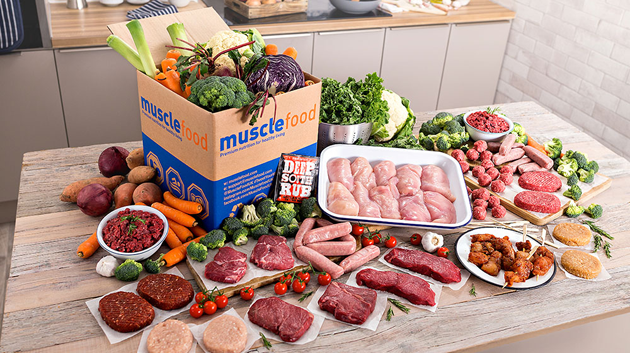 Am I tied to a contract or minimum days of subscription service? 
The meal box plan can be paused or canceled anytime you want. However, when you get to choose your meal plan, you should select one of the three options offered. There are 5 days with a weekend off meal plan, 6 days or 7 days. Meals are sent every week, and if you change your mind about your meal choices, you can change them 48 hours before the delivery date. Also, when you do the math, if you choose the 5 days meal plan, you get your meal for £1.88 and at that price, the delivery is included. So, why would you spend your precious time shopping or creating diet plans when all of that is just one click away from you?
Do they have a bonus/gift program?
Yes, they have! When you complete the "Do the Unthinkable" plan and send them a picture of your progress while consuming the MuscleFood products, they send you a personalized t-shirt with "Do The Unthinkable" logo. You also get 5 vouchers from £10 that you can use towards MuscleFood orders.
What would compliment a MuscleFood meal plan?
If you already saw amazing progress in your body shape, but you still can not resist an alcohol free beer, check out our massive discounts for beer delivery offers and get your non-alcoholic beer in your hands for the sake of your successful path towards your goal. Every person should enjoy their treat meals or drinks and thanks to them - be more motivated in future.
Other Sign Up Offers
If you didn't find yourself in the MuscleFood plan meals, then you definitely must check out Simply Cook! It is the best alternative to a meal box, and it provides you with spice kits to which you can add your ingredients and make a delicious lunch for you or your family. It comes with a recipe box in which are included up to 18 non-perishable ingredients. With this kind of recipe boxes, you get the freedom to choose what you want to cook and you will enjoy the process of cooking on your own!