How to claim your free New Balance promo code
To claim your free New Balance promo code, copy the code that will appear once you click on the 'Get Code' button. Proceed to the New Balance website and start making your order.
Once all of the products you want to purchase are in the cart, select the shopping cart icon from the top right corner of the website.
Click on the 'Redeem Promo Code' link below the products in your cart, and paste your New Balance promo code. Click on the 'Apply' button next to it.
Once your discount is applied, select one of the available checkout methods on the right. Provide all of the required information and finish your order.
More sports brands similar to New Balance
About New Balance
New Balance is one of the top sports footwear and apparel brands, founded over 100 years ago. The company is headquartered in Boston, Massachusetts (in the USA). New Balance offers not only lifestyle shoes suitable for everyday activities but footwear and clothing suitable for different sports, including running, football, basketball, tennis, cricket, and others. Its online store is the perfect place for anyone looking for products with functional features designed for the best performance. There's a great selection of available sizes suitable for both narrow and wide feet.
New Balance Delivery
When placing an order to the UK, your order will be delivered via UPS, within 2-3 working days. You'll be charged £4.50 for the delivery unless your order's value is over £50. If you're not at home at the time of the delivery, the courier may leave your order in the letterbox or at some of your neighbours (you can exclude these options when placing your order). Your order can also be left at one of the nearest UPS Access Points, from which you can collect it within 10 days. UPS Express delivery (1-2 working days) is also available for £14.50.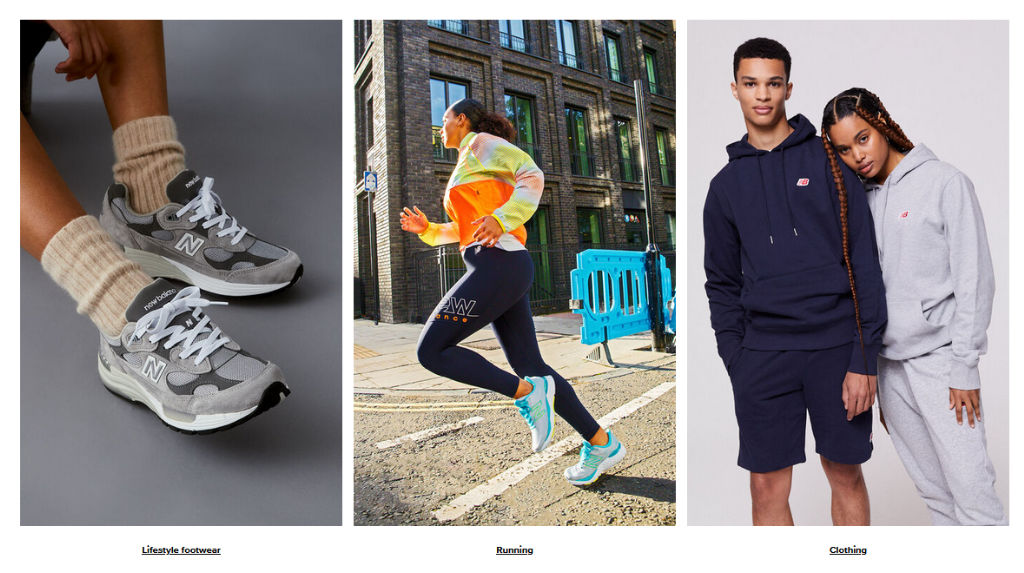 New Balance Returns Policy
If you're not satisfied with any of the products from your order, you can return them free of charge within 30 days from purchase. The products you're returning must be in the same condition you received them. If the product is worn or damaged, your return request may be refused. Please note that custom-made shoes aren't eligible for returns. Products cannot be exchanged. Instead, you should place a new order and return an unwanted item for a refund. If returning a defective item, you should first contact the New Balance Customer Care team. To find 'Free Return Instructions', refer to the 'Returns' section on the New Balance website. 
New Balance FAQs
Who owns New Balance?
New Balance is a privately owned company. The owner and chairman of New Balance is an American billionaire businessman, Jim Davis.
Where are New Balance shoes made?
New Balance shoes are labeled as 'Made in the USA' when they are at least 70% domestic. Each year, over 4 million pairs of athletic footwear are made in the USA, in facilities in Maine and Massachusetts. There's also a factory in Flimby, England, that produces over 150,000 pairs of shoes yearly. To shop for these shoes, select 'Made in the USA & UK' from the menu.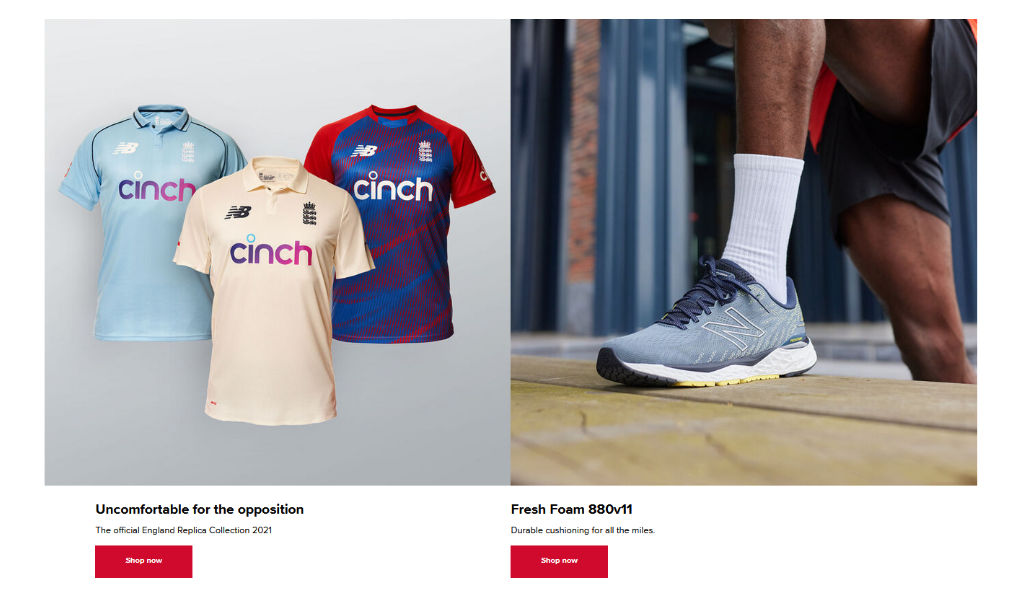 How can I clean New Balance shoes?
Use a light bristle brush (such as an old toothbrush) and some dishwashing or laundry detergent to scrub your shoes. Wipe them with a damp cloth, and leave them to dry in the air. Don't put your shoes in a washing machine and make sure you don't use a silicon-based product. If you have suede or leather shoes, you should use a suitable cleaner. 
Do New Balance sell footwear for both men and women?
Yes, New Balance sells footwear for both men and women, as well as for children (from babies to teenagers). Simply select 'Women', 'Men', or 'Kids' from the menu, and browse through the range of shoes. 
What are New Balance Fresh Foam trainers?
New Balance Fresh Foam trainers are designed to provide everyday cushioning and comfort to anyone who spends hours on their feet.

Can I get specialist footwear like football boots or running shoes from New Balance?
Yes, New Balance offers a wide range of specialist footwear like football boots or running shoes. Simply select the right category from the menu and start browsing.
New Balance Reviews
When you open the product page, you'll find customer reviews at the bottom of the page. You can also find different product reviews on YouTube. 
Related Offers


Only those who can appreciate the importance of maintaining physical, emotional and mental health are able to become GymPro Apparel's customers. With over 20 years in the fitness industry under their belt, they know exactly what it takes for you to succeed on your quest towards complete wellness! GymPro have teamed up with Newbiedeals to offer an exclusive 10% off all orders (yes all orders!), they are that confident you'll keep coming back for more.