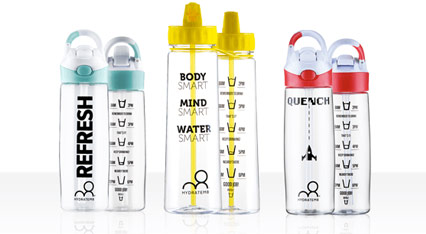 How to claim your free HydrateM8 discount code
To redeem your free HydrateM8 discount code, you should first push the 'Get Code' button. Copy the code from a new window and go to the HydrateM8 website.
Select 'Shop' from the main menu and pick a product category. Once you find a product you're interested in, add it to the basket.
To place your order, click the shopping bag icon in the upper right corner of the website and select 'Checkout'. On the left, you'll see a 'Have a coupon? Click here to enter your code' line. Click on it, and paste your free HydrateM8 discount code. Apply the code.
Fill out your billing details, confirm that you've read and agree to the website terms and conditions, and select one of the available payment methods. Finish your order.
More running brands similar to Hydratem8
About HydrateM8
HydrateM8 was founded with a sole mission of combating plastic pollution. It offers reusable water bottles and food containers, helping you switch from single-use to reusable products. All HydrateM8 Original and Active bottles are made from Tritan. However, HydrateM8 bottles will not only help you promote a healthy environment but will also boost your hydratation. It's hydration tracker water bottles are designed to help you monitor and improve their hydration levels. Simply follow the timings from the tracker you'll see on the back of your bottle, and with small sips you'll easily reach your recommended daily water intake.
HydrateM8 Delivery
HydrateM8 delivers its orders worldwide. Orders placed by 2 pm Monday to Thursday and by 11 am on Friday, are dispatched on the same day. UK P&P (3-5 working days) is available for £3.50, and is free for orders over £40. If ordering outside of the UK, your order may take up to 10 working days to arrive. Delivery costs vary depending on the country you're ordering to. For the full list of countries and delivery costs, select 'Shipping' from the menu on the bottom of the HydrateM8 website.

HydrateM8 Returns Policy
If any of the products you received is damaged, faulty, or not the one you had ordered, you should contact HydrateM8 as soon as possible. To qualify for a full refund, the product must be returned within 30 calendar days of the date you had received your order. For additional details and instructions, refer to the HydrateM8 'Terms & conditions'. All HydrateM8 bottles come with a one year warranty against manufacturing faults.
HydrateM8 FAQs
What types of HydrateM8 water bottles are available?
In addition to classic reusable water bottles, HydrateM8 also offers insulated bottles, hydration tracker water bottles, coffee cups, and protein powder mixers, as well as water bottles for dogs. 
What is the difference between Original and Active bottles?
Original bottle comes with a manual flip up spout and straw, while Active bottles have a push-button and quick-flow lid perfect for anyone who needs a quicker hydratation. 
Does HydrateM8 offer spare parts for its bottles?
Yes. HydrateM8 offers spare lids you can purchase to replace a lost lid or to customise your bottle.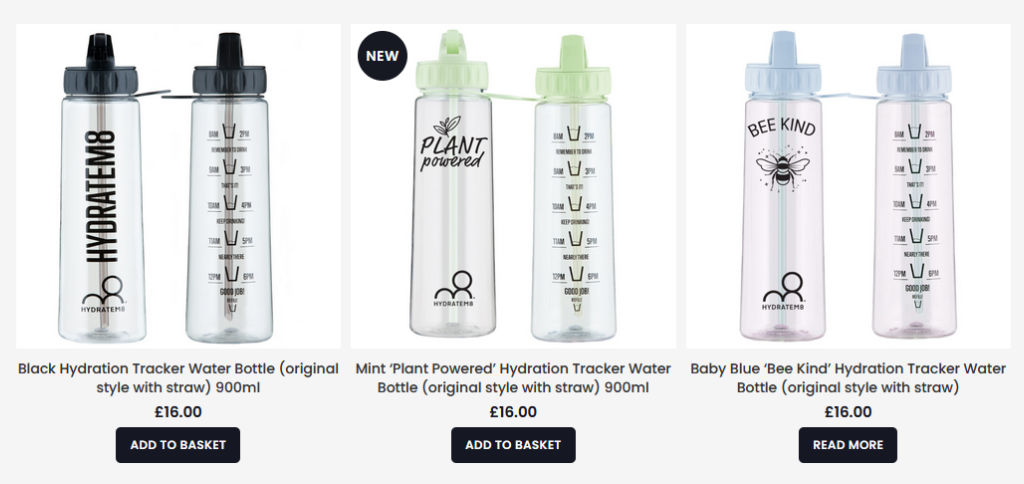 Are HydrateM8 bottles dishwasher safe?
No, HydrateM8 bottles shouldn't be washed in a dishwasher since the temperature can be too hot. Instead, hand wash your bottle with warm soapy water; rinse it thoroughly and leave all components to fully dry on air. 
How long does the insulated coffee cup hold liquids hot or cold?
HydrateM8 insulated coffee cups will hold your liquid hot for up to 8 hours or cold for up to 12 hours. If within the warranty period (one year) you experience any problems with the thermal properties of your product, you should contact HydrateM8 via email.
What can I find in the HydrateM8 Hub?
HydrateM8 Hub is a place on the HydrateM8 website where you'll find different personal experiences from HydrateM8 customers, as well as blog posts, recipes, and handy resources you can download.

HydrateM8 Reviews
For unique customer reviews, refer to the reviews.io. With more than 1,700 customer reviews, HydrateM8 has a star rating of 4.86/5 stars. 97 % of reviewers recommend HydrateM8. Customers were satisfied with quality products, on-time delivery, and very good service. Reviews are also displayed on the HydrateM8 website, under the 'Reviews'.