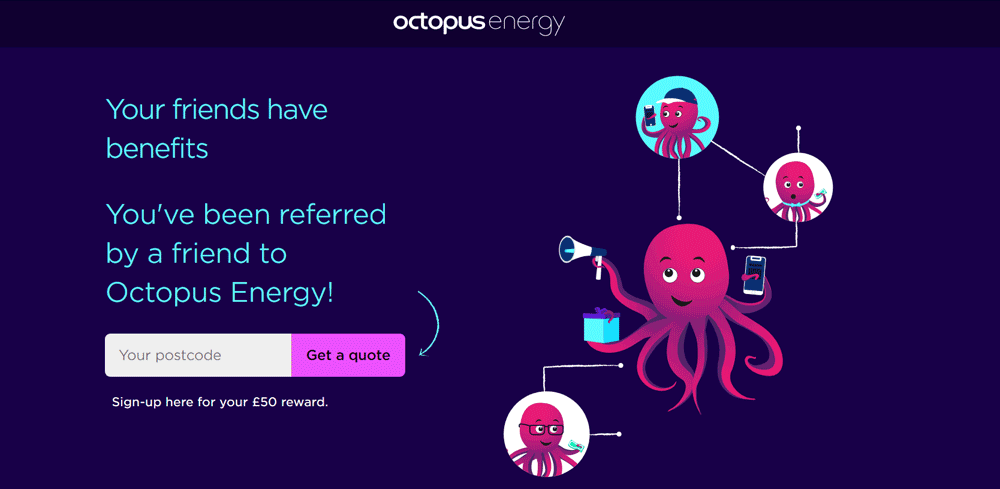 How to claim my Octopus Energy referral code?
To claim your free credit, click on "Get it". No discount code necessary.
On the Octopus Energy website, write your postcode and click on "Get a quote"
Answer the questions being asked, get your quote and make your switch to Octopus Energy
Enjoy your free credit worth £50.
More green energy brands similar to Octopus Energy
How does Octopus Energy help me?
Octopus Energy is offering great value for the long term, not just the fixed term. They are offering a range of tariffs, including a green tariff that has 100% renewable electricity, plus full carbon offsetting for gas. There is also a tariff designed just for electric vehicle drivers and a tariff that allows the user to see the daily costs and to track wholesale energy prices. These tariffs are often one of the cheapest green energy tariffs across the United Kingdom suppliers. And, if you join Octopus and for some reason do not want to continue with their tariff, there is no exit fee for switching to another supplier. This is just confirming that they are trying to change the status quo between the population with green energy that is affordable and good for everyone's pocket, and good for the environment. 
Is Octopus Energy the right supplier for me? 
Well, if you want to be part of the 1.5 million community of household and business customers, together contributing to greener nature, then you are at the right place. Octopus Energy is providing its services in the United Kingdom, Germany, and the United States. Besides being one of the fastest-growing green energy suppliers in the UK, they are also the largest investor in solar farms throughout the UK. Their customer service is excellent, and the tariffs are very competitive. All of the customers can log in on their website to view bills, account details, and submit meter readings.
Is there an Octopus Energy app?
Yes, there is an application available for download on Apple and Android devices. Users can look into their past bills, contact the customer support team, or manage their account. The app for Android is called OctopusWatch, and it comes with an optional subscription that brings you 48h rate predictions, carbon intensity integration, and the ability to dig deep into your daily usage.
Do they have a "refer a friend" program?
Yes. You can use your unique Octopus Energy referral code to share it with your friends and family. For every friend that switches on Octopus Energy thanks to your referral code, you are getting £50 extra credit on your Octopus energy account. Your friend is also getting £50 credit. 
What are some alternatives to Octopus Energy?
If you did not like Octopus Energy tariffs, and you still want to be part of the green energy model of working, then you should see the alternatives to Octopus Energy, like Bulb Energy or OVO Energy. OVO Energy is buying and selling electricity and gas to supply domestic and business properties across the United Kingdom, and their electricity comes mostly from wind farms, and from the burning of landfill gas. Bulb Energy is also a green energy supplier that is striving to make renewable energy more approachable and simpler to any household. They have more than 1.5 million customers until now, thanks to their tariff and great customer service.
Other Sign Up Offers
If you still have not decided to make your switch on a green energy supplier, and you are exhausted from the lookout, why not go to see our special offers for CBD, or multi vitamins delivered right to your door. Also, check out Dr. Ed, which is actually an online doctor service and online pharmacy offering a door delivery for doctor-prescribed treatments. 
Our Octopus Energy referral codes can offer significant savings when making a new purchase.We update our promotional codes frequently, so make sure to check back before making your purchase.
Check out the latest Octopus Energy referral codes to make huge savings. At Newbie Deals, we actively seek out the best offers for our readers to ensure you make significant savings. If Octopus Energyv offer a refer a friend program, we'll publish it. If they offer a discount code, we'll show it. If they have an exclusive offer, you got it, we'll bring it to you. By shopping with Newbie Deals and taking advantage of our Octopus Energy referral codes, you can ensure you get the best deal in town.
Why Use a Octopus Energy Referral Code?
Simply put, it can save you money, and who doesn't like making savings? With Newbie Deals, you can save £50 on your next Octopus Energy purchase, by simply using our links. When you use our referral codes(or refer a friend scheme) nothing else changes other than the price you pay, it really is as simple as click, buy and save.