How to claim your free Purr & Mutt discount code
To claim your free Purr & Mutt discount code, start by copying your free discount code.
Proceed to the Purr & Mutt website and add the type of portrait that you want to your cart. Ensure that you select the size, framing options and upload the photo.
Paste your free Purr & Mutt discount code on the discount code box, apply and proceed to checkout.
Enter your contact information, shipping address and click the 'continue to shipping' box.
Choose your preferred payment method and wait for your order to arrive.
More art brands similar to Purr and Mutt
About Purr & Mutt
Based in the UK, Purr & Mutt is a company that specializes in pet artwork. By choosing a design, size and uploading a photo of your pet, the company turns the original photo into a work of art. Over the years, Purr & Mutt has developed fantastic pet art work using professional tools, photo editing and retouching techniques. You can shop by theme, gender and even product type. And with different designs to match every dog's personality, you get to treat yourself and your furry friend by featuring them as the star of the show!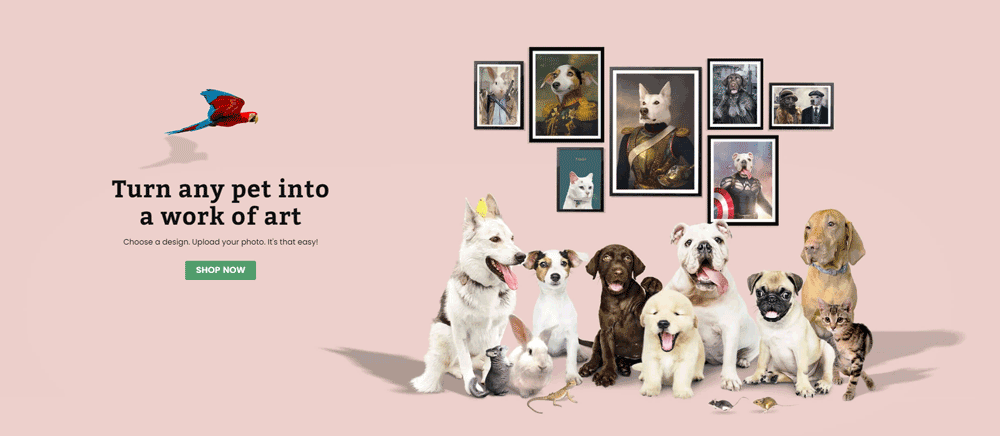 Purr & Mutt Delivery
Purr & Mutt offers free global shipping. You should get your order within 2-3 working days if in the UK and 5-10 working days for the rest of the world once you have approved the art work. Additional photo changes and requests can prolong this delivery period. Please get in touch with the Purr & Mutt team if you have not received your order.
Purr & Mutt Returns Policy
You can cancel your Purr & Mutt order before shipping. However, the company will send a preview of the artwork before shipping. You can then request additional changes. Once you approve the design, the company does not make refunds since the item is 100% custom made. However, if the item arrives damaged or is lost in transit, get in touch with the company for a replacement.
Purr & Mutt FAQs
What design themes does Purr & Mutt offer?
Purr & Mutt offers various art work designs including renaissance, minimalist, occupations, film &TV, multiple pets, male pets and female pets.

Which art products does Purr & Mutt offer?
You can either opt for stretched canvas, cushions, fine art prints and blankets.

Can I upload any pet pictures?
Yes. Purr & Mutt does not discriminate against any pet. Whether you have a bird, cat, horse and any other pet, you can create a custom portrait.
Can Purr & Mutt create a human portrait?
No. Purr & Mutt only deals with pets. The company does create artwork for humans and any other products.
How does Purr & Mutt make the portraits?
Purr & Mutt uses different digital techniques to replicate the artwork with your pet. The company utilizes the best professional tools, photo editing and retouching techniques. The use of the highest quality inks and paper produces vibrant and sharp designs. The designs are also durable since they are printed on thick art paper stock.
What if I want the artwork to have more than one pet?
Purr & Mutt has a variety of designs suited towards multiple pets. If you do not find a suitable design among the ones available, get in touch with the company for help.
What if I do not like the artwork?
The company has a 100% happy guarantee. As such, you will receive a draft of the art work before it's printed. This enables you to make possible changes before the final artwork printing.
How do I make sure that I get the perfect photo?
Getting the perfect photo will determine the outcome of the artwork. However, the team will guide you on how to select the best photo. And if the uploaded photo is unsuitable for the artwork, the team will contact you and request a different photo. The best photos for artwork are those that include the pet's head in full, are free of filters, are not blurry as well as pictures where the pet is looking at the camera.
Do I need to have professional photos taken of my pet?
No. You do not need to have professional photos. Phone pictures, if well done, will also work perfectly.
How can I contact Purr & Mutt?
If you wish to contact Purr & Mutt, send an email at help@purrandmutt.com or call 01924 229 209.
Purr & Mutt Reviews
Purr & Mutt has a 5.0 rating among 1,268 reviews on Trustpilot. The team produces excellent artwork and allows amendments before printing, ensuring 100% customer satisfaction. The company also offers speedy deliveries, fantastic customer services not forgetting the wide variety of design choices. 

Our Purr and Mutt referral codes can offer significant savings when making a new purchase.We update our promotional codes frequently, so make sure to check back before making your purchase.
Check out the latest Purr and Mutt referral codes to make huge savings. At Newbie Deals, we actively seek out the best offers for our readers to ensure you make significant savings. If Purr and Muttv offer a refer a friend program, we'll publish it. If they offer a discount code, we'll show it. If they have an exclusive offer, you got it, we'll bring it to you. By shopping with Newbie Deals and taking advantage of our Purr and Mutt referral codes, you can ensure you get the best deal in town.
Why Use a Purr and Mutt Referral Code?
Simply put, it can save you money, and who doesn't like making savings? With Newbie Deals, you can save up to 10% on your next Purr and Mutt purchase, by simply using our links. When you use our referral codes(or refer a friend scheme) nothing else changes other than the price you pay, it really is as simple as click, buy and save.