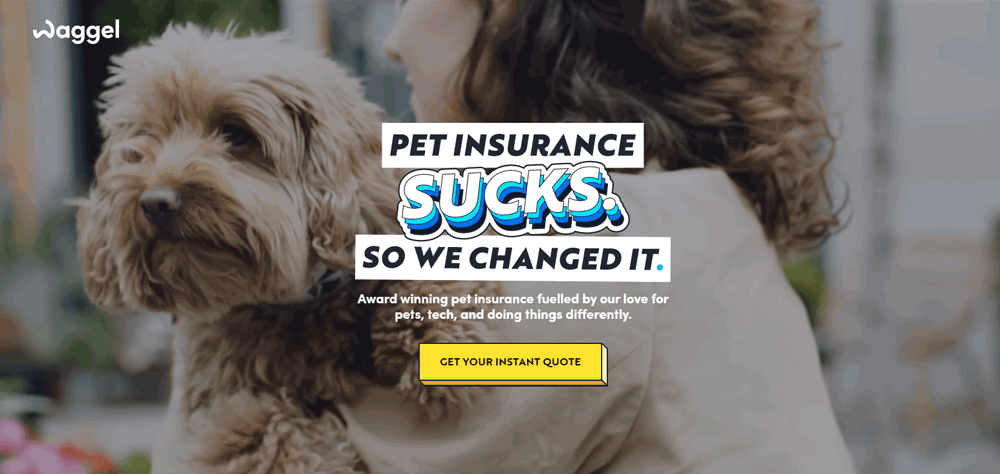 How to claim your free Waggel discount code
To claim your free Waggel discount code, click the 'Get code' icon and copy your free discount code.
Head over to the Waggel website and click the 'Get instant quote' icon.
Enter your pet's name, pet type, gender, date of birth, breed and the postcode where the pet lives.
You will get your pet insurance quote. You can opt to increase the pet's vet fees annually based on coverage. Confirm the details on the pet's claim contribution and enter the start date.
Review your membership summary and enter your details and agree with the declaration form.
Enter your payment details, confirm the payment data and click next.
Paste your free discount code in the empty discount code box and apply. You can either auto-renew your policy or turn off the auto-renew feature.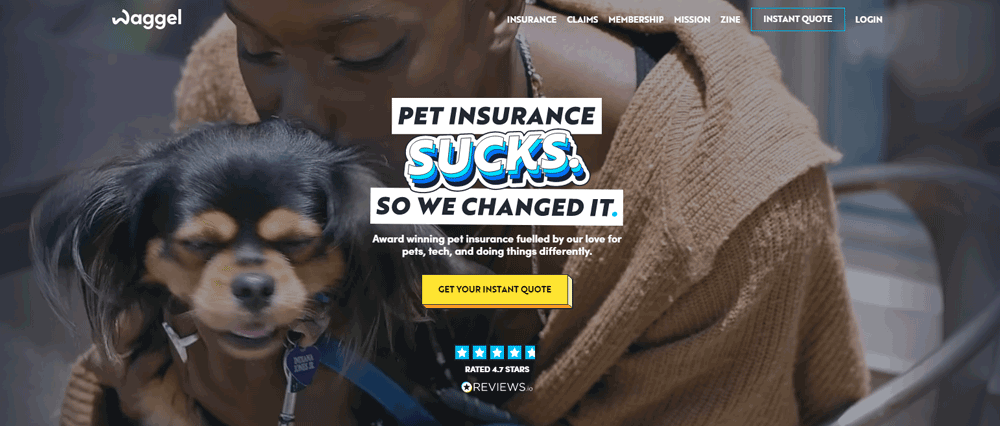 More pet insurance brands similar to Waggel
About Waggel
Based in London, Waggel is a company that specializes in pet insurance. It is an authorized representative of City Insurance Brokers Ltd and is regulated by the Financial Conduct Authority. The company helps pet owners get the most of their relationship with their pets, which begins with peace of mind. Waggel provides coverage for vet fees for illnesses, accidents as well as other conditions up to an annual coverage limit. This also includes emergency treatment within a member of the Pet Travel Scheme. By purchasing insurance for your pet, you remove unnecessary anxiety, stress and fears that could hinder your bond with your furry friend.
Waggel FAQs
What are the benefits of pet insurance?
Pet insurance will cater for unpredictable and unexpected accidents, injuries and illnesses. This not only safeguards your financial wellbeing but also reduces the stress and anxiety that comes with pet care.
What are some of the coverages provided by Waggel?
Waggel provides coverage for complementary therapies, dental treatment and behavioural treatment. The company also provides coverage for theft, death, stray and third-party liability.
When can I make my first Waggel pet claim?
You can make your claim 14 days after becoming a member. Before the lapse of the 14 days, you can access other Waggel benefits apart from making a claim. The grace period also reduces cases of insurance fraud.
Should I make a claim before or after treatment?
You should make your claim after all the treatments have been completed by the vet.
Can I make an accident claim within the first 14 days of buying my cover?
Since accidents can happen even on the first day of buying an insurance cover, the company goes through accident claims made on the first 14 days by case.
How long does Waggel take to process pet insurance claims?
The company processes claims within 14 days. However, this depends on how fast your vet sends the required records to assess the claim.
How can I know the status of my claim?
You can track the status of your claim on your smartphone or speak to a customer service representative.
What treatments can't I claim on my Waggel pet insurance?
You cannot claim preventive treatment, cosmetic treatment, routine treatment, elective treatment and pre-existing conditions. This also applies to things like worming and flea treatments, grooming, neutering, nail clips, vaccinations and routine dental checks.
What if I have a claim dispute?
You can dispute the outcome of your claim by submitting a dispute to the 'Insurance and claims' page. The company will assign you a different customer champion to address all your concerns. If you are dissatisfied with the claim, you can still send a complaint to the Financial Ombudsman Service within 6 months.
Does Waggle provide coverage for pre-existing pet conditions?
No. The company does not provide coverage for pre-existing pet conditions at the moment.
Can I still purchase insurance if my pet has a pre-existing condition?
Yes. You can still purchase insurance if your pet has pre-existing conditions. However, the insurance will not provide coverage for that specific condition.  While you will not be mandated to declare pre-existing conditions, the company will require all the pet's medical records when making a claim.
Will my premium change if I declare pre-existing conditions?
No. Waggel will not raise your premiums if you declare pre-existing conditions.
How can I contact Waggel?
You can reach Waggel via email at hello@waggel.co.uk or call 01299 669955.
Waggel Reviews
Waggel has an excellent 4.5 rating among 382 reviews on Trustpilot. The company offers excellent pet insurance services. The customer service is also fantastic. However, for some clients, claims took months to be assessed.