How to claim your free Everypaw offer when you refer a friend
To claim your free Everypaw friend referral offer, click the 'get gift card' icon and copy your friend referral code.
Head over to the Everypaw website and click the 'Start a quote' icon. Enter your pet's name, select the pet type, breed, date of birth and gender.
Fill in additional pet details such as whether it is neutered, the cost and whether it has a history of pre-existing conditions. Adding an extra pet gets you multi-pet discounts. Enter your details including your email address and postcode.
Paste your friend referral code in the promo code box and apply. Click the 'Generate my code' icon. You can adjust the cost of insurance based on your pet's needs and review your coverage.
Enter the insurance cover start date, confirm your details, those of your pet and click next.
Complete your insurance order by entering your payment details.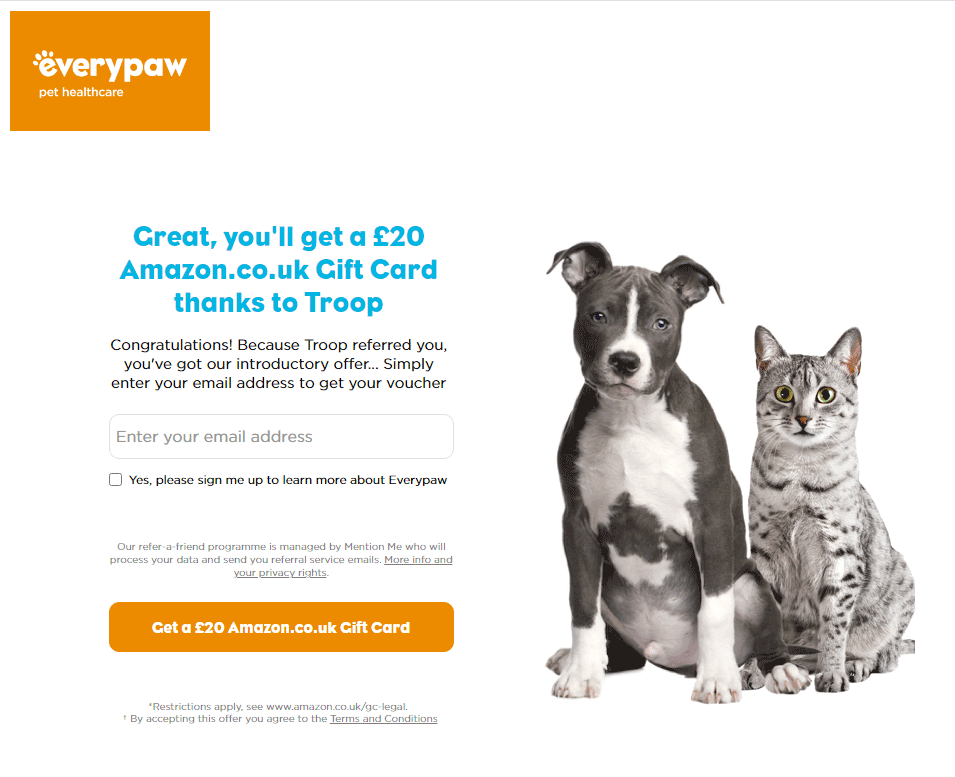 More pet insurance brands similar to Everypaw
About Everypaw
EveryPaw is a pet insurance company that is authorized by the Prudential Regulation Authority. It is also regulated by the Financial Conduct Authority. Pet care is key to fostering a good relationship with any pet. And since unforeseeable events can occur at any time, Everypaw safeguards your finances while also ensuring that your pet receives the best pet care. The company provides insurance for dogs, cats and even rabbits, ensuring you have a stress-free stay with your furry friend.

Everypaw FAQs
How can I login to my Everypaw account?
You can login to your Everypaw account via the Pet portal on the website. You will be required to enter your email address and password. If you have forgotten your password, click the 'Forgotten my password' feature and follow the link sent to your email address to reset it.
What are the benefits of the Pet Portal?
Pet Portal is an online hub that allows easier management of pet policies by eliminating the need for paperwork. The portal helps pet owners manage their policies online, make a claim online, get unlimited access to vets and get a vet fee benefit tracker. Customers can also Live chat the Petcall vets, message the customer care reps about the policies and even change personal details.
How can Petcall help with my pet's healthcare?
With Petcall, you get free and unlimited access to vets and vet nurses. This means that you can reach out to a vet for quick help regarding your pet's health issues. The Petcall vet team will handle issues such as feeding and nutrition, dental advice, pregnancy, toilet training, vaccinations, behavioural advice and any other general healthcare advice.
How can I contact Petcall?
You can reach the Petcall services via phone on 0330 123 1923, video or live chat. The service is available 24/7 all year round. To live chat, login to your Pet portal.
Can Petcall diagnose pet conditions?
No. The Petcall team cannot diagnose pet symptoms or conditions over the phone. However, the team can advise on all health care matters and advise you to see a vet when necessary.
What is covered in the Everypaw rabbit insurance?
The rabbit insurance provides coverage for annual vet fees, Petcall, Excess, Pet portal. Physiotherapy, boarding fees, complementary treatment and even costs incurred in finding your rabbit. The company has three packages, the £1k, £2k and £3k.
What is covered in the Everypaw cat and dog insurance?
Everypaw cat and dog insurance provides coverage for annual vet fees, Petcall, excess, dental treatment, finding your pet, complementary treatment, straying or loss by theft, death from accident or illness and cattery/ boarding fees.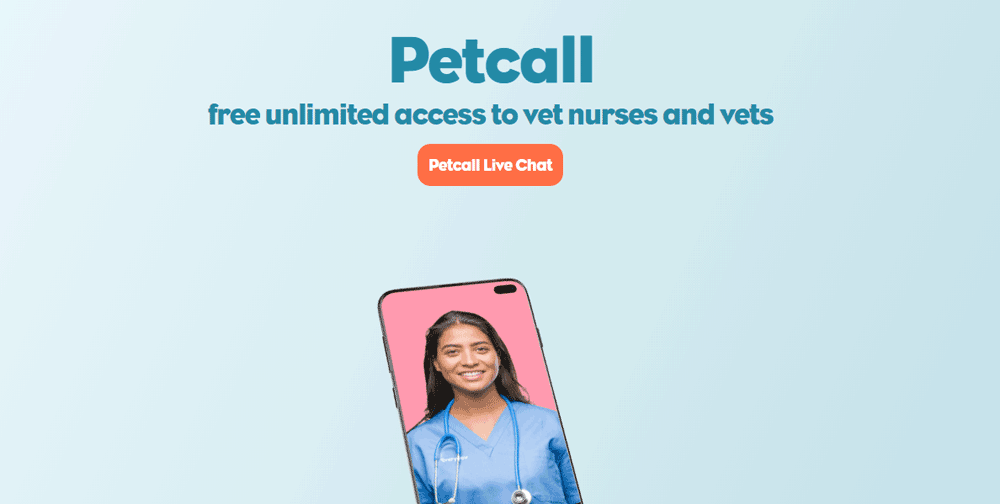 Does Everypaw have a waiting period?
Yes. You cannot claim right after purchasing your insurance. After three days, you can make claims on poisoning or accidents that happened within the 3 days. After 14 days, you can make claims on illnesses. This must be an illness suffered within the 14 days.
Does Everypaw provide coverage for pre-existing conditions?
No. The company does not provide coverage for pre-existing conditions.
How long does EveryPaw take to process claims?
The company processes claims within 3 days after getting your claim form. In most cases, payments are made within 5 days of making a claim.
How can I contact Everypaw?
You can reach Everypaw via email at info@everypaw.com or call 0800 038 0838.
Everypaw Reviews
Everypaw has an average rating of 3.2 among 82 reviews on Trustpilot. The company offers prompt and efficient pet insurance services. While it is easy to make a claim, some customers complained about how the annual renewals were handled and late claim payments.  
Our Everypaw referral codes can offer significant savings when making a new purchase.We update our promotional codes frequently, so make sure to check back before making your purchase.
Check out the latest Everypaw referral codes to make huge savings. At Newbie Deals, we actively seek out the best offers for our readers to ensure you make significant savings. If Everypawv offer a refer a friend program, we'll publish it. If they offer a discount code, we'll show it. If they have an exclusive offer, you got it, we'll bring it to you. By shopping with Newbie Deals and taking advantage of our Everypaw referral codes, you can ensure you get the best deal in town.
Why Use a Everypaw Referral Code?
Simply put, it can save you money, and who doesn't like making savings? With Newbie Deals, you can save £10 on your next Everypaw purchase, by simply using our links. When you use our referral codes(or refer a friend scheme) nothing else changes other than the price you pay, it really is as simple as click, buy and save.
Related Offers



ITCH Pet is a monthly flea treatment that you conveniently receive at your doorstep through the letterbox, exactly when you need it. Never miss out on protecting your pet with helpful reminders sent to them via an app. It's approved by experts and as seen on TV! Sign up today and receive your first Itch Pet's month for free!