How to claim your free Itch Pet discount code
Click the 'Get discount code' icon and copy your free Itch Pet discount code.
Head over to the Itch Pet website and click the product you want to purchase. Apart from flea treatments, Itch Pet has wormer treatments, supplements, treats and even pet insurance.
Click the 'Get started' icon and fill in your pet's details including name, pet type, gender, age, weight as well as any other health issues that may be prevalent in your pet.
Review your pack and confirm the pet recommendations.
Choose your subscription model between the quarterly or monthly models.
Continue to checkout and log in to your Itch pet account. If you do not have an account, you can create one.
Paste your free discount code in the discount code icon and apply.
Complete your order by entering your shipping and billing information.

More dogs brands similar to Itch Pet
About Itch Pet
Founded by Jonny Gould, James Cox, Charlotte Harper and Adam Gould, Itch Pet is a company that specializes in the wellbeing of pets. The company ensures that you never forget your pet treatment. And with the add-on products including treats, supplements and pet insurance, you can create the perfect program that works for you to ensure your pet lives a healthy and happy life. The firm has been in the pet care sector for over 10 years. This means that the treatments are developed by vets and made only by the best chemists and scientists. Whether you are looking for flea and wormer products that effectively eliminate pet parasites, Itch Pet is your go-to shop.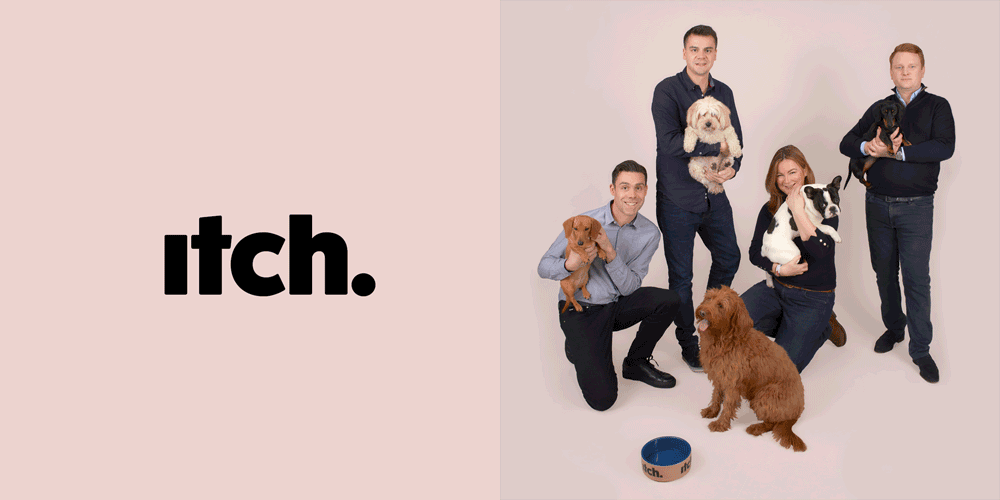 Itch Pet Delivery
Itch Pet delivers to UK locations via Royal Mail. Your orders will be delivered four days after you place your subscription order. Subsequent orders will be sent to the same address unless you inform the company of any changes. Before each dispatch, an email confirmation will be sent to the email used to make an order. Itch Pet allows subscribers to change the order dispatch day. You will not be charged the cost of delivery of the boxes apart from the packaging and posting charges with the first box.
Itch Pet Returns Policy
The company offers refunds or exchanges for damaged or lost products. If your order is delivered damaged, take photographs and contact the Itch Pet team via email at hello@itchpet.com. Similarly, if your product is lost while on transit, contact the team and provide your name, order number and email address.

Itch Pet FAQs
After how long should I see results on my pet after using Itch flea?
You should expect results with Itch flea within 24 hours for flea treatments. If you are treating lice and ticks, expect results within 48 hours.
How does Itch flea work?
Itch flea kills the parasites once they come in contact with the treatment. If your pet has an active infestation, ensure you undertake the treatment monthly to prevent reinfestation.
What makes Itch flea better than other flea treatments in the market?
Itch flea has added advantages compared to other flea treatments in the market. This is because this treatment kills fleas, flea eggs, flea larvae, ticks and lice. It is also personalized for your dog, helping you to avoid trial treatments.
Must I get a vet prescription to purchase Itch flea treatments?
No. You do not need a prescription to purchase Itch flea since the products are AVM-GSL. This means that the products are approved for sale without prescriptions.
What are the side effects of Itch flea?
While most pet owners do not report any side effects, they can still occur. As such, you need to observe skin reactions or behavioural changes. Also, ensure that your pet does not ingest topical products. If you think that your pet is experiencing any side effects, contact your vet or the Itch Pet team.
How many times should I apply Itch flea?
While the treatment protects your pet for up to 8 weeks, you should apply it once a month for best results.
Can I use Itch flea on my sick dog?
No. You should not use Itch flea products on sick pets. Please contact your vet before using any Itch flea products on convalescent, sick or animals that are hypertensive to any of the ingredients.
How often does Itch Pet deliver pet flea treatments?
Itch Pet delivers pet flea treatments monthly.
Does an Itch subscription come with free access to a video vet consultations app?
Yes. With an Itch subscription, not only will you enjoy prompt and timely deliveries but also get to enjoy unlimited Itch video vets.
How can I contact Itch Pet?
You can contact Itch Pet via email at hello@itchpet.com or call 020 3370 0905.
Itch Pet Reviews
Itch Pet has a 4.5 rating among 6,021 reviews on Trustpilot. The company has fantastic products that work efficiently on pet parasites. The customer service is also great not to forget the fast deliveries. 
Our Itch Pet referral codes can offer significant savings when making a new purchase.We update our promotional codes frequently, so make sure to check back before making your purchase.
Check out the latest Itch Pet referral codes to make huge savings. At Newbie Deals, we actively seek out the best offers for our readers to ensure you make significant savings. If Itch Petv offer a refer a friend program, we'll publish it. If they offer a discount code, we'll show it. If they have an exclusive offer, you got it, we'll bring it to you. By shopping with Newbie Deals and taking advantage of our Itch Pet referral codes, you can ensure you get the best deal in town.
Why Use a Itch Pet Referral Code?
Simply put, it can save you money, and who doesn't like making savings? With Newbie Deals, you can save up to 20% on your next Itch Pet purchase, by simply using our links. When you use our referral codes(or refer a friend scheme) nothing else changes other than the price you pay, it really is as simple as click, buy and save.