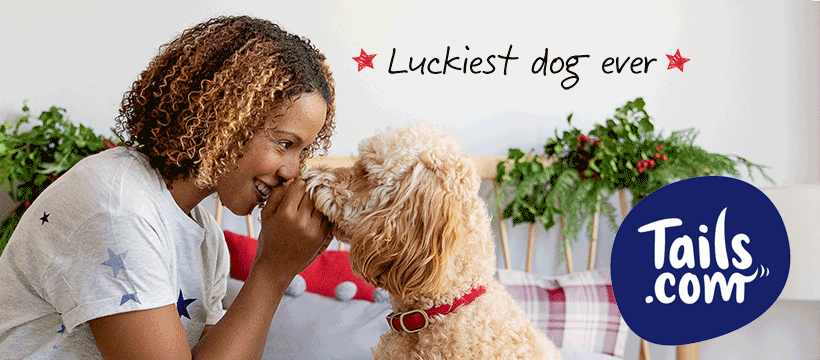 How to claim your free Tails discount code
To claim your free Tails discount code, start by copying your free discount code.
Head over to the Tails website and select the kind of food that you want for your dog.
Proceed to fill in all the required information about your dog. This will help you get the best recommendation among millions of recipes. You also get to select the type of food that is best for your dog. This can be wet or dry and even treats.
After the recipe recommendation is ready, enter your email address in the empty email box and click the see recipe icon.
You will then get the food recommendations. To proceed, click the see my price icon.
Click the 'Got a different promo code' box and paste your free discount code.
Click the checkout with card icon. Fill in your personal details and delivery details. Complete your order by paying for your purchases.
More dogs brands similar to Tails
About Tails
Founded in 2013, Tails is a company that aims to solve pet food issues. Millions of pet owners are either unsure of what to feed the pets while others are misguided on pet food choices. What many do not realize is that there is no one-size-fits-all when it comes to pet food. And with the mysterious ingredients on pet food labels, the company developed a better way to feed the dogs. Tails began by assembling nutritionists, vets and engineers to develop a unique recipe for every dog. These foods are based on the dog's physical attributes such as height and weight, preferences and even medical conditions. Try Tails today and watch meal time become your dog's favourite time!
Tails Delivery
Trails delivers right at your doorstep. The company offers free standard delivery. If you are located in the Mainland UK, your order will be delivered under the free standard delivery or the DPD named day delivery at £3.99. If you are located in Northern Ireland, the Isle of Man or the Scottish Highlands & Islands, you will be charged £2.99 under standard delivery. Please note that the company's delivery windows vary if they fall over Bank Holidays or weekends.
Tails Returns Policy
If you are not satisfied with your Tails products, email the team at hello@tails.com using the user email address within 7 days after delivery. Ensure to include your order details and why you wish to return them. If the return is accepted, the company will refund you within a reasonable period, which can take up to 10 working days. The return will also include the costs incurred when returning the item.

Tails FAQs
What ingredients are in Tails dog food?
Tails only uses ingredients based on its nutritional profile.  Among the ingredients used in Tails dog food include lamb gravy, lamb fat, chicken, salmon, beet pulp, peas, rice, oats, white potatoes, rice, carrots and sweet potatoes. The dog food also has vitamins and minerals including Glucosamine Hydrochloride and prebiotics. The dog food does not have added colours, sugar, preservatives and flavours.
Is Tails dog food good for my dog?
Yes. Tails dog food is good for your dog. This is because the food is tailored to the specific diet needs of your dog.

What size bag of Tails dog food should I get?
The size bag of Tails dog food that you should get depends on the dog's eating habits. You can get an average size bag initially and estimate how long it will last the dog. However, the Tails team will recommend daily portion sizes.
Do I need an account to make my Tails order?
Yes. You must have a Tails account to make your order. Also, all information entered including the card details must be accurate and correct.
How can I cancel a Tails dog food subscription?
If you wish to cancel your Tails subscription, log in to your account and check your upcoming orders in the deliveries section. You must cancel your subscription on or before the last date for changes to your order.
Does Tails have senior dog food?
Yes. Tails has senior dog food tailored to the needs of each dog. These have just the right nutrition for breed-specific issues, reduced exercise, stiff joints and even health conditions.
Does Tails have food for hypoallergenic dogs?
Yes. Tails has the best hypoallergenic dog food. Ensure you state your dog's allergies, conditions and intolerances and a food recipe will be created just for them.

Does Tails have a contact number?
You can reach Tails via email at hello@tails.com using
Tail Reviews
Tails has a splendid 4.7 rating among 29,783 reviews on Trustpilot. The company provides dog food that all dogs absolutely love. The customer service is also excellent, not forgetting the fast deliveries.  
Our Tails referral codes can offer significant savings when making a new purchase.We update our promotional codes frequently, so make sure to check back before making your purchase.
Check out the latest Tails referral codes to make huge savings. At Newbie Deals, we actively seek out the best offers for our readers to ensure you make significant savings. If Tailsv offer a refer a friend program, we'll publish it. If they offer a discount code, we'll show it. If they have an exclusive offer, you got it, we'll bring it to you. By shopping with Newbie Deals and taking advantage of our Tails referral codes, you can ensure you get the best deal in town.
Why Use a Tails Referral Code?
Simply put, it can save you money, and who doesn't like making savings? With Newbie Deals, you can save up to 75% on your next Tails purchase, by simply using our links. When you use our referral codes(or refer a friend scheme) nothing else changes other than the price you pay, it really is as simple as click, buy and save.
Related Offers



Itch Pet is a convenient and effective way to protect your pet. You can get started by signing up online or on their app, which will set you up with the first month free! Then they conveniently deliver flea treatment through your letterbox every 30 days when it's time for more protection against those pesky insects that love our furry friends so much. Never forget again as helpful reminders are sent via text message and/or email depending on what works best for you. Easily approved by experts everywhere - This product has been seen advertised on TV before too so we know this company is legit! Plus prices at ItchPet are cheaper than most vets would prescribe- talk about getting bang for buck here!!! Finally fast acting formula ensures full results within 24