How to claim your free Lily's Kitchen discount code
To claim your free Lily's Kitchen discount code, start by clicking the get discount code and copy your free discount code.
Head over to the Lily's Kitchen website and add all the items you want to purchase to your basket.
Paste your free discount code on the promo code box and apply.
Click the checkout button to proceed with your order. You can either guest checkout by entering your email address or sign in to your Lily's Kitchen account. Even better, you can create your Lily's Kitchen account.
Complete your order by confirming your shipping and payment details.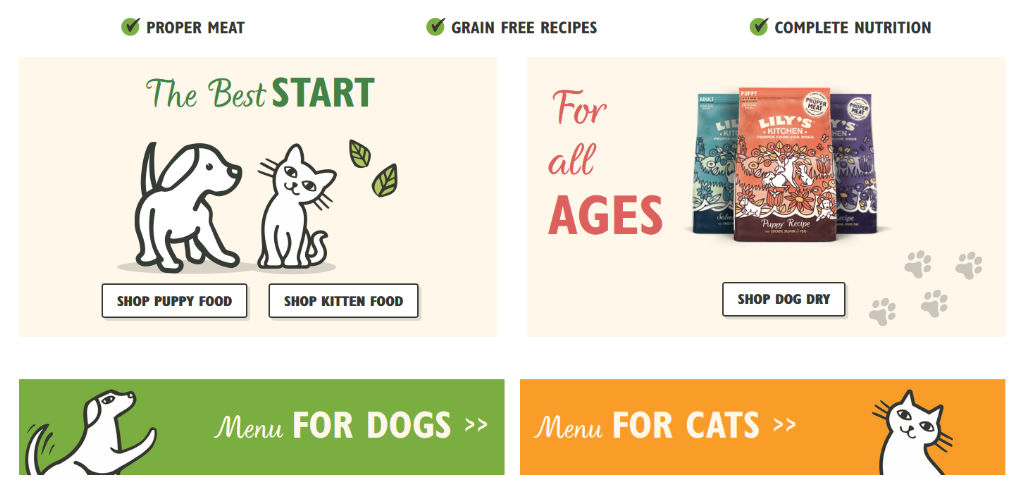 More cats brands similar to Lilys Kitchen
About Lily's Kitchen
Founded over 10 years ago by Henrietta, Lily's Kitchen is a brand that provides delicious and nutritional pet food. The idea was coined after Lily, Henrietta's pet, fell ill and suffered itchy and sore skin. To nurse her back to health, Henrietta started cooking from scratch. And soon after, Lily's health improved. Henrietta then decided to work with nutritionists and vets to help other pets. And today, Lily's Kitchen has a wide variety of cat and dog foods, from wet foods, dry foods, treats, dental chews and even special diets for your furry friend.
Lily's Kitchen Delivery
Lily's Kitchen delivers all over the UK. The company offers free delivery for orders over £29. Orders under £29 are delivered at £4.95 under standard delivery. You can also have your order delivered under special delivery. For the weekend and next day before 12 pm special delivery, your order will be delivered at $9.95. Next day before 10.30 am delivery option is also available at £14.95. Lily's Kitchen also delivers to harder-to-reach areas in the UK including Isle of Wight, the Isle of Man, Northern Scotland as well as Highlands & Islands.
Lily's Kitchen Returns Policy
Lily's Kitchen is committed to optimal cat and dog health. If you do not like the products, you can return them to the company. If your pet does not like the food, the company offers a replacement of your choice. And if your order is delivered damaged, the company will collect it at no extra charge and replace it. If you do not like the products for any other reasons, please get in touch with the Lily's Kitchen customer service team via call on 0207 433 1863 or email hello@lilyskitchen.co.uk.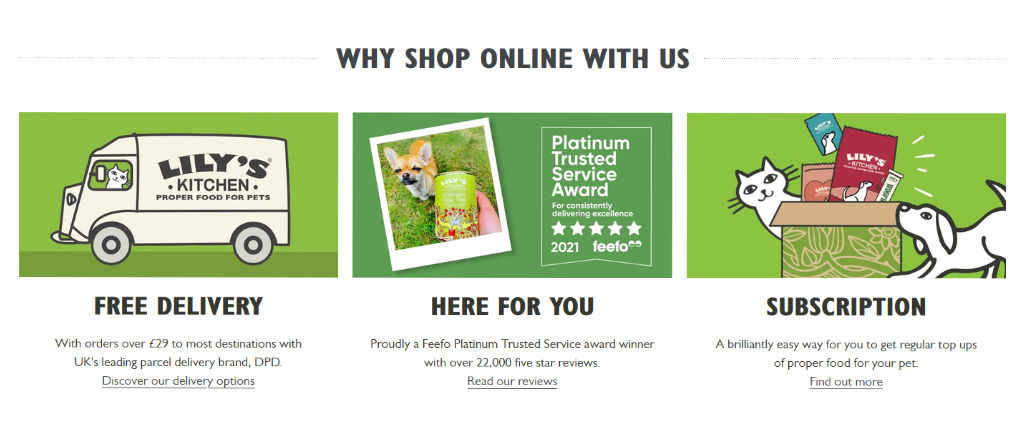 Lily's Kitchen FAQs
Is Lily's Kitchen food pet approved?
Yes. Lily's Kitchen food is vet-approved. This means that it was made with the help of vets and is also recommended and stocked by many vets in the UK.  
I am not sure whether my pet will love the food. Can I get a free sample?
Yes. You can test whether your cat will love Lily's Kitchen food. The company will send free samples provided you cater for the delivery costs.
How can I find out how much Lily's Kitchen food to feed my pet?
Not sure how much to feed your pet? Lily's Kitchen has a feeding guide for your pet based on the weight, lifestyle, age, meal type, food range and activity level. To determine how much you should feed your pet, use the feeding guidelines on the Lily's Kitchen website, fill out all your pet's details and you will be given the feeding recommendations.
Does Lily's Kitchen offer both dog food and cat food?
Yes. Lily's Kitchen offers both dog and cat food. The company has varieties for both pets including wet food, dry food, treats and dental chews. If your pet needs a special diet, check out the special diet options under the special diet category.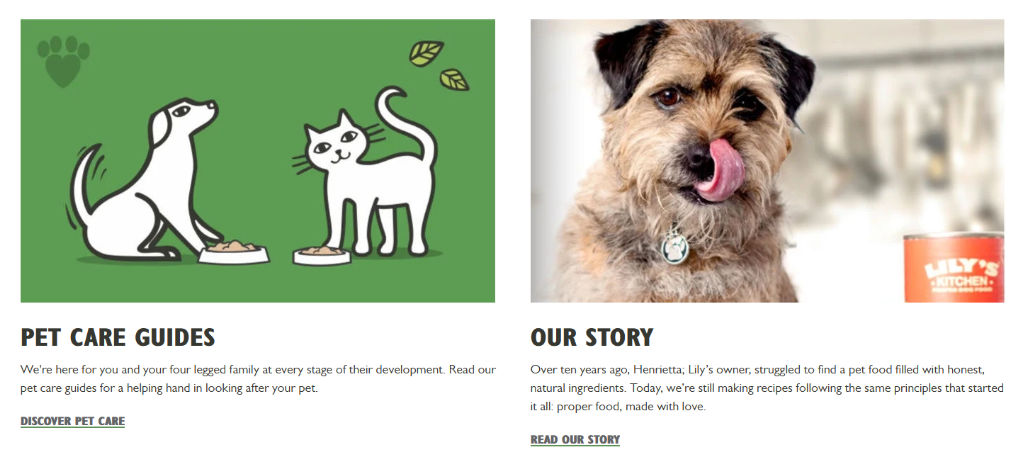 Does Lily's Kitchen offer special puppy food?
Yes. Lily's Kitchen offers food that is specifically tailored for puppies. This has the perfect nutritional balance that is optimal for growing dogs. They are also delicious, nourishing and made with natural ingredients.
What ingredients are in Lily's Kitchen bedtime biscuits?
Lily's Kitchen organic bedtime biscuit is the perfect snack to help your dog get a blissful night's sleep. It contains oat flour, oats, yoghurt, sunflower oil, honey, nutritional yeast, passion flower and chamomile. All these ingredients are organic.
Does Lily's Kitchen sell advent calendars for pets?
Yes. Lily's Kitchen offers advent calendars for pets. This is a fun and festive way for your pet to countdown to Christmas in an entertaining way. The dog's advent calendars feature rise & shine, bedtime biscuits, cheese as well as apple training treats. The advent calendar for cats features tasty chicken treats with liver and festive turkey treats with cranberry.
Lily's Kitchen Reviews
Lily's Kitchen has a 4.6 rating among 2,317 reviews on Trustpilot. The company has efficient delivery services, competitive pricing and fantastic pet food.
Our Lilys Kitchen referral codes can offer significant savings when making a new purchase.We update our promotional codes frequently, so make sure to check back before making your purchase.
Check out the latest Lilys Kitchen referral codes to make huge savings. At Newbie Deals, we actively seek out the best offers for our readers to ensure you make significant savings. If Lilys Kitchenv offer a refer a friend program, we'll publish it. If they offer a discount code, we'll show it. If they have an exclusive offer, you got it, we'll bring it to you. By shopping with Newbie Deals and taking advantage of our Lilys Kitchen referral codes, you can ensure you get the best deal in town.
Why Use a Lilys Kitchen Referral Code?
Simply put, it can save you money, and who doesn't like making savings? With Newbie Deals, you can save up to 10% on your next Lilys Kitchen purchase, by simply using our links. When you use our referral codes(or refer a friend scheme) nothing else changes other than the price you pay, it really is as simple as click, buy and save.