How to claim your free Abbott Lyon discount code
To claim your free Abbott Lyon discount code, click the 'Get discount code' icon and copy your free discount code.
Proceed to the Abbott Lyon website, add all the items that you want to purchase to your bag and checkout safely.
Paste your free discount code in the 'Gift card or discount code' icon and apply. You can either use the click & collect or home delivery option.
Complete your order by entering your shipping address and payment details.
More jewellery brands similar to Abbott Lyon
About Abbott Lyon
Abbott Lyon is a company that sells personalized stylish jewellery and watches. What started as a small project has now grown to serve customers globally. The company designs the luxury pieces in-house, ensuring that you not only get durable pieces but also those that make you feel loved and special. And by using quality materials, customers get to refresh their styles with the Abbott Lyon everyday accessories.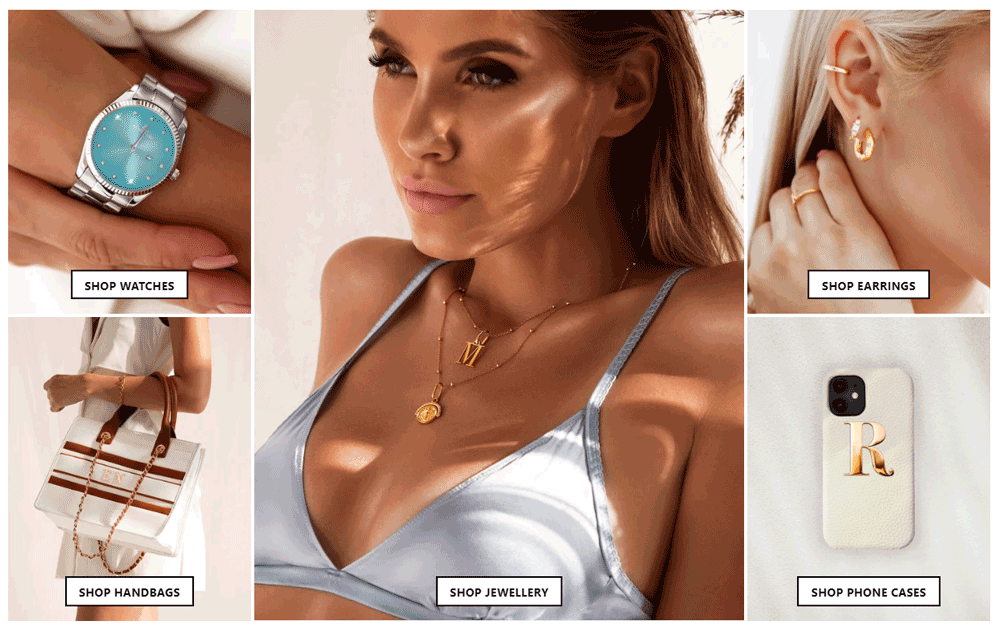 Abbott Lyon Delivery
Abbott Lyon delivers globally. UK orders are shipped via DPD or Royal Mail. UK customers can also opt for the Click & Collect delivery. For name collection, your order may take 3-4 weeks to be made and shipped. To avoid design errors, ensure that all your details are correct before placing your order. The company has different delivery rates depending on your location. To confirm the cost of delivery to your location, check out the delivery section on the Abbott Lyon website.
Abbott Lyon Returns Policy
If something is not perfect with your Abbott Lyon purchase, you can return it to the company within 30 days after delivery where you can either request for a refund or an exchange. Abbott Lyon only accepts refunds on products that are in the original packaging with all packaging intact. Please note that personalized products cannot be exchanged or refunded unless delivered faulty or damaged. This also applies to gift cards or gift bags. The company processes product returns within 5 working days. To arrange for a return or an exchange, contact the Abbott Lyon team at returns@abbottlyon.com.
Abbott Lyon FAQs
Can I find watches for both men and women at Abbott Lyon?
Yes. Abbott Lyon has both men's and women's watches. The watch styles combine a contemporary and traditional style and come in premium packaging.
Do Abbott Lyon stock replacement watch straps?
Yes. Abbott Lyon stocks interchangeable watch straps, enabling you to switch different looks easily and quickly.
Do Abbott Lyon stock jewellery items like bracelets and rings?
Yes. Abbott Lyon stocks various types of jewellery including necklaces, charms, pendants, rings, bangles, bracelets, earrings and rings.
Do Abbott Lyon products have a quality promise cover?
Yes. Abbott Lyon products have a quality promise that applies to jewellery, watches, handbags, phone cases and accessories that have been directly purchased from Abbott Lyon. The quality promise covers manufacturing defects under normal use. If a product is found to have manufacturing defects, Abbott Lyon will provide a replacement.
What is not covered in the Abbott Lyon quality promise?
The quality promise does not cover wear and tear, scratches, chips, damage caused by improper care, damage caused by repairs done by a third party as well as stolen or lost products.
What is the warranty period for Abbott Lyon jewellery and watches?
Abbott Lyon jewellery and watches have a two-year warranty.
What is the warranty period for Abbott Lyon handbags and accessories?
Abbott Lyon handbags and accessories have a one-year warranty.
Do Abbott Lyon products tarnish?
The company only uses the highest standard of plating that is water-resistant, extra durable and has an extra layer that prevents tarnishing. Also, all plating issues are covered under the Abbott Lyon quality promise.
Can I get Abbott Lyon gift sets?
Abbott Lyon has made gifting easy for you. The company has a wide variety of gift options which makes it easy to curate gorgeous gift sets.

What personalization services does Abbott Lyon offer?
The company offers embossing, engraving and signature luxe metal letters.
How long do the Abbott Lyon eternal roses last?
These beautiful and hand-picked roses are preserved to last up to 3 years. They are the perfect addition to gift sets.
Does Abbott Lyon offer gift wrap services?
Abbott Lyon products are delivered in standard luxury packaging. However, the company offers a premium gift wrap service at £5. You can add this service at checkout. 
Abbott Lyon Reviews
Abbott Lyon has a 3.8 rating among 614 reviews on Trustpilot. The company offers beautiful and great quality jewellery. The customer service is also exceptional. However, some customers experienced difficulties in returning products.
Our Abbott Lyon referral codes can offer significant savings when making a new purchase.We update our promotional codes frequently, so make sure to check back before making your purchase.
Check out the latest Abbott Lyon referral codes to make huge savings. At Newbie Deals, we actively seek out the best offers for our readers to ensure you make significant savings. If Abbott Lyonv offer a refer a friend program, we'll publish it. If they offer a discount code, we'll show it. If they have an exclusive offer, you got it, we'll bring it to you. By shopping with Newbie Deals and taking advantage of our Abbott Lyon referral codes, you can ensure you get the best deal in town.
Why Use a Abbott Lyon Referral Code?
Simply put, it can save you money, and who doesn't like making savings? With Newbie Deals, you can save on your next Abbott Lyon purchase, by simply using our links. When you use our referral codes(or refer a friend scheme) nothing else changes other than the price you pay, it really is as simple as click, buy and save.
Related Offers



Tru-Diamonds is a company that sells conflict-free, environmentally friendly gemstones. The company's mission is to give consumers the option of purchasing ethically sourced and responsibly created jewelry at an affordable price. Tru-Diamonds offers beautiful pieces with low prices so every woman can afford to buy something for herself or as a gift.