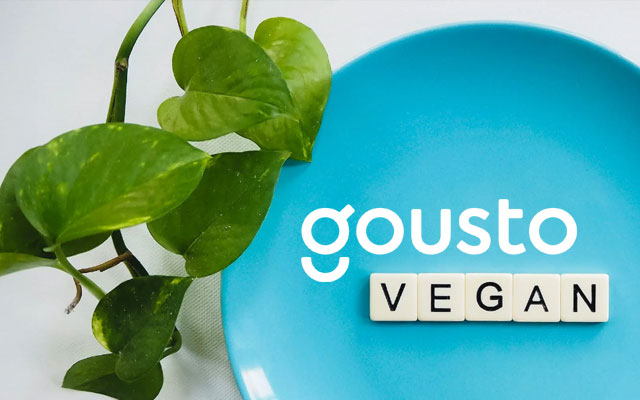 GOUSTO
65% off first box + 30% off first month
Fresh food & recipes delivered
Gousto is a leading meal kit service that has been around for over a decade. The premise is to make home cooking easy by delivering precise amounts of required ingredients and easy-to-follow instructions. With a constantly rotating weekly menu of over 75 recipes, Gousto accommodates a variety of dietary preferences and lifestyles. But do Gousto offer vegan recipes?
The vegan diet has been on the rise for a plethora of reasons. These include weight management, animal welfare, health reasons, environmental concerns, and personal preferences. If you're on a vegan diet, you may have wondered: can I order a plant-based box with Gousto? In this post, we'll cover everything you need to know before ordering Gousto vegan recipes.
Do Gousto Offer Vegan Recipes?
The Gousto menu is designed to cater to a variety of diet plans. It's divided into different categories including;
Plant-based
Vegetarian
Gluten-free
Dairy-free
Healthy choices
Quick & Easy
Calorie-controlled
Fish
Beef & Pork
Chicken
10-Minute Meals
These categories make it easier to order suitable recipes for your specific diet plan/ lifestyle. To order Gousto vegan meals, you'll need to scroll to the plant-based tab. Here you'll find a decent selection of recipes that are made without meat, dairy, and other animal products.
But what if you're on a vegan and gluten-free diet? In that case, Gousto has got you covered as well. You can choose gluten free dishes and click on individual recipes to confirm that they're marked as plant-based.


GOUSTO
65% off first box + 30% off first month
Fresh food & recipes delivered
One of the most commonly asked questions about this meal kit is: Is Gousto healthy? You can order from the 'healthy choices' tab if you're simply looking for meals that are on the healthier side. If you have a specific goal like losing weight, Gousto's 'calorie-controlled' recipes are worth looking into.
What Are Some of the Best Gousto Vegan Recipes?
Gousto's cookbook features over 125 vegan recipes. Of course, the options available will vary each week as the menu items are constantly rotating. Let's now take a look at some fan favourites on the Gousto vegan menu.
Since its inception in 2019, Gousto's Ultimate Plant-Based Stack Burger has become a highly popular menu item. As the name suggests, this vegan burger is absolutely stacked. It consists of plant-based brioche buns layered with Gousto's extra juicy vegan patties, melty dairy-free cheese, balsamic onions, vegan mayo, tomato ketchup, and a potato rosti. If that sounds tempting, you may ask: where can I buy Gousto vegan burgers? And the answer is simple. This vegan burger is exclusively available to Gousto subscribers.
Other highly-rated vegan recipes on the Gousto menu include;
Chickpea, Spinach, and Coconut Curry with Brown Rice.
Sri Lankan-Style Coconut Dal with Aubergine Pickle.
Lentil Enchiladas with Roasted Pepper and Cashew Crema
Plant-Based Sweet Potato Mac 'N' Cheeze.
Chilli Non-Carne, Baked Sweet Potato, and Guac.
Extra Special Meat-Free Bangers 'N' Mash.
Plant-Based Sweet Sesame Fable Mushroom Tacos.
Indian-Style Nachos with Coconut Raita.
Creamy Chickpea Curry Loaded Baked Sweet Potato.
Tangy Vegetable Pad Thai
How Much Does a Gousto Vegan Box Cost?
Gousto prices depend on how many recipes you choose and whether you're ordering a box for 2 people or 4 people. The more you order, the less you'll pay per serving. Here is the complete Gousto pricing breakdown to help you determine exactly how much you'll pay for vegan meal kit deliveries.


GOUSTO
65% off first box + 30% off first month
Fresh food & recipes delivered
A 4-person box containing 4 recipes offers the best value of £2.99 per meal. This makes Gousto a great choice for families. When you factor in the monetary savings on food waste, as well as the time saved on meal planning, shopping, and prepping, Gousto's value for money becomes truly remarkable. And as a new customer, you can take advantage of special introductory offers and save even more on your vegan meals.
Which Is Better for Vegans, Gousto or HelloFresh?
Gousto and HelloFresh are two of the most popular recipe box services in the UK. It's therefore only natural to wonder which recipe box is better for vegans, Gousto or HelloFresh?
Let's compare these two brands and see which meal kit service comes out on top.
One of the most important factors when selecting a recipe box service is variety. Ideally, you want enough options to keep your vegan meals interesting and non-repetitive. Gousto offers over 75 recipes each week and typically, around 20 dishes are vegan. Therefore, every week vegans get a decent selection of close to 20 recipes to pick from. The Gousto menu is constantly updated, and therefore, you can expect a different collection of recipes each week.
Conversely, the HelloFresh menu does not specifically cater to users on a vegan diet. It offers 6 diet plans – veggie, mostly meat, calorie smart, pescatarian, family, and quick cook. Occasionally, you may come across a veggie recipe that is in fact vegan. Some veggie dishes can also be easily customised to a vegan diet by removing and/or replacing some ingredients.
Unlike HelloFresh, Gousto actually caters to vegans, making it the better service for this diet.
Alternatives to Gousto for Vegans and Plant-Based Recipes
The recipe box industry has grown exponentially within the last decade, with more and more households opting for the convenience of a meal kit delivery service. Veganism has also been on the rise, with the most recent estimates showing that 5% of the UK adult population is vegan. It's, therefore, only natural for existing and emerging recipe box providers to accommodate vegan users.
Let's look at Gousto alternatives that also offer vegan and plant-based recipe kits.
Grubby


GRUBBY
Exclusive 50% off your first week then 30% off next 3 weeks
Plant based recipe box
Grubby is a 100% plant-based recipe kit, making it an ideal service for users on a vegan/plant-based diet. There are over 150 Grubby recipes, which helps keep the meals interesting and varied from week to week.
Since Grubby is built with only plant-based customers in mind, you can expect tasty vegan meals with unexpected tweaks that elevate the dishes. For instance, Grubby incorporates ingredients such as oatly cream, plant-based milk, and coconut yoghurt into some recipes to create creamy dishes with amazing textures.
Grubby users get a choice between two box options; a regular box that serves 2 to 3 people, and a large box that serves 4 to 5 people. The large food box offers the best value, with meals starting at £5.75 per serving. You also enjoy free nationwide delivery for your vegan recipes at Grubby.
Green Chef


GREEN CHEF
£77 off your first 4 boxes
Keto, lower carb, balanced, vegan and vegetarian recipe boxes
Like Gousto, Green Chef accommodates a range of diet plans and lifestyles. Users can opt for a vegan, vegetarian, lower carb, flexitarian, keto, or pescatarian meal plan.
On the Green Chef vegan menu, users will find a variety of interesting global cuisines. The menu is updated each week with vegan recipes that you'd otherwise never explore.
Green Chef also offers a variety of handy add-ons to complement your meals and make home cooking even more convenient. These include vegan options such as packs of tofu, vegan sheese, plant-based chicken pieces, and various delicious soups. Of course, Green Chef add-ons come at an extra cost.
Mindful Chef

MINDFUL CHEF
25% off your first 4 boxes
Healthy eating recipe boxes
Mindful Chef is another popular recipe box service that offers options for vegans. You'll need to use the vegan filter if you'd like to only explore the vegan menu. Mindful Chef users can choose between 2 and 5 tasty vegan dishes each week for 1, 2, or 4 people. These vegan meals are not only delicious but also balanced and nutritious.
And the best part? Mindful Chef offers a diverse collection of vegan recipes that utilise varied ingredients. Options range from the likes of mushroom and lentil bolognese with crushed sweet potato to spiced chickpea and date tagine with zesty (almond) yoghurt. Since the menu is updated each week, you always have an exciting collection of vegan recipes to look forward to.
Riverford Organic


RIVERFORD
£15 off second order + tree planted
Organic veg boxes delivered
Riverford Organic is mostly known for its seasonal organic veg boxes. However, you can also order fruit boxes, fruit & veg boxes, and even salad boxes from this company. If you're looking for a way to incorporate more fruits and veggies into your diet, Riverford Organic is the way to go.
The offering at Riverford Organic is quite diverse and customers can also purchase recipe boxes and kits. Their recipe boxes are grouped into different categories, including vegan, vegetarian, low plastic, seasonal stars, and comforting family favourites.
Planthood

PLANTHOOD
£15 off your first order
Plant based prepared meals
Planthood exclusively delivers healthy vegan recipe kits to your door. However, this company is different from a traditional recipe box service. Instead of simply sending you the required ingredients and cooking instructions, their team of expert chefs does most of the heavy lifting for you. They cook the mains and prepare your sauces and garnishes from scratch. All that's left to do is reheat the food and complete the fresh bits in about 15 minutes. Planthood is, therefore, the way to go if you're interested in delicious vegan meals that are ready in just a couple of minutes.
Planthood users can customise their order by picking a 2 or 4-person box, and filling it with 3 to 5 recipes. Prices here start at £5.95 per serving.
Conclusion
While Gousto is not an exclusively vegan meal kit delivery service, it has one of the best plant-based offerings in the UK. Each week, users get a sizable selection of plant-based recipes to choose from, and the ingredients and recipe cards are then delivered to your door.
Vegan food sometimes gets a bad rap for being uninteresting and not very appealing. However, this is simply not the case with Gousto vegan recipes. By incorporating a wide range of ingredients and employing imaginative takes on popular dishes, Gousto has created plant-based recipes that are far from uninteresting. And with prices starting from £2.99 per meal, this Gousto is way cheaper than other vegan meal kit delivery options.


GOUSTO
65% off first box + 30% off first month
Fresh food & recipes delivered