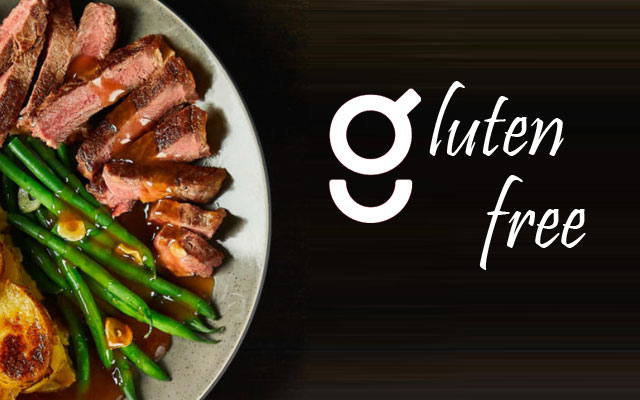 GOUSTO
65% off first box + 30% off first month
Fresh food & recipes delivered
Recipe boxes have revolutionised food prep convenience. They provide all the ingredients required to make a meal from scratch while saving you time, reducing waste, and allowing you to try various recipes you'd otherwise never explore. This especially comes in handy if you're following a specific diet, as coming up with new recipes can be challenging.
In the UK, celiac disease has a prevalence of 1 in 100 people. Many individuals deal with non-celiac gluten sensitivity, while others choose to eliminate gluten for health and lifestyle reasons. With such numbers, it's only natural for meal kit service providers to accommodate a gluten-free diet.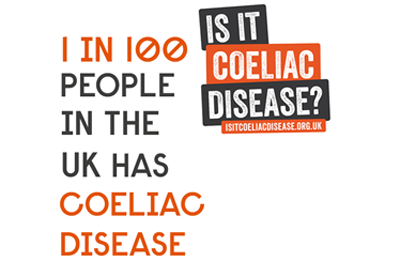 Gousto is one of the leading recipe box companies in the UK. In this post, we'll comprehensively explore all you need to know about Gousto gluten-free meals. We'll also cover the best gluten free discounts in the market.
How to Choose Gousto Gluten Free Recipes
Gousto's menu is currently categorised into 14 sections as follows;
All Recipes
Quick & Easy
Oven-Free Feasts
Calorie-Controlled
Healthy Choices
10-Minute Meals
Prepped in 5
Chicken
Beef & Pork
Fish
Vegetarian
Plant-Based
Gluten-Free
Dairy Free
To order from Gousto, you'll need first to select your preferred box option. Gousto's regular box serves two adults or 1 adult and 2 - 3 children. If you opt for this regular box, you can fill it with 2, 3, 4, or 5 recipes per week. Alternatively, you can settle on Gousto's large box, which serves 4 adults or 2 adults and 2 - 3 children. This large box offers the best value and allows you to add 2, 3, or 4 recipes weekly, depending on the needs of your household.
Choosing gluten-free recipes from Gousto is relatively straightforward, than to their specific categories. All you need to do is select the 'gluten-free' tab and pick from the options in this section. Unlike many companies that offer 1 or 2 gluten-free options, Gousto stands out with its diverse gluten-free offering.
Each week, the Gousto menu is updated with over 75 recipes; typically, around 20 are gluten-free options. This makes it possible to order a Gousto box with only gluten-free recipes.


GOUSTO
65% off first box + 30% off first month
Fresh food & recipes delivered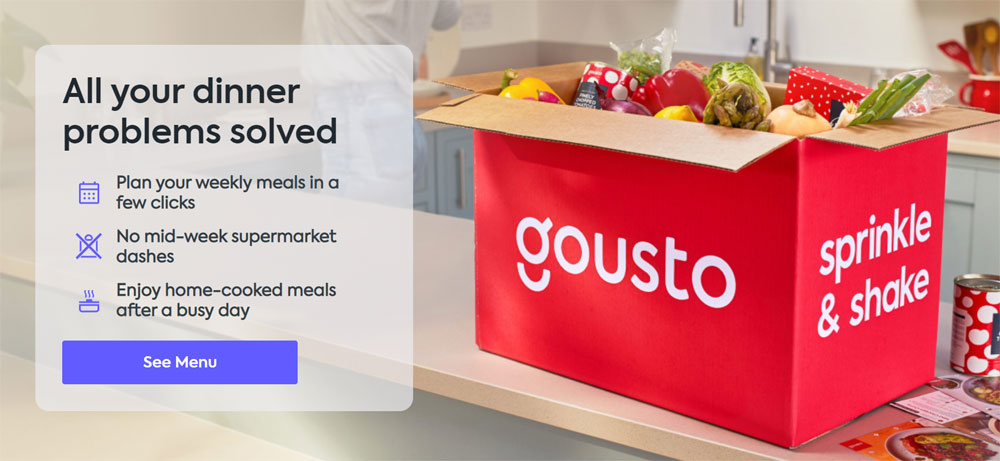 Best Gousto Gluten Free Recipes - Our Top Selections
Gousto's menu changes from week to week, and at the time of writing, they have 138 gluten-free recipes in their cookbook. These options ensure that your dinners are tasty and never monotonous. If you struggle with creating delicious and innovative gluten-free recipes, Gousto can be a game-changer. Some of our favourite gluten-free recipes from this recipe box company are;
Thai Green Jumbo Prawn Curry
Baked Spicy Pork Belly and 'Nduja Stew with Tenderstem Broccoli
Sri Lankan-Style Aubergine Curry with Rice and Coconut Chicken
Blackened Salmon Bowl with Charred Chilli Corn and Feta
Charred Pineapple Fried Rice with Toasted Cashews
Smoky Basa and Sweet Potato Curry with Brown Rice
Garlic and Herb Rump Steak with Wedges and Green Beans
Bengali-Style Basa Curry with Spinach Potatoes

Gousto Healthy Gluten Free Options
Gousto has a 'Healthy Choices' category which hosts recipes that are on the healthier side. Some of Gousto's gluten-free dishes are featured in this section. If you're keen on a healthier lifestyle, you may want to order gluten-free recipes that are also healthy.
Some of the most popular Gousto healthy gluten-free recipes are;
Malabar-Style King Prawn and Pea Curry with Rice.
Black Bean and Squash Chilli with Feta and Avocado.
Indian-Style Pea and Sweetcorn Fritters with Nigella Eggs.
Pesto Salmon and Veg Tray Bake.
Vietnamese-Style Sticky Lemongrass Pork Bowl


GOUSTO
65% off first box + 30% off first month
Fresh food & recipes delivered
Gousto Alternatives For Gluten Free Diets
Gousto is undoubtedly one of the best and most diverse recipe box providers for a gluten-free diet. If you'd like to keep things even more varied and explore more gluten-free dishes, numerous Gousto alternatives are worth considering. Here are some options to get gluten-free, healthy meals delivered.
Mindful Chef - Alternative Gluten Free Boxes to Gousto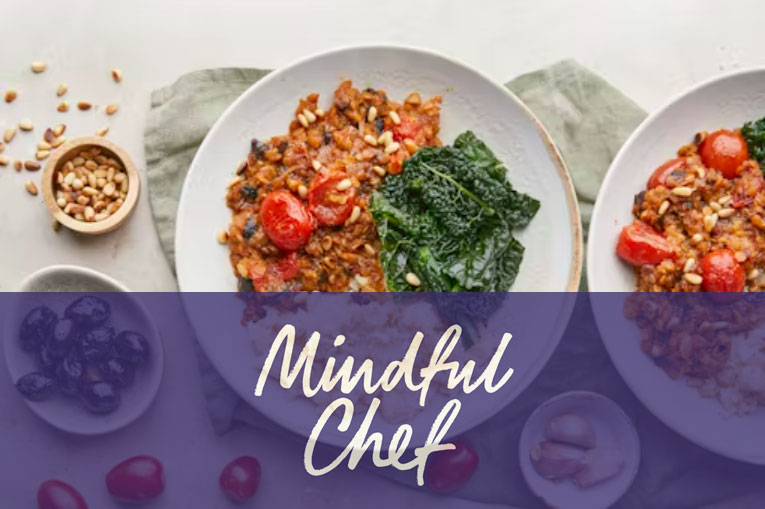 MINDFUL CHEF
25% off your first 4 boxes
Healthy eating recipe boxes
Mindful Chef's menu exclusively consists of gluten-free, dairy-free recipes and without refined carbs. Each week, you get a choice of 20 healthy, high-protein recipes that help you eat better, save time, and cut down on waste. Since the recipes are constantly updated, you can look forward to a fresh and interesting selection of gluten-free recipes each week.
With this meal kit service, you can choose 2 to 5 recipes each week to build a 1, 2, or 4-person box. Some of the delicious gluten-free recipes on the Mindful Chef menu include;
Spicy Salmon, Cabbage, and Caper White Bean Stew.
Lentil Ragu with Creamy Celeriac Mash.
Pork loins with Creamy Mushroom and Tarragon Sauce.
Garlic and Ginger Tiger Prawn Noodles with Persimmon.
If you have a hectic lifestyle, you can take advantage of the Mindful Chef ready-to-go range, which comprises frozen ready meals, smoothies, breakfast boxes, desserts, soups & broths, and snacks & vitamins.
Mindful Chef meals start from £6.50 per serving. With our Mindful Chef discount code, you can save significantly since a serving will only cost you £4.86.
Green Chef - Suitable for Lots of Dietary Requirements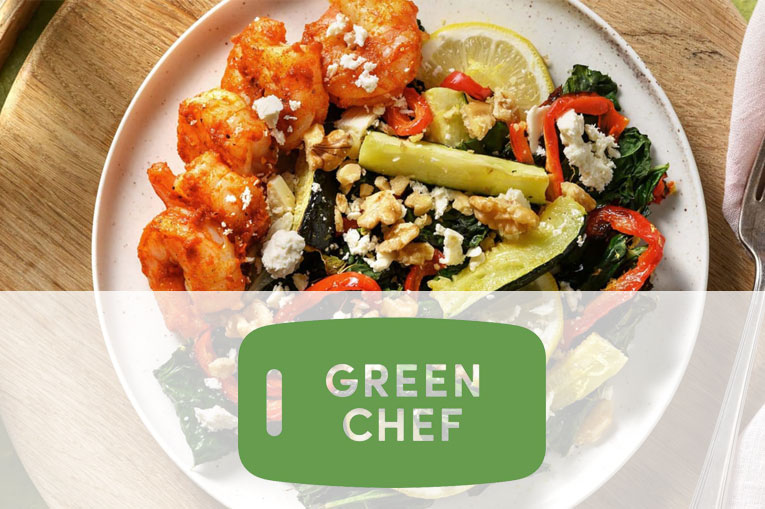 GREEN CHEF
£77 off your first 4 boxes
Keto, lower carb, balanced, vegan and vegetarian recipe boxes
Green Chef is another meal kit service provider built with many dietary requirements in mind. They offer keto, vegetarian, vegan, pescatarian, flexitarian, and lower-carb diet plans. While this recipe box service lacks a dedicated section for gluten-free options, you can find compliant recipes with just a little effort.
To choose Green Chef gluten-free recipes, you'll need to click on individual recipes and confirm that gluten is not listed as an allergen. If you'd like to know what your gluten-free Green Chef dinners would look like, here are a few options on their menu.
Thyme Roasted Duck Breast with Creamy Bacon & Leeks and Parmigiano Cauli Mash.
Harissa Spiced King Prawns with Roasted Vegetables and Greek Style Cheese.
Dukkah Chickpea Rice Bowl with Harissa and Cashew Butter Sauce and Pistachios.
Chimichurri Portobello Mushrooms and Pepper with Refried Pinto Beans and Zesty Rice.
You can save up some cash by using our code to get 3 meals for £4.99 at Green Chef. Note that Green Chef recipes are packaged in shared facilities; therefore, there is always a risk of cross-contamination. You may want to consider other gluten-free recipe box services if you have a severe gluten allergy.
Grubby - Another Great Gluten Free Alternative to Gousto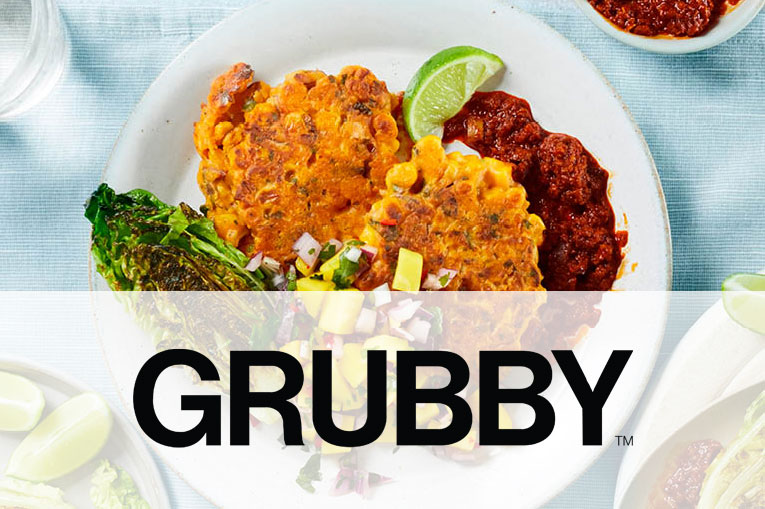 GRUBBY
Exclusive 50% off your first week then 30% off next 3 weeks
Plant based recipe box
Grubby is ideal for users on a vegan diet as all their recipes are 100% plant-based. Their dishes feature a variety of seasonal produce, mostly grown on British organic farms.
The Grubby menu offers over 150 recipes, and the available options change every week. This service is quite flexible, and it makes it convenient for households to make their meals from scratch.
While Grubby lacks a specific section for gluten-free meals, it's quite easy to identify their compliant recipes. You can access details about each recipe's cooking times, calories, allergens, and macros without clicking on them. All you need to do is pick recipes that interest you and do not list gluten as an allergen.
Each week, the Grubby menu offers a decent selection of gluten-free, vegan dishes. Some of their most popular options include;
Za'atar roasted aubergine with hummus
Cajun-style cauliflower steaks, oregano sweet potato wedges, chimichurri sauce
Sweetcorn fritters and mango salsa
Dirty chick'n katsu-style loaded fries
Jerk aubergine, mango salad
Take advantage of our Grubby discount code to get 50% off your first box and 30% off the next three weeks. You can therefore explore their range of gluten-free plant-based meals without paying full price.
Balance Box - Pre Prepared Gluten Free Meals Available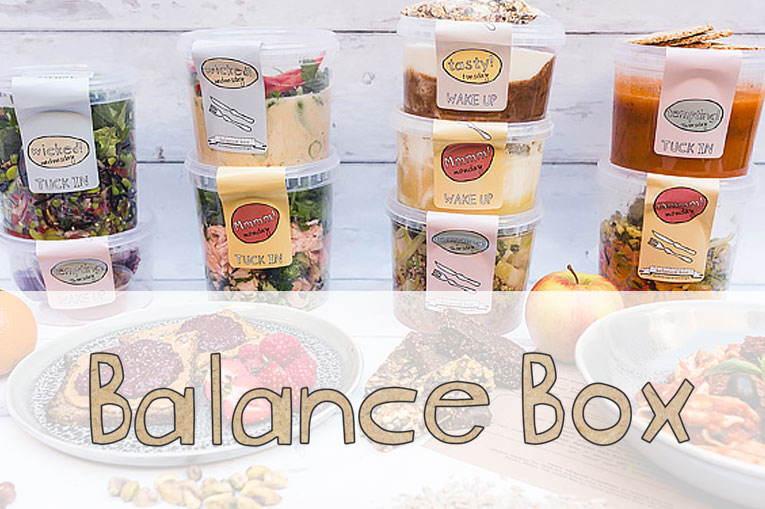 Unlike Gousto, Balance Box delivers ready-to-eat meals. Nutritionists thoughtfully design the Balance Box menu to help you feel rejuvenated. Breakfast often features a source of fibre to help you feel full and provide sustained energy throughout the day. Their meals typically incorporate British-grown herbs known for their anti-inflammatory properties and fresh flavour. Further, you can expect various fruits, vegetables, and natural ingredients that will fuel your endorphins.
Balance Box has done all the hard lifting and put together a menu that will leave you feeling your best. Their chefs then prepare all your meals and snacks for the day. All that's left to do is to heat your healthy and balanced meals.
Balance Box offers four box options suitable for different dietary requirements; the classic box, vegetarian box, pescatarian box, and plant-based box. Their plant-based meals are made without any animal products or gluten. Here's a sample day of eating Balance Box gluten-free meals;
Breakfast:
Peanut Butter, Mixed Berry Jam, and Gluten-Free Bread
Snack 1:
Pear and Pistachio Nuts
Lunch:
Marinated Tofu and Tomato Ceviche Salad
Snack 2:
Homemade Cacao, Date and Chia Seed Bar
Dinner:
Chilli Con Beanie with Black Eyed Beans, Brown Rice, and Mixed Peppers

Our Balance Box discount code allows you to enjoy 3 balanced meals and 2 snacks for just £26.99 per day.