Green Chef offers are typically in the form of discount codes or refer-a-friend links. And at Newbie Deals, we keep you updated on the latest and most lucrative Green Chef offers. Currently, Green Chef is running a referral discount program that allows you to enjoy 3 meals for 2 people at just £4.99. Click on the 'Get Deal' button, and follow the straightforward prompts to save on your next Green Chef delivery.
About Green Chef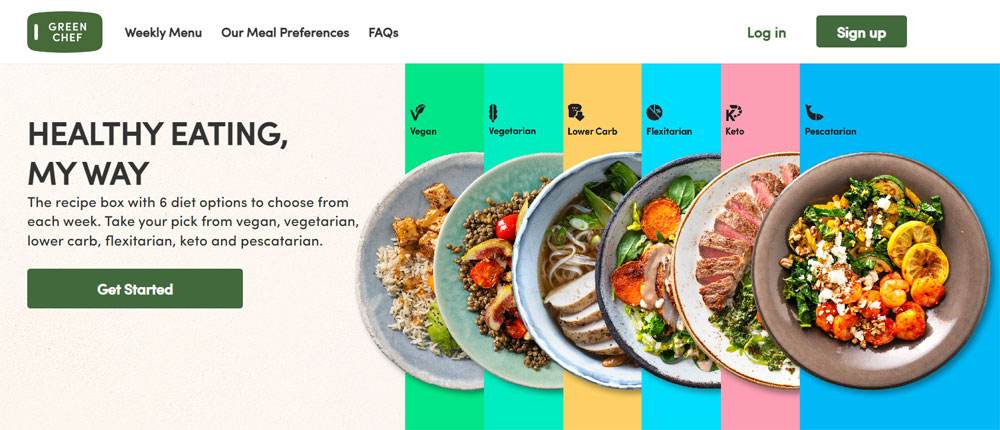 Green Chef is a recipe box service launched in 2014 in the United States. The company was later acquired by HelloFresh in 2018 in the US. In a bid to expand its operations, HelloFresh launched Green Chef in the UK in December 2020, and it became UK's first keto-friendly recipe box. With this brand, the focus is on using sustainable, high-quality ingredients. They also deliver precise quantities, effectively reducing food waste. 
Green Chef users can choose either a 2 or 4-person box and fill it with up to 5 recipes a week, depending on their household needs. While Green Chef does not have a box specifically designed for a one-person household, their 2-person box can be an ultra-convenient option, providing leftovers for the next day's lunch. Green Chef prices start from £5.70 per serving for their 2-person box. The 4-person box offers the best value with meals starting from £4.94 per portion. 
In line with their sustainability mission, most of Green Chef's packaging is recyclable, reusable, or compostable. However, their boxes include some plastics which the company offsets along with 100% of their operational and distribution-related emissions. 
More recipe boxes brands similar to Green Chef
How to Order Your Green Chef Box
Ordering from Green Chef is simple. Follow these straightforward steps to get your first order of healthy meals delivered. 
Click on the 'Signup' button positioned in the upper right-hand corner.
Select your preferred diet – keto, flexitarian, vegetarian, vegan, pescatarian, or lower-carb.
Select your preferred box size and click on the 'Choose This Plan' button.
Enter your email address and choose a password.
Fill in your delivery address. Input a discount code if you have one and click on the 'Apply' button.
Enter your payment details.
Pick the recipes that you'd like delivered in your Green Chef box.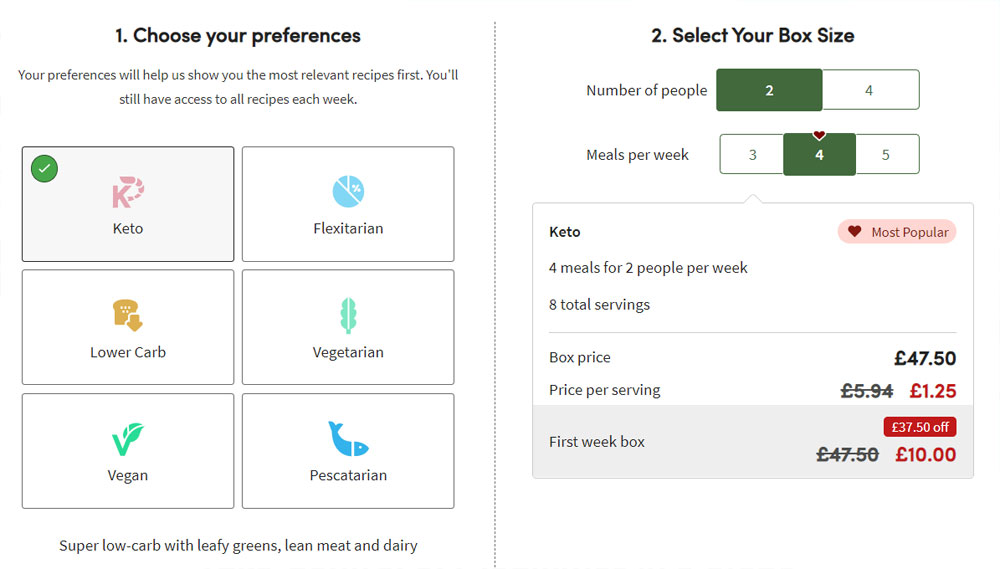 What's in a Green Chef Box?
Green Chef delivers all the ingredients required to whip up a healthy meal in 30 minutes or less. You can follow their straightforward recipe cards, included in your Green Chef Box. These cards also provide a complete breakdown of the nutritional profile of the dish, including a list of allergens. 
Green Chef pre-measures all your ingredients, and therefore, delivers precisely what you need for the recipe. Further, most ingredients including veggies and sauces have already been prepped for you making cooking from scratch a lot easier. Depending on your needs, you can order extras such as soups and vegetables at an additional cost. All the items in your Green Chef box are carefully packaged so they can get to you in pristine condition. 
Green Chef Menu

The Green Chef menu features recipes suitable for six diet plans; keto, vegan, vegetarian, flexitarian, lower carb, and pescatarian. 
When signing up for a Green Chef account, you'll be required to choose your preferred diet from these options. However, this doesn't mean that you still can't view and choose dishes from other meal preferences. Green Chef allows users to mix and match diet preferences creating a custom plan. 
The Green Chef menu changes every week. You can, therefore, look forward to a new and exciting collection of recipes with each order. You'll be able to browse the menu up to 3 weeks in advance, even before signing up. This way, you're aware of what meals to expect, and if you'd potentially like to skip some weeks. 
Let's now explore the diet plans on the Green Chef menu further. 
Green Chef Keto Options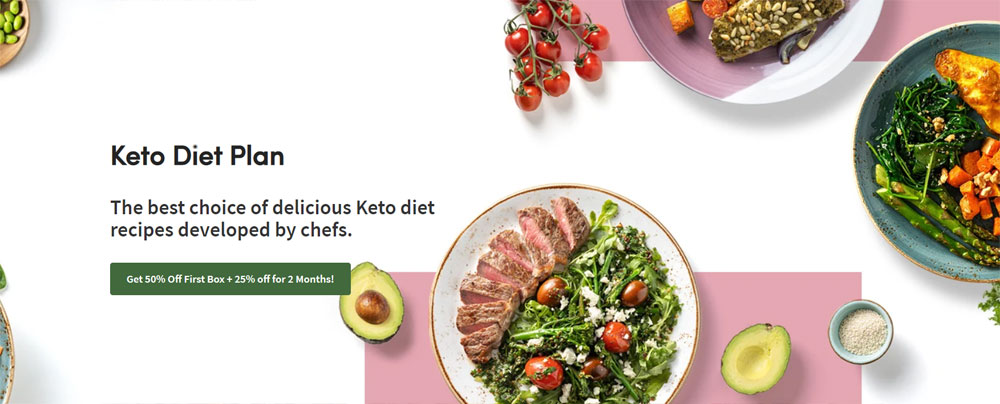 The ketogenic diet has become increasingly popular, especially with those looking to lose weight. It helps the body achieve a state of ketosis, meaning that you're using ketones produced from fat rather than the usual glucose for energy. This results in your body burning fat at a more efficient rate. Besides improved fat burning, a ketogenic diet can aid in appetite regulation, reversal of diabetes, and even seizure management. 
With the Green Chef keto diet plan, all recipes provide 20g of carbs or less. To keep the amount of carbs low, these recipes do not use grains such as rice and corn, or tubers such as potatoes and sweet potatoes. On this diet plan, you can expect your recipes to feature meat, sustainably caught fish, dairy, and a host of leafy greens. 
Green Chef makes keto dinners exciting with its diverse range of options. Keto meals on Green Chef can look like;
Bacon-wrapped cheesy chicken thighs with green beans.
Spiced sea bass in a red Thai-inspired curry with toasted coconut, pak choi ,and mangetout.
Chinese-inspired ginger pork soup with ribboned veg and a spicy broth.
Rump steak and peppercorn sauce with red cabbage and tenderstem broccoli.
Green Chef for Vegans & Vegetarians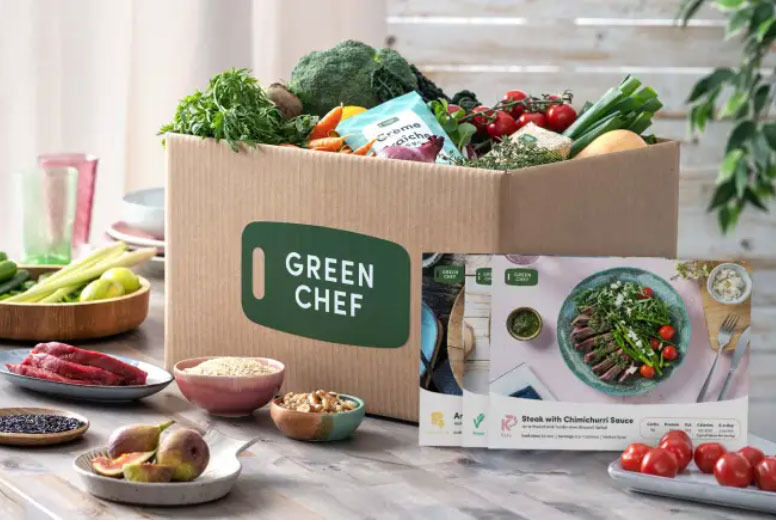 The Green Chef menu consists of mouth-watering vegetarian recipes which offer lots of crunch and flavour, and are rich in vegetarian protein. The dishes often incorporate high-quality dairy, and this creates exceptionally creamy textures and fantastic flavours. Green Chef's vegetarian diet plan consists of well-balanced meals that do not neglect any of the major food groups. Some of the vegetarian options on their diverse menu are;
Oven-baked rocket pesto risotto with roasted tomatoes and courgette.
Nut-stuffed honey and harissa courgettes with freekeh and feta tabbouleh.
While vegetarian dishes are only free from meat and fish, the vegan diet is more strict, eliminating all animal products from the recipes. Looking at Green Chef's vegan recipes, it's clear that the team has dedicated a lot of time and effort to developing exciting and refreshing options. The dishes use ingenious ingredients such as coconut yoghurt and cashew butter to add amazing flavours. Green Chef's vegan dishes are nutritionally balanced, providing complex carbs, fibre, and 20g or more of plant-based protein in each serving. 
Examples of creative Green Chef vegan dishes are;
Creamy tomato and chickpea curry with cumin basmati and coconut milk yoghurt.
Tomato and aubergine puff pastry tart with Greek-style sheese and rocket.
Central American spiced cauliflower with a tomato and avocado salsa and rice.
Perfect for Flexitarians

Flexitarian is a combination of the words flexible and vegetarian, signifying this diet's less strict approach to the vegetarian/ vegan diet. So, while the focus is on a primarily plant-based diet, you're still able to enjoy meat and other animal products every so often. 
If you'd like to integrate more fruits, veggies, whole grains, legumes, and nuts into your diet without completely giving up meat, fish, or dairy, this diet plan would be the way to go. The Green Chef flexitarian diet is also ideal for users who don't have food restrictions and are just looking for healthy recipes. 
Green Chef's flexitarian recipes are a combination of vegan, vegetarian, meat, and fish options such  as;
Spicy chipotle tofu tacos with a tomato and mango salsa
Smoky king prawn tacos with avocado coleslaw and lime yoghurt
Chilli beef rump steak ramen with tamari sambal broth.
Green Chef Pescatarian Options
Green Chef pescatarian recipes are developed around high-quality, sustainably caught fish and seafood. You can expect lots of leafy greens, veggies, and occasionally dairy to go with your tasty meals. Curious as to what your pescatarian Green Chef dishes would look like? Take a look at some of their popular recipes;
Spiced cod tacos with pineapple salsa and avocado.
Sri Lankan-inspired prawn curry with ginger green beans and peanuts.
Pesto baked salmon and parmentier potatoes with buttery samphire and tenderstem broccoli.
King prawn and asparagus stir-fry with pak choi and egg noodles.
How to Cancel Green Chef
You can cancel your Green Chef subscription with these straightforward steps, and without needing to jump through hoops. 
Sign in to your Green Chef account.
Once signed in, you'll see a person icon. Click on this icon and navigate to your account settings.
Scroll down to the status section of your plan settings and select 'Deactivate your Plan'.
Click on the 'Cancel Anyway' button.
Provide feedback on why you're deactivating your subscription and click 'Deactivate Now'. That's it! You've now unsubscribed from Green Chef.
Note that you'll need to complete this process by midnight five days prior to the next delivery. If this deactivation deadline lapses, you'll end up being charged and receiving the following week's delivery. Should you change your mind, Green Chef allows you to re-subscribe to the service at any time. 
Green Chef Contact number in the UK
If you're having any issues, you can contact the Green Chef customer service team 7 days a week between 9 am and 10 pm on 02045381121. 
Alternatively, you can reach customer support via live chat 7 days a week between 9 am and 7 pm EST. The live chat button is situated in the lower right-hand corner.
Our Green Chef referral codes can offer significant savings when making a new purchase.We update our promotional codes frequently, so make sure to check back before making your purchase.
Check out the latest Green Chef referral codes to make huge savings. At Newbie Deals, we actively seek out the best offers for our readers to ensure you make significant savings. If Green Chefv offer a refer a friend program, we'll publish it. If they offer a discount code, we'll show it. If they have an exclusive offer, you got it, we'll bring it to you. By shopping with Newbie Deals and taking advantage of our Green Chef referral codes, you can ensure you get the best deal in town.
Why Use a Green Chef Referral Code?
Simply put, it can save you money, and who doesn't like making savings? With Newbie Deals, you can save on your next Green Chef purchase, by simply using our links. When you use our referral codes(or refer a friend scheme) nothing else changes other than the price you pay, it really is as simple as click, buy and save.