How to claim your free HelloFresh discount code
To claim your free HelloFresh discount code, start by clicking on the deal that you're interested in. Copy the discount code and then proceed to the HelloFresh website.
On the HelloFresh website select the range of delicious meals that you'd want included in your order.
Next, click on the "Got a Promo code?" prompt, paste your discount code, and hit Apply. The discount will be applied against your final cost.
Proceed to checkout and fill in shipping and delivery details.
Finally, select your preferred payment method and complete your order by making a payment. Now, you only need to wait for delightful meals to be delivered at your door.
More recipe boxes brands similar to Hello Fresh
About HelloFresh
HelloFresh is on a mission to simplify your cooking experience and offer the ultimate convenience. 
Anyone can cook with HelloFresh. Their boxes come with easy-to-follow recipes, and even a novice cook will easily whip up a delicious meal. In addition, you can dramatically reduce food wastage by using HelloFresh. The ingredients are measured and weighed, and therefore, you'll have just the right amount to prepare your meals. 
HelloFresh caters to everyone. If you have children, you can opt for the family friendly plan that comes with meals that your kids are bound to love. If you're always short on time you can choose from the Quick Cook Plan that offers a range of 20-minute (or less) recipes. Depending on your preferences you can also opt for a Veggie or a Meat and Veggies Plan. 
One of the best features about HelloFresh is the flexibility it offers. You can easily skip a week or cancel your subscription hassle-free. You can also customize your order by choosing the number of people in your family and the number of recipes you'd like to receive weekly.
There is a lot to love about HelloFresh. Cook up a saving by using our discount code on your next HelloFresh box.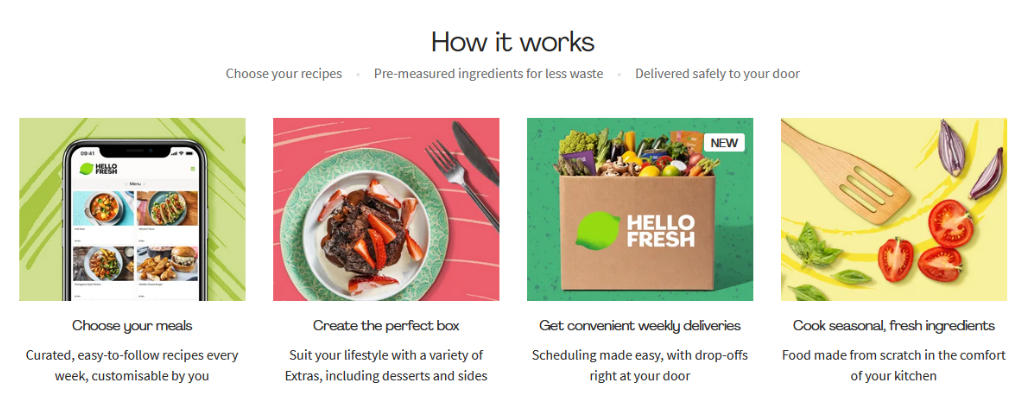 HelloFresh Delivery
HelloFresh delivers easy-to-follow recipes and fresh quality ingredients right to your door. Deliveries are on a weekly basis on the day of your choosing between 8 am to 8 pm. You can easily skip a week or cancel your subscription if you no longer need the service. To avoid charges, you'll need to pause or cancel your subscription by Tuesday 11.59 pm the week before .
HelloFresh Returns Policy
If for any reason you're dissatisfied with your HelloFresh box, you can contact their customer service through the various options provided on their website. Since food items are highly perishable, the standard 14-day return policy does not apply to HelloFresh.
However, HelloFresh has a refunds policy for specific situations. For instance, if your order is damaged, doesn't arrive, or is not complete, the company will offer a suitable refund. 
HelloFresh FAQs
What is HelloFresh?
HelloFresh is a meal-delivery kit that makes it easier to cook your own meals at home. HelloFresh conveniently delivers fresh ingredients and simple recipes of your choice, to your doorstep. With their subscription box, you get to skip the grocery trips and meal-planning. 
How much Does HelloFresh cost?
You can enjoy delicious chef-created meals from just £3.25/pp. HelloFresh will charge you weekly rather than monthly for their boxes. Based on reviews, most consumers end up saving significantly by using this service.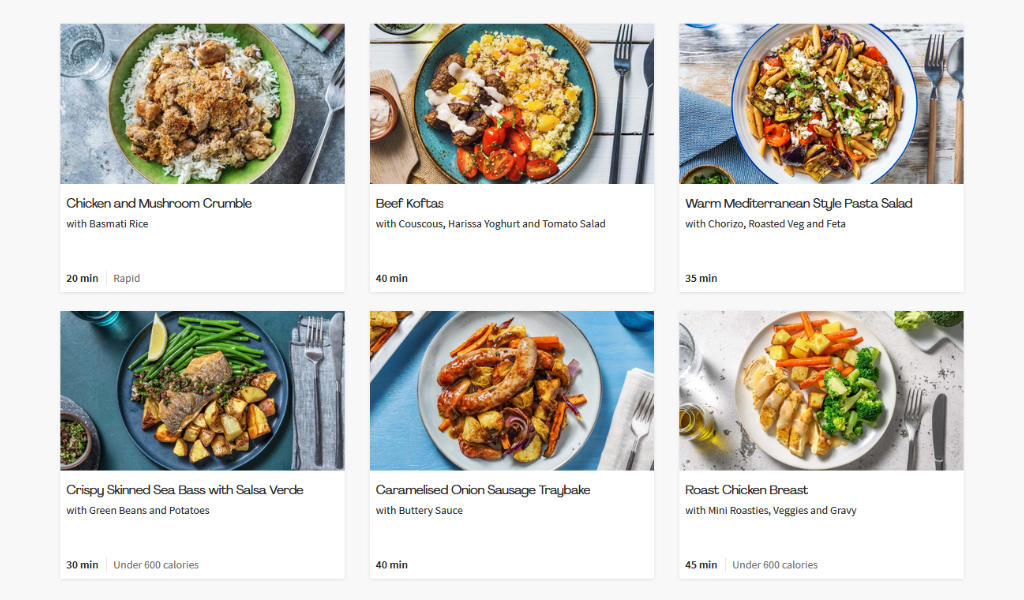 Does HelloFresh Provide Nutritional and Calorie Information?
HelloFresh meals come with detailed nutritional information. The meal kits provide essential information such as number of calories, and amount of protein, sugar, carbohydrates, fiber, sodium fat, and cholesterol.
Does HelloFresh support a healthy lifestyle?
HelloFresh delivers a range of delightful and nutritious ingredients including vegetables and fresh produce. Whether you're looking to follow a low-calorie, vegetarian, plant-based, or a generally healthy meal plan, you'll find suitable meal options that you can add to your HelloFresh box. 
What if I'm not home during a delivery?
Your HelloFresh box will be delivered between 8 am and 8 pm on the day that you've chosen. You can include special delivery instructions to your account that are followed if you're not home. Depending on the circumstances, you can also choose a different delivery day online. 
If you've not issued any leave safe instructions, it's up to the delivery person to choose an appropriate area they can leave your HelloFresh box.
How will my food stay cool?
With HelloFresh, you don't need to worry about your food staying cool and fresh until you get to store it better. Your meals are packed with special ice packs and insulation that keeps your food cool and fresh.
Can I add extras to my box?
Yes! If you have a sweet tooth you can add ready-made desserts to your box. You also opt for quality wines and bread to go with your meals. You can pick your extras of choice from the menu page.
Can I skip a week?
Absolutely! HelloFresh allows for a great deal of flexibility and you can easily skip up to 8 weeks at a time if you don't want a box delivered. Remember to "pause" your subscription by Tuesday 11:59 pm, the week before your next delivery is due. 
How do I cancel HelloFresh?
You can easily cancel your HelloFresh subscription at any time. You'll need to;
Log into your HelloFresh account.
At the top right hand corner, click on your name.
Click account on settings.
Scroll to the bottom of the page and click on "cancel my subscription".
Follow the steps to cancel your subscription.
To avoid charges, ensure that you cancel your subscription by Tuesday 11:59 pm, the week before your delivery is due.
Hello Fresh Reviews
HelloFresh has an average score of 3.8 out of 5 stars on TrustPilot and is rated as 'Great'. Out of over 27,000 reviews, nearly 60% were five stars. Customers have praised the quality of the ingredients and the easy-to-follow recipes.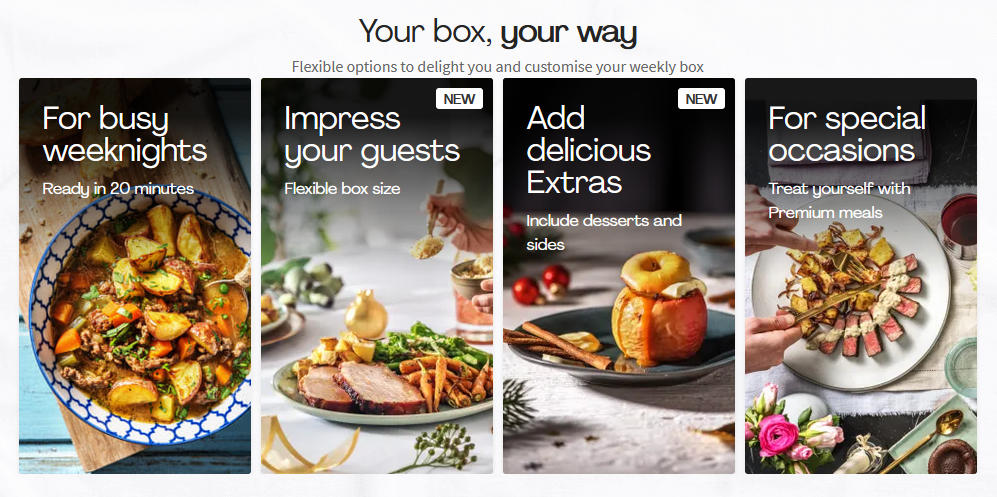 Related Offers
If you're looking for a great deal on a subscription recipe box, check out our Gousto discount codes and choose from over 50 recipes each week, with servings priced at as little as £2.98 each.
If you're looking to improve your diet and health, The Good Guru has a great range of organic and vegan supplements and proteins.
You can also get lower calorie alcoholic drinks delivered at a discount with our Drinkwell voucher code.
If you'd like to teach your kids about cooking and healthy foods, Little Cooks Co Cooking Kits are a great place to start and you can enjoy a discount with our promo code.
Our Hello Fresh referral codes can offer significant savings when making a new purchase.We update our promotional codes frequently, so make sure to check back before making your purchase.
Check out the latest Hello Fresh referral codes to make huge savings. At Newbie Deals, we actively seek out the best offers for our readers to ensure you make significant savings. If Hello Freshv offer a refer a friend program, we'll publish it. If they offer a discount code, we'll show it. If they have an exclusive offer, you got it, we'll bring it to you. By shopping with Newbie Deals and taking advantage of our Hello Fresh referral codes, you can ensure you get the best deal in town.
Why Use a Hello Fresh Referral Code?
Simply put, it can save you money, and who doesn't like making savings? With Newbie Deals, you can save up to 65% on your next Hello Fresh purchase, by simply using our links. When you use our referral codes(or refer a friend scheme) nothing else changes other than the price you pay, it really is as simple as click, buy and save.
Related Offers


The Mindful Chef website will give £20 credit to you if a friend uses your referral code and orders their first box. Your friends can receive £20 off their order as well when they use the promo code given by The Mindful Chefs's site. It is win-win so invite others and start cooking!



GOUSTO
65% off first box + 30% off first month
Gousto is a British food delivery service that delivers fresh ingredients and recipes to your door, 7 days a week. Their mission is to make cooking easy for everyone by delivering high quality ingredients with mouth-watering recipes and all at an affordable price, which is why they've made the subscription plans as flexible as possible. With Gousto's personalised weekly boxes of fresh produce delivered straight to your doorstep, there are no more excuses, get started today with 60% off your first Gousto box