How to claim your free Riverford voucher code?
To claim your free Riverford voucher code, start by copying your free discount code.
Proceed to the Riverford website and create your Riverford account.
Add all the boxes you want to purchase to your basket.
Paste your free voucher code in the empty voucher code box and apply.
Finish your order by entering your shipping and payment information.
More vegan brands similar to Riverford
About Riverford
Founded in 1987 by Guy Singh-Watson, Riverford is a company that was established to ensure the delivery of ethical and organic vegetables. The company has been growing its yields for over 30 years. By ordering your vegetables from Riverford, you are assured of organic produce given that food is never sprayed with artificial pesticides or fertilisers. With a mission to provide the best for the season, 80% of the produce is grown in the UK. Riverford packages its produce in home compostable packaging.  Also, the company has a no exploitation policy that ensures the farmers are fairly compensated.  
Riverford has various organic farms in Devon, Hampshire, Peterborough, France and Yorkshire. And due to the quality products, the company has received amazing awards including the Observer's Ethical Product of the Decade as well as the Soil Association Best of the Organic Market (BOOM).

Riverford Delivery
Riverford delivers all over the UK at no extra charge. However, you need to meet the company's minimum spend of £15. This should not be a worry if you are purchasing any of the boxes. However, if you are building your box, then you need to meet the £15 minimum order amount. Should you have any problems with deliveries such as delays, you can reach out to the Riverford team for assistance.
Riverford returns Policy
Riverford is committed to ensuring you get your order in the right condition. However, dealing with fresh produce can be difficult, and some issues can go unnoticed. If you have any issues with your delivered items, reach out to the Riverford farm via 01803 227 227. Alternatively, you can get in touch with your local veg team through the details on your Riverford page.
Riverford FAQs
What's in Riverford Veg boxes?
Riverford has several veg boxes from seasonal organic veg boxes, quick organic veg boxes, zero packaging and familiar favourites veg boxes. All these boxes contain varying seasonal products. For instance, what you get this week may differ from what's available next week.
The small seasonal organic veg box contains Barbosa onions, courgettes, red peppers, potatoes, bunched carrots, pointed cabbage and tomatoes. The medium seasonal organic veg box contains onions, sweet potatoes, cauliflower, romano pepper, potatoes, bunched rainbow carrots, French beans and courgettes. The large seasonal organic veg box contains bunched carrots, broad beans, courgettes, true spinach, red pepper, baking potatoes, turnips, asparagus, summer greens and Batavia lettuce.
The small organic seasonal veg box costs £12.65, the medium £15.35 and the large £20.55.
The quick, zero packaging and familiar favourites organic veg boxes also have different kinds of organic and fresh vegetables.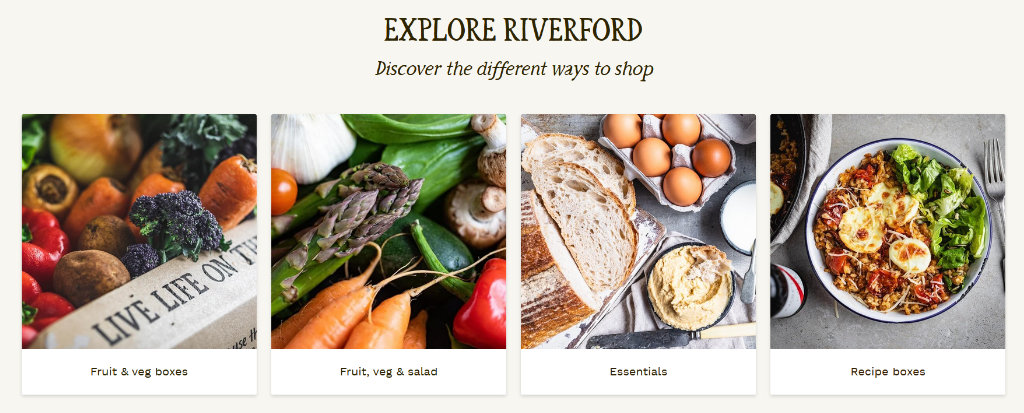 Are Riverford Veg boxes organic?
Yes. Riverford is committed to providing organic vegetables. The company farms some of the produce and also sources from local farmers. All these products have no added chemicals.
Does Riverford offer Recipe Boxes?
Yes. Riverford offers recipe boxes. Exact quantities of organic ingredients are delivered including a quick step-by-step guide on how to cook meals from scratch. You have a wide variety of seasonal recipes weekly that are also suitable for vegetarian and vegan recipes. Among the recipe boxes available at Riverford are vegan, vegetarian, meat, prime cuts and family recipe boxes.
What if some items are missing from my order?
Riverford can make changes in your order due to yields or seasonal changes. As such, you should confirm the box contents after the delivery. If you notice that something is missing from your box, reach out to the Riverford team via 01803 227 227.
Can I switch my next delivery to another location?
Yes. You can change your delivery details by updating your delivery instructions. If you experience any issues, contact the team via 01803 227 227 or help@riverford.co.uk.
Why am I yet to receive my box?
It is normal to experience delivery delays. While this can be frustrating, some issues can occur which are beyond Riverford's control. If you notice that the delivery of your box has been significantly delayed, contact the Riverford team.
I want to receive the small seasonal veg box every week. How do I set it for a regular order?
To make a specific order regular, choose the frequency you would like to receive the order. In this case, it would be weekly. Confirming this will secure the box for weekly deliveries. If you wish to make changes to your regular order, you can do so two days to the delivery day.
Where is Riverford farm?
Riverford has several farms. The original farm is called Wash Farm and is located in Devon. Other farms include Sacrewell Farm (Peterborough), Upper Norton Farm (Hampshire), Home Farm (Yorkshire) and Le Boutinard (France).

Which areas does Riverford deliver to?
Riverford delivers to most of the UK. You can confirm whether the company delivers to your area on their website.
How can I find out the contents of my next delivery?
Riverford will send an email alerting you of any changes to your box. The email will also detail all the contents of the box.
Will all contents in the box be delivered as per my order?
Riverford lists all the ingredients available for the next week. While this guides you in choosing your order, you may not get exactly what you ordered. This is because fresh organic produce can be unpredictable. What is expected to be available may be unavailable at the last minute due to issues such as crop damage and bad weather.  
Can I swap ingredients from my regular box?
Unfortunately, box contents are fixed and cannot be swapped. This is because Riverford plans all the boxes a year in advance, ensuring the prices are kept low, waste is minimized and maintaining commitment with organic farmers. However, you can pick three veg and fruits that you would like to avoid. If they cannot be excluded from the box, you can either swap or pause the boxes.
Riverford Reviews
Riverford has an excellent review of 4.9 on Trustpilot. Among the 10,818 customers who reviewed this company, the majority were happy with the products, customer service, work ethics and the wide selection, as well as the fair pricing. 
Related Offers
For discounts on a huge selection of organic, sustainably sourced groceries, take a look at the Abel & Cole offers we have available. Or if you'd rather take the stress out of meal times while still eating a healthy, balanced diet, take a look at Love Yourself Meals for quality, pre-prepared meals delivered to your door.
Would you like to get your little ones more interested in cooking? Little Bakers offers baking kits for kids that help them have fun while they learn.
If you're interested in quality plant-based foods and supplements, check out our My Vegan discount code to save on healthy dietary products.
Our Riverford referral codes can offer significant savings when making a new purchase.We update our promotional codes frequently, so make sure to check back before making your purchase.
Check out the latest Riverford referral codes to make huge savings. At Newbie Deals, we actively seek out the best offers for our readers to ensure you make significant savings. If Riverfordv offer a refer a friend program, we'll publish it. If they offer a discount code, we'll show it. If they have an exclusive offer, you got it, we'll bring it to you. By shopping with Newbie Deals and taking advantage of our Riverford referral codes, you can ensure you get the best deal in town.
Why Use a Riverford Referral Code?
Simply put, it can save you money, and who doesn't like making savings? With Newbie Deals, you can save £15 on your next Riverford purchase, by simply using our links. When you use our referral codes(or refer a friend scheme) nothing else changes other than the price you pay, it really is as simple as click, buy and save.
Related Offers



GOUSTO
65% off first box + 30% off first month
Gousto is a company that delivers fresh ingredients and recipes to your door. They believe that eating should be easy, fun, and most importantly delicious! The Gousto team of chefs has designed thousands of recipes for every occasion - from weekday family dinners to weekend celebrations. Whether you're looking for something healthy or indulgent, Gousto can help you create the perfect meal plan in seconds. And because we know life gets busy sometimes, our boxes are delivered 7 days a week so you'll always have time to cook up something more than just takeout. If you want to give them a try, sign up via our Gousto refer a friend link and receive 60% off your first box plus an extra 30% off all your boxes for the first month.