How to claim your free Loving Foods discount code
To claim your free Loving Foods discount code, start by clicking the 'Get discount code' button and copy your discount code.
Proceed to the Loving Foods website and add all the items you want to purchase to your cart.
Proceed to checkout, paste your free discount code in the 'Gift card or discount code' box and click apply.
Complete your order by entering your contact information and shipping address.
More groceries brands similar to Loving Foods
About Loving Foods
Founded in 2016 by Mendel and Faye, a brother and sister team, Loving Foods is a company that specializes in fermented drinks and food. The idea was coined through Faye's struggles with chronic IBS. Mendel helped his sister with subsequent diet and lifestyle changes that led to the transformation of her health. 
The company is certified organic. This means that all ingredients are organic, whether carrots, cabbage, black pepper, beetroot and even blueberries. Loving Foods also sources the ingredients from local farms and organic wholesalers. The company has gained organic certification as an organic producer by the Organic Food Federation (GB-ORG-04), a certification that is inspected every year. Loving Foods is also SALSA certified, an effective food safety certification scheme.
Loving Foods Delivery
Loving Foods is committed to ensuring you get your orders within the shortest time frame.
All orders received before 12.00 Monday - Friday are shipped on the same day. They can either be shipped via Express delivery or Standard delivery. Under the Express delivery option, your order will be delivered via DPD. This will cost you £5.95. However, orders over £75 will be delivered at no extra charge. Under a standard delivery option, your order will be delivered via Royal Mail 48-hour tracking service. This will cost you £3.95. If you are unsure about the cost of delivery to your location, they will be automatically calculated at checkout.
Loving Foods Returns Policy
Loving Foods don't have a returns policy specified on their site. If you have any issues with your Loving Foods purchase, please contact the Loving Foods team.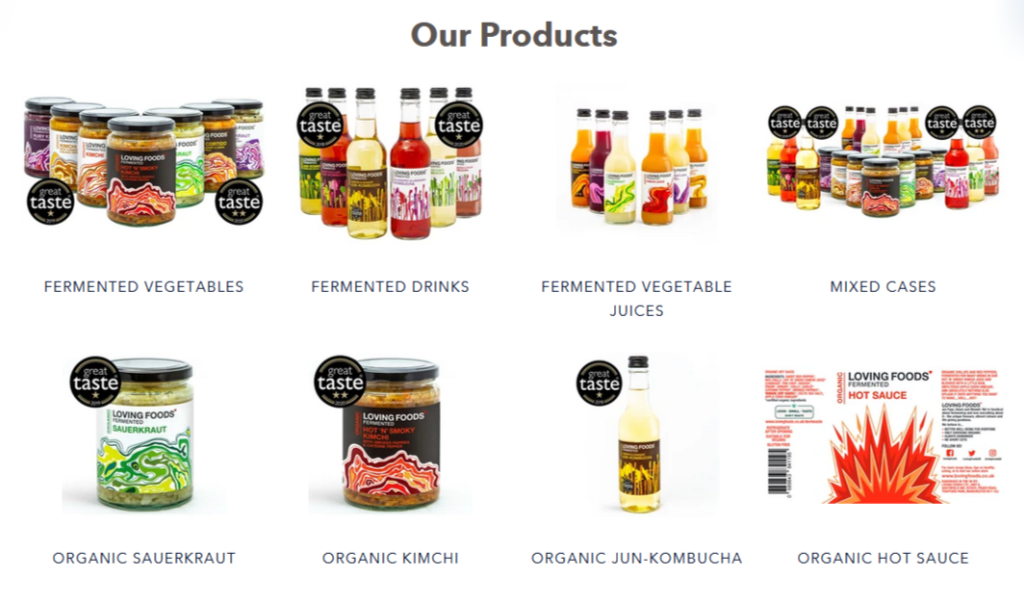 Loving Foods FAQs
Are Loving Foods products 100% organic?
Yes. Loving Foods products are 100% organic. The company sources all the ingredients from farms and wholesalers locally. Well, apart from salt and water, which cannot achieve organic certification.
How can I find Loving Foods stockists in the UK?
You can either order online or from a Loving Foods stockist near you. To find a store near you, use the store locator on the Loving Foods website. Simply input your postcode and you will get recommendations of stores near you where you can purchase the products.
Is the water used to make Loving Foods safe?
Yes. Loving Foods uses double filtered water to make the products. Why not use tap water? Because tap water is not pure. As such, it has effects on the fermentation process and can even kill good bacteria. The water used is filtered twice through charcoal and active ceramics. This gets rid of 99% of the impurities such as fluoride, heavy metals, chloride, pesticides, organic compounds and even industrial solvents.
I love Loving Foods products. Just how much should I eat?
Loving Foods products are beneficial for our bodies. How much you should eat depends on your preference. However, it is more beneficial to consume more variety as opposed to eating much of one food product. Also, different batches have different good bacteria. For instance, the beneficial bacteria available in Kimchi is different from that available in Kombucha. While eating large amounts of fermented products does not pose a risk for your health, it is advisable to start with little amounts and build your way up.
Are Loving Foods' fermented products safe?
Yes. Loving Foods' fermented products are safe for consumption. The company has zero records of people who have gotten ill after consuming these goodies. This is because the fermentation process wards off pathogenic bacteria. Also, Loving Foods prepares these products with the highest hygienic standards. The company has earned itself a 5-star rating from The Foods Standards Agency.
Does fermented food and drink cure any disease?
Fermented products have vast health benefits. However, there is no proof that the products can be used to cure a particular ailment. However, these foods have been proven to be beneficial for the immune system, gut and overall body health.
Will I experience any side effects by consuming Loving Foods products?
Some people have reported an increased visit to the toilet or more wind when they start consuming fermented products. This is just the body getting used to the products. However, if you have any concerns about the effect of consuming fermented products on your health, speak to a medical professional first.
I love the Loving Foods kombucha. How long will it last?
All fermented foods and drinks can be stored for months, whether refrigerated or not. However, be wary of a difference in taste especially when the product has been kept for a long time. The ideal period to have your product open is 4 months.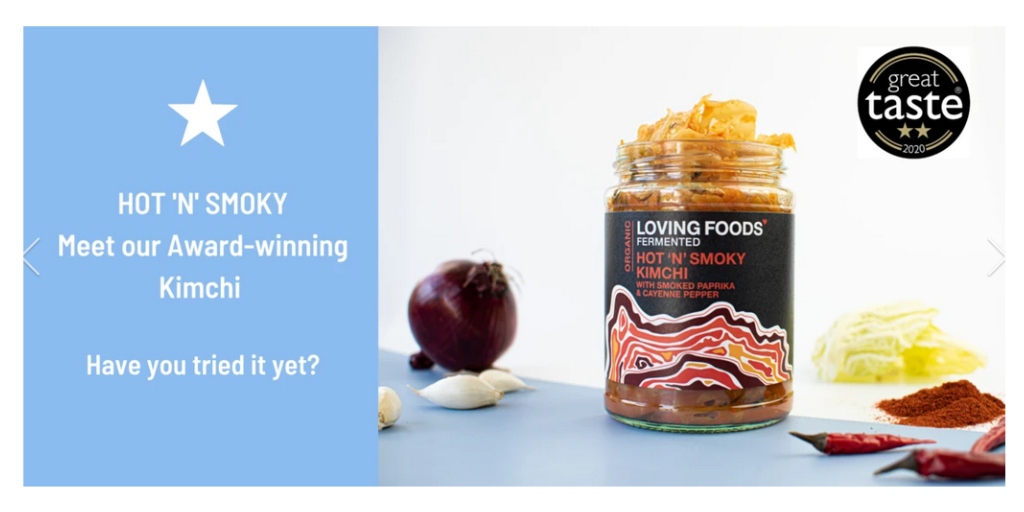 My Kimchi jar has a little mould and I don't want to waste it. Is it safe to consume?
Fermented foods may develop a layer of yeast or mould, especially when left in the open for long periods. Most people scrape off the yeast or mould and consume the products underneath. However, if you are unsure, it is safer to dispose of the jar and order a new one.
How best can I store my products?
While you can opt to refrigerate your fermented products or not, they are best when refrigerated. This is because refrigeration stops the fermentation process.
What if I received my product with a leaky jar?
Jars containing fermented products are prone to leaks. This is because of the live bacteria. If you receive a leaky jar, just rinse off the leaked products and store the jar safely.
Loving Foods Reviews
Loving Foods has an excellent average rating of 4.9 among over 1,000 reviews on Trustpilot. Customers love the quality of the foods and drinks, exquisite delivery services, large portions and the fair pricing. 
Related Offers
Looking for tasty drinks with added health benefits? Save money with our PureChimp discount code and enjoy the benefits of switching to a healthy green tea, or check out the great range of delicious drinks with CBD and botanicals from Botanic Lab SWB.
Big Drop Brewing Co have an excellent selection of healthier, alcohol-free beers available and you can make big savings with our Big Drop Brewing Co voucher code.
Love the convenience of machine coffee but concerned about the environmental impact? Halo Coffee sell delicious coffee pods made from 100% biodegradable materials.
Our Loving Foods referral codes can offer significant savings when making a new purchase.We update our promotional codes frequently, so make sure to check back before making your purchase.
Check out the latest Loving Foods referral codes to make huge savings. At Newbie Deals, we actively seek out the best offers for our readers to ensure you make significant savings. If Loving Foodsv offer a refer a friend program, we'll publish it. If they offer a discount code, we'll show it. If they have an exclusive offer, you got it, we'll bring it to you. By shopping with Newbie Deals and taking advantage of our Loving Foods referral codes, you can ensure you get the best deal in town.
Why Use a Loving Foods Referral Code?
Simply put, it can save you money, and who doesn't like making savings? With Newbie Deals, you can save up to 15% on your next Loving Foods purchase, by simply using our links. When you use our referral codes(or refer a friend scheme) nothing else changes other than the price you pay, it really is as simple as click, buy and save.