How to claim your free Halo Coffee discount code
To claim your free Halo Coffee discount code, click the 'Get discount code' icon and copy your free discount code.
Head over to the Halo Coffee website and add all the items you want to purchase to your cart.
Click on checkout and paste your free discount code in the 'Discount code promo' box.
Complete your order by entering your customer and shipping information.
More coffee brands similar to Halo Coffee
About Halo Coffee
Founded in 2019, Halo Coffee is a company that specializes in 100% compostable paper capsules. At the time, over 30 billion aluminium and plastic coffee capsules already existed in the world, filling up the ocean and landfills and leading to environmental degradation. To help save the planet while ensuring that people still get their daily dose of caffeine, Halo Coffee was founded. And now, people get to enjoy the world's best coffee in a way that does not harm the environment.
Every minute, over 13,500 coffee capsules are consumed. Unfortunately, the majority of these are made of aluminium or plastic or a combination of both, and only 21% are recycled. So, where does the rest go? The unrecycled capsules can take over 500 years to decompose, bringing the need for a recyclable option.

Halo Coffee Delivery
Halo Coffee ships internationally. If you are shipping your order within Europe, you will enjoy free deliveries for orders over £35. The cost of international shipping will be available at checkout. Also, if you are ordering a large quantity of Halo Coffee products, they could be delivered separately. This is because the company's postal boxes only hold 1,2 and 4 boxes containing 10 capsules each.
Halo Coffee Returns Policy
If you are not happy with your Halo Coffee products, you can get a full refund. The company will only accept unopened boxes before their expiry date. To initiate a return, contact Halo Coffee and provide details including your name, issue of concern and email address.
Halo Coffee FAQs
Are Halo Coffee capsules environmentally friendly?
Yes. Halo Coffee capsules are environmentally friendly. The capsules are made with compostable materials. They also do not cause any problems regardless of the disposal method, whether food bin, garden or home compost. In a home compost, the capsules can degrade in 28 days and make a perfect fertilizer for your plants and crops. In ambient temperatures, halo capsules will degrade in 90 days.
What kind of coffee machine do I need for Halo Coffee pods?
Halo Coffee pods are compatible with Nespresso Original Home systems. However, the pods are not compatible with Keurig, Nespresso Vertuoline, Tassimo, Lavazza Systems, Dolce Gusto and Nespresso Professional. If you are unsure of the compatibility of your coffee machine with Halo Coffee pods, email hello@halo.coffee for assistance.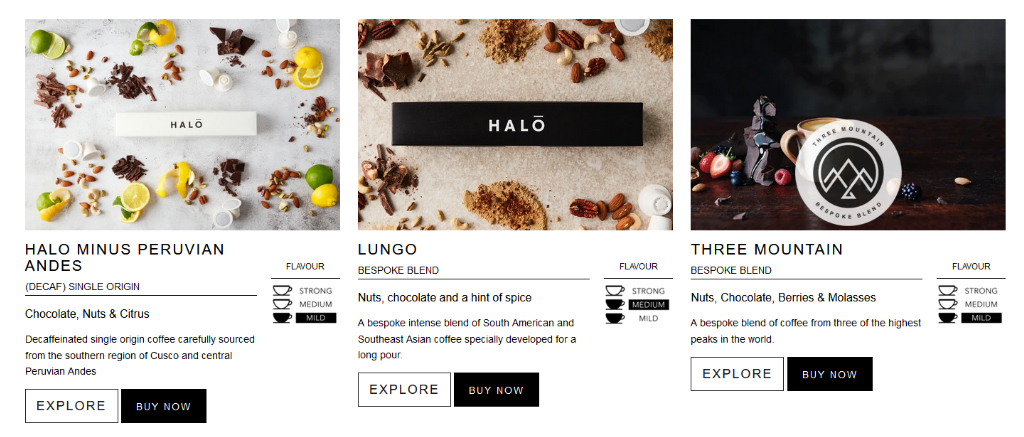 What is the best method for storing Halo Coffee capsules?
Halo capsules should be stored in a sealed and airtight container. Alternatively, you can leave them in the box they are delivered in. Also, ensure your capsules are stored in a cool and dry place, away from direct sunlight.
For how long can I store my Halo Coffee capsules?
Halo Coffee ensures that you get fresh products. While the sealed box can prolong its life, the shelf life is reduced once the box is opened. You should consume your coffee within 3 weeks after opening the box. While the coffee will not go bad after the 3 weeks, the taste and flavour will be diminished.
What if my capsule gets stuck in my coffee machine?
Since Halo capsules are made of compostable materials, they can expand when exposed to pressure or water. To prevent Halo capsules from getting stuck in your coffee machine, always remove them from the machine after use. But if they get stuck, use a spoon to release them.
What is the best way to dispose of used Halo Coffee pods?
Halo Coffee pods are compostable. As such, you can dispose of the pods any way you like as long as the atmospheric conditions allow. You can dispose of the pods in a landfill, home compost bin or use them as fertilizer in your garden.
I love Halo Coffee! Can I purchase from a shop?
If you are in the UK, you can purchase Halo Coffee pods in Whole Foods at the Piccadilly, Fulham, Kensington and Richmond branches. However, for international orders, you can find the products at the Halo Coffee website.
Why am I being restricted to the number of boxes I can purchase?
Halo Coffee only delivers fresh products. As such, the products have a short life span. If you order in bulk, you may not fully enjoy the products especially if they are opened at the same time. And since the company wants you to enjoy the flavours, subscription options will serve you better than bulk orders. If you are a coffee lover, use the subscription option and get your fresh coffee pods as opposed to being stuck with stale and flavourless ones.

How can I contact Halo Coffee?
If you wish to contact the Halo Coffee team, you can reach them by email via hello@halo.coffee.
Halo Coffee Reviews
Halo Coffee is a small company without many reviews yet. However, they have a rating of 4.7 out of 5 based on 15 customer reviews on their company Facebook page.
Related Offers
If you're a wine lover, you can get a great deal on tasty wines delivered to your door from Laithwaites Wine with our discount codes. Prefer beer? No problem, take a look at our Hoppily voucher codes to save a bundle on high quality craft beers.
Loving Foods have created an amazing range of healthy foods and drinks and you can get your hands on them at a discount with our Loving Foods discount codes.
If you're a fan of spirits who's looking to cut down on their consumption of alcoholic beverages, take a look at Cleanco, who've developed delicious alcohol-free spirits that taste just as good as their alcoholic counterparts.