How to claim your free Little Bakers discount code?
To claim your free Little Bakers discount code, start by clicking on the get discount code icon. Copy your free discount code and proceed to the Little baker's website.
Shop all baking items your little one will require and add them to your cart.
Click the 'Enter promo code' icon and paste your free Little Bakers discount code. Don't forget to click apply.
The total payment amount will be displayed. Click the checkout icon and enter your shipping details and the delivery method.
Make the payment with your preferred method. Your order is complete and should arrive soon!
More baking brands similar to Little Bakers
About Little Bakers
Little Bakers is a company that offers fun baking learning activities for children. The company offers a wide variety of baking products including party kits, baking kits, prepaid subscriptions, gift vouchers and accessories such as gift wrappers, aprons and measuring bowls.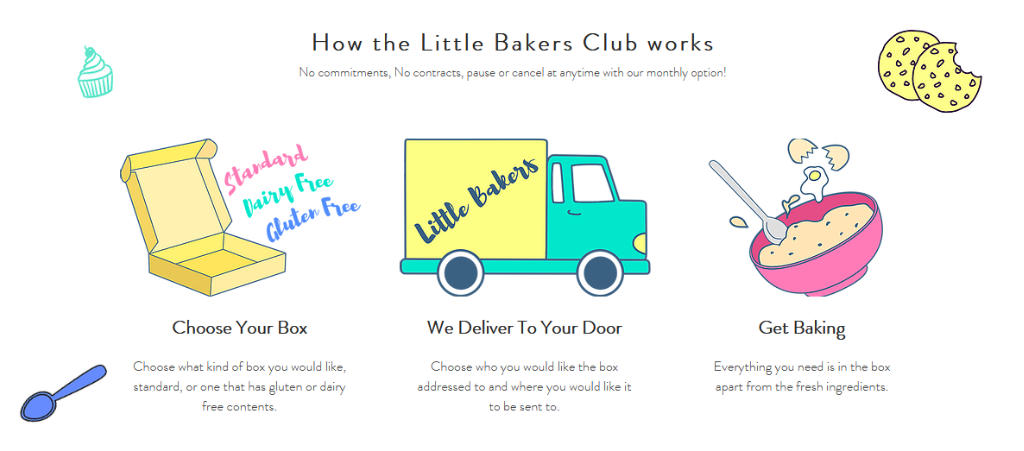 The company also has bakers club prepay subscription plans including monthly, 2-month, 6-month or 12-month subscriptions. All subscription Little Bakers boxes are suitable for vegetarians and are customizable. To increase the imagination of your little ones, the baking kits do not come with pictures of the finished products, ensuring children use their imagination fully. What better way to nurture your children's imagination and creativity? Little Bakers are also committed to preventing accidents that can be caused by allergic reactions. At checkout, you get the option of choosing gluten-free or dairy-free ingredients.
Little Bakers Delivery
Little Bakers is committed to ensuring that you get your orders on time. As such, all baking kits are dispatched 3 days after order confirmation. Your items should be shipped within 3 days. However, baking kits are made on order and may take longer than 3 days. Free deliveries are offered for all orders over £50 excluding Little Bakers' monthly subscriptions. For Little Bakers Club Boxes, your order will be delivered in the middle of each month and should take 3-5 days to reach you. You can always log in to your Little Bakers account to check the status of your order.
Little Bakers Returns Policy
If you experience any issues with your purchase, reach out to the Little Bakers team for speedy assistance. You can also cancel your subscription at any time. However, for the 6 or 12-months subscriptions, you cannot cancel your subscription before the end of your plan.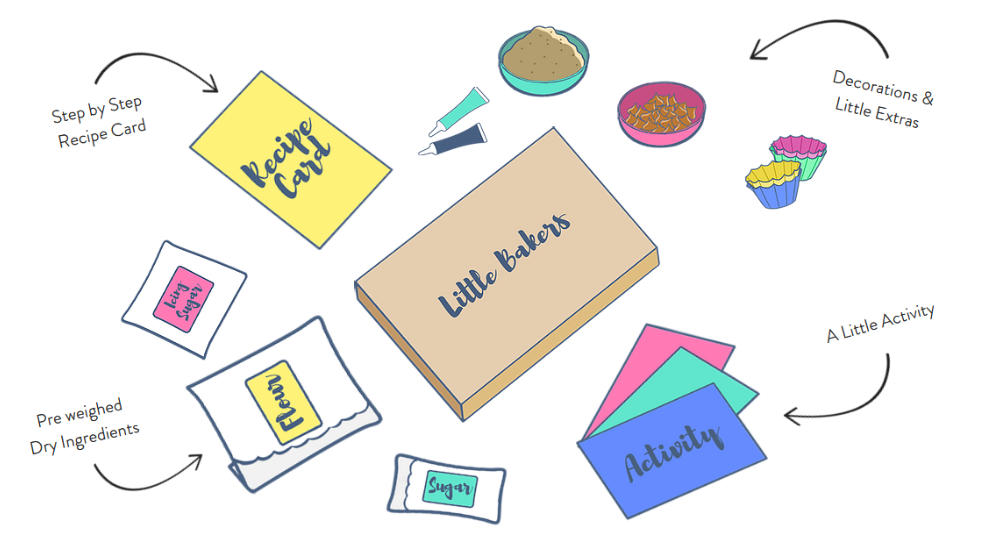 Little Bakers FAQs
My child is allergic to dairy. Is there a suitable box for her?
Little Bakers is committed to serving the needs of all children. If your child is allergic to any ingredients, you can customize them as you order. For this case, all you have to do is select a box containing dairy-free ingredients. All the boxes are also suitable for vegans.
Can I cancel my Little Bakers subscription?
You can cancel your Little Bakers subscription anytime. To cancel, log in to your account and choose the cancel option under your subscription settings. However, you can only cancel or pause your 6- or 12-months subscription after the end of your plan.
Is there an age limit for the Little Bakers club?
No. The Little Bakers club does not have an age limit. This is because baking is an all-around activity. While older children learn how to bake and improve their creativity and reading habits, younger children learn hand and eye coordination, colors and even creativity.  Adults can also use the baking activities to improve their baking skills.
Why aren't there pictures of the finished product?
Little Bakers aim to promote creativity and imagination in children. Having pictures for the end product would counter this and encourage children to imitate the picture.
What do you get in a Little Bakers Club monthly box?
Your little one will love the Little Bakers monthly box. The box comes with a recipe card that has a step-by-step recipe guide, dry ingredients (pre-weighed), decorations and fun extras and an activity card. The pre-weighed ingredients include flour, sugar and icing sugar.  
You also get to choose between four box options, the standard, dairy-free, gluten-free and vegetarian box.
Can I refer my friends to little bakers?
Yes, you can refer your friends to the Little Bakers club. And even better, you both get to earn £5 every time someone signs up with your referral link.
What if I want to add a special note to my order?
You can add a special note to your order. Simply enter the message in the box provided at checkout.
When can I expect to receive my Little Bakers club box?
All Little Bakers club boxes are delivered in the middle of the month. You can always check the status of your order from your Little Bakers account. However, reach out to the Little Bakers team if you think your order has been delayed.
What can the ingredients provided in the box bake?
The ingredients are versatile and can be used to bake a variety of fun bakes such as flapjacks, cupcakes and cake pops.
How much do the subscription boxes cost?
Little Bakers is committed to fun learning activities for your children. And with fair prices, your little ones get to enjoy baking and learn while at it. The monthly club box costs £10 per month. For the 6- month club box, you will pay £9.50 per month and £9 for the £12 monthly for the 12 months plan. The prepay subscriptions are also an excellent way to ensure your little one gets all the supplies monthly. For a 1-month prepaid subscription, you will pay £10 while a 3-months prepay subscription will cost you £29. You can also opt for a 6-month prepay subscription at the cost of £57 or a 12-month prepaid subscription at the cost of £110. The prepay subscriptions are the perfect gifts for your little baker.
Little Bakers Reviews
Little Bakers is a small company that doesn't have many reviews yet, but their facebook page has an average review rating of 5 out of 5 and a lot of positive comments from satisfied customers.
Related Offers
Find more fun activities and cooking experiences for kids with our Little Cooks Co voucher code.
If you'd like to try some more exotic recipes, our Feast Box discount code can save you money on a recipe box with flavours from all around the world.
Save time and money with healthy meals delivered to your door by Love Yourself Meals, or why try a 100% plant-based alternative from Allplants.