35% off your first 2 boxes

How to claim your free Feast Box discount code
To get your free Feast Box discount code, click on the 'Get Code' button on the right. Copy the code from a pop-up window and continue to the Feast Box website.
Click on the 'Start Your Journey' or 'Get Started' button, select the delivery date and number of people you're cooking for, and choose your recipes. Click on the 'Add to Box' button below each of the recipes to add it to your box.
Once your box has sufficient recipes, you can click on the 'Next' button in the bottom right corner. You can add any of the available extras or expertly paired drinks to your order. Checkout.
Your discount will be applied immediately but if it's not, just paste the code to the text box and click on the 'Apply Discount' button below.
Create an account, and fill out all of the required delivery and payment details so you can finish and place your order.
More recipe boxes brands similar to Feast Box
About Feast Box
Feast Box is a UK recipe box delivery company. It was created by Jyoti Patel who wanted to help people explore the world through food. It offers a convenient way to bring distinct flavours, ingredients and cooking techniques to your kitchen. In your box you'll get all of the required ingredients, as well as straightforward recipe cards that are easy to follow. Feast Box is a commitment-free subscription. Once your first order arrives, you can customise your recipes, add some extras to your order, or entirely skip your upcoming box. 
Feast Box Delivery
Feast Box delivers its orders everywhere on the UK mainland. At the moment, delivery isn't available to offshore areas (Isle of Man, the Channel Islands, and the Isles of Scilly), or to Northern Ireland. If ordering to any of the further away areas, your order may take a day longer than usual. Orders are delivered each week, on Wednesday and Friday, between 9 am and 6 pm. On the day of the delivery, you'll receive a text from the courier, with a 1-hour time slot. If there's no one home for the delivery, your order will be left at a safe place.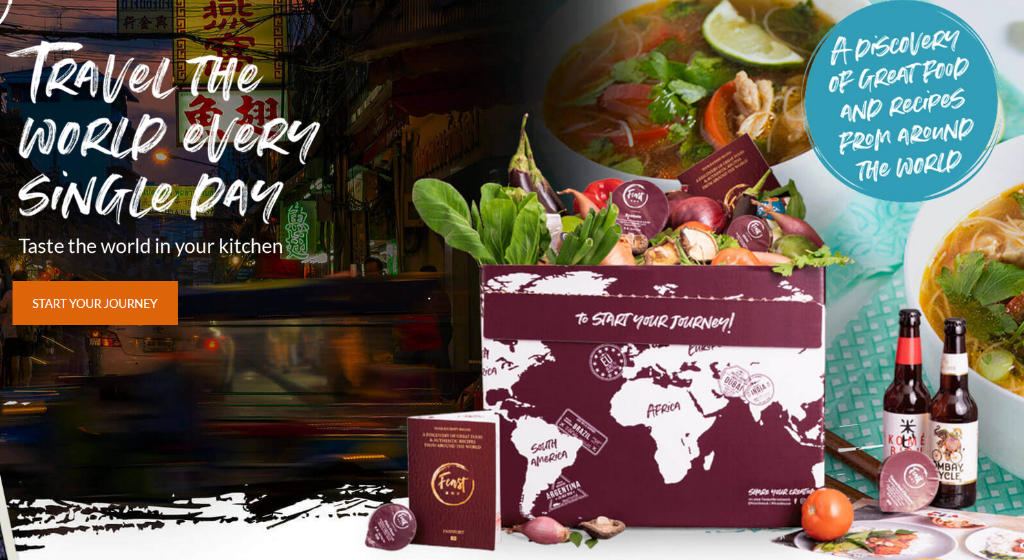 Feast Box FAQs
When does the Feast Box menu change?
Feast Box offers its customers a new selection of the world's best recipes every week. There are 12 recipes on the menu, and they'll be replaced with 12 different ones every Sunday. There are hundreds of recipes, and Feast Box is working on developing more, so there's always a mix of the familiar and the daringly different ones.
How many recipes should I choose?
You can choose up to 4 recipes. To be able to order, you must choose at least two recipes but you'll be advised to add a third recipe to save 30% on your order.
Can I get Feast Box in the UK?
You can get Feast Box in most of the UK. However, some postcodes are still out of reach and should be available soon. 
What's the price of Feast Box?
The Price of Feast Box will depend on the actual recipes you choose, number of recipes you add to your box (from 2 to 4), as well as the number of people you're cooking for (for 2 persons or for a family). You can see the price of each of the meals as well as the total price of your box. Add more to save more.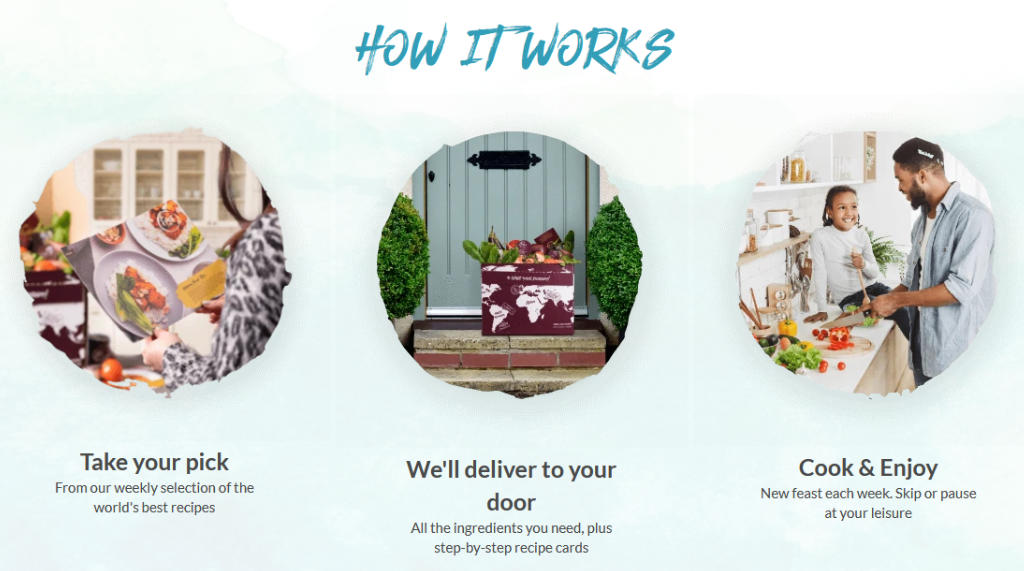 What supplies will I need to prepare the meal?
To prepare any of the available meals, you'll need only oil and salt, as well as your basic pots and pans.
Does Feast Box offer gift cards?
Yes, Feast Box offers gift cards. You can choose among three available amounts - £30, £60, and £100. When you purchase a gift card, you'll receive a gift code via email. You can then share the code with the lucky recipient.
Does Feast Box offer portions for 1 person?
No, currently there aren't portions for 1, only for 2 or for a family of 4. However, you can make a 2-person portion and put leftovers in the fridge for the next day.
What are 'add-ons'?
When placing your order, you can select some 'add-ons', such as chilli sauce or Gingersnaps. You can also add any of the expertly-paired drinks.
Is Feast Box suitable for vegans and vegetarians?
Yes, Feast Box offers recipes suitable for vegans and vegetarians. It guarantees there'll be at least four vegan recipes every week. You can easily filter the menu to find recipes that suit your diet and lifestyle.
Are Feast Box recipes suitable for people with allergies?
Feast Box can't guarantee that any of its boxes are 100% gluten or allergen-free. However, you can view the general nutrition and ingredient information before ordering so you can avoid certain ingredients.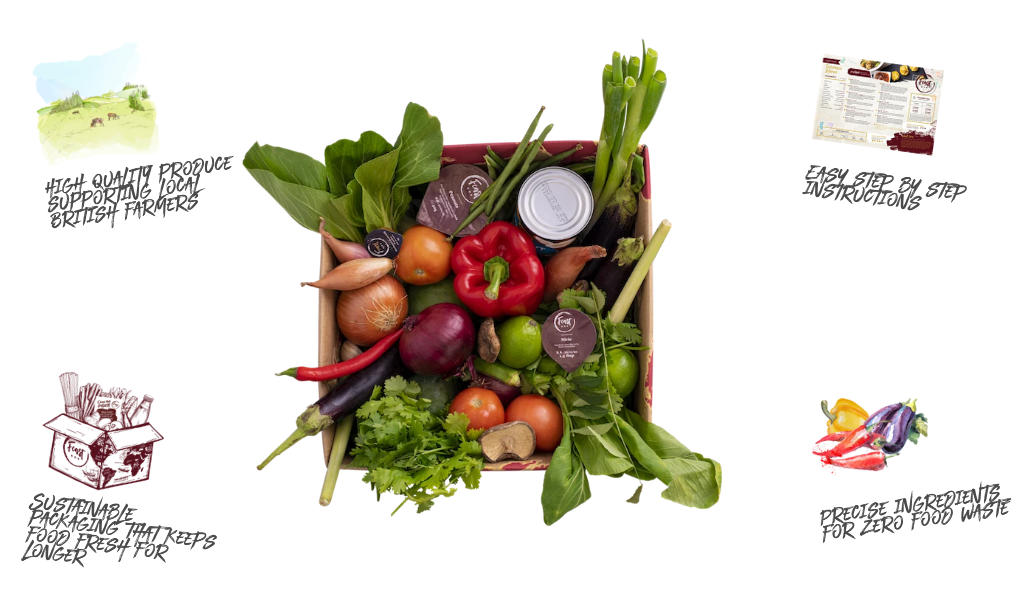 What does the Feast Box motto 'Eat Well Do Well' mean? 
The Feast Box does its best to help you not only eat well but do well for the planet and others, as well. It fights food waste by delivering precisely measured ingredients, and it delivers its ingredients in recyclable, compostable or biodegradable packaging. It also partnered with Give Back Box so that you can not only recycle the cardboard box but you can donate to a local charity at the same time. All you have to do is fill your empty Feast Box with unwanted items, such as clothing, footwear, books, and more.
Feast Box Reviews
With a few hundred customer reviews on Trustpilot, Feast Box has a TrustScore of 4.2/5 stars and  is rated as Great. It's customers were satisfied with tasty recipes and exotic flavours. Feast Box also had a good record of replying to any negative reviews and helping to resolve issues to the customer's satisfaction.
Related Offers





HELLO FRESH
Exclusive 65% off your 1st box + 30% off for 2 months
HelloFresh is a company that delivers fresh ingredients and simple recipes so you can cook healthy dinners in about 30 minutes. HelloFresh aims to make it easier for people to eat great, healthy food and learn how to cook for themselves and their families by providing an easy way of cooking with fresh ingredients delivered right at your doorstep every week. Sign up to HelloFresh today and receive 50% off your first recipe box, and 35% off box two, three and four! 



GOUSTO
65% off first box + 30% off first month
Gousto is the UK's leading fresh food delivery company. They deliver recipes and ingredients direct to your door so you can cook delicious, nutritious meals with ease. All ingredients are sourced from local producers, ensuring they are of the highest quality and taste amazing. Gousto provides the leading food, Newbiedeals provides the leading Gousto discount codes, get 60% off your first box in addition to 30% off all boxes for your first month.