How to claim your free Allplants discount code
Click on the 'Get Code' button on the right, copy your free Allplants discount code, and proceed to the Allplants website.
Click on the 'Shop Now' button and start building your box. Choose your portion size and your meals by clicking on the 'Add' button below each of the meals. Once you've selected all of the 6 meals, your shopping basket will open on the right. Click 'Next'.
Choose your extras if you want any. Scroll down and click on the 'Review Order' button. Select the delivery frequency and click on the 'Checkout' button below.
Click on the 'Discount code' link on the right and paste your Allplants discount code to the text box. Click 'Apply'.
Fill out all of the required details on the left and place your address.
More vegan brands similar to allplants
About Allplants
Allplants is a UK company offering 100% plant-based frozen meals at great prices. You can get delicious meals delivered right to your door, and heat and eat them when you need them most. Meals are made by chefs and balanced by a nutritionist. There are more than 30 meals to choose from. Meals are vegan-friendly but aren't made only for vegans. You should try them even if you're only looking for a way to eat more plants. If you're not sure what to get, you can take the quiz and discover which dishes Allplants' chefs recommend just for you. In addition to meals, Allplants also offer smoothies, breakfasts, treats, and sides, as well.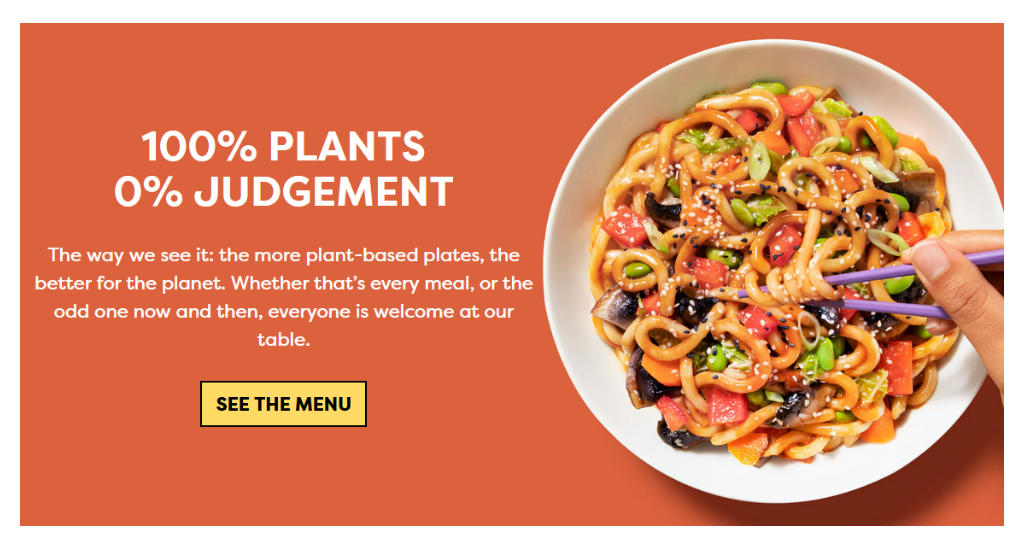 Allplants Delivery
Allplants delivers its orders 5 days a week, from Tuesday to Saturday. Weekday delivery is available free of charge, while for the weekend delivery you'll have to pay an additional delivery charge of £2.50. Orders can arrive any time between 8 am and 6 pm. On the day of the delivery, you'll receive an email or text with a 1 hour delivery time slot. If there's no one home for the delivery, your order will be left at a safe place you can enter when placing your order. Thanks to the insulating packaging, your meal will be kept freshly frozen until 10 pm. Orders are delivered via DPD.
Allplants FAQs
How much does Allplants cost?
Allplants offers a box for 1 and box for 2. A box for 1 costs £6.75 per meal (single portion) or £40.50 per box of 6 (6 servings), while a box for 2 costs £4.99 per meal (double portion) or £59.88 per box of 6 meals (12 servings). Delivery is free from Tuesday to Friday, or additional £2.50 for Saturday delivery.
What are the portion sizes?
When placing your order, you can choose between single or double serve portions. Single portion is 380g (in a tray size of 180 x 136 x 45mm), while the double portion is 760g (in a tray size of 240 x 160 x 44mm). If you find yourself with some leftovers, you can keep them in your fridge and reheat within 24 hours of refrigerating.
Can I get Allplants in the UK?
Allplants delivers its order to almost all parts of Great Britain. If you're unsure if Allplants delivers to you, you can contact them with your postcode and they'll check it for you.
Are Allplants meals vegan?
Yes, all Allplants meals are vegan. You can try them even if you find switching to a plant-based diet a little challenging.
Can I gift an Allplants box to someone?
At the moment, Allplants doesn't offer a one-off gift option but you can send a subscription to the lucky recipient and cancel your subscription after that.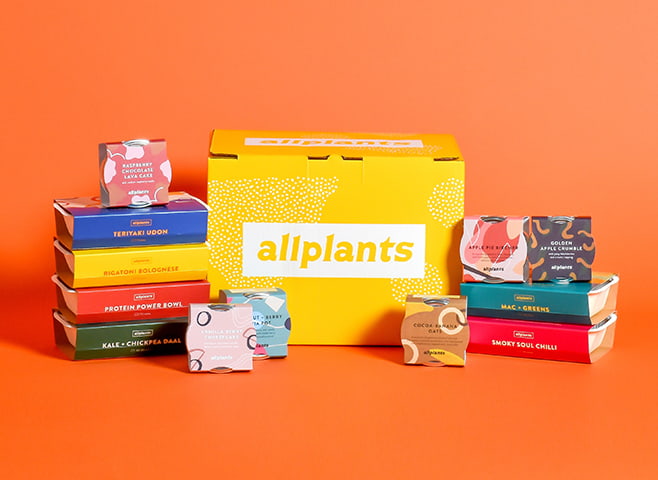 Where can I find the nutritional information?
To see the full dish nutritional breakdown, you should go to the menu and click on the meal you're interested in. All Allplants meals have between 300 and 600 calories per serving, and are a source of protein, vitamin C, and Iron. 
How much sugar do Allplants meals have?
Allplants meals are low in sugar - they contain less than 5g per 100g. Some meals do have added brown sugar or molasses. You can see it listed among the ingredients.
Are Allplants meals alcohol-free?
Not all of the Allplants meals are alcohol-free, some of them have small amounts of alcohol (red or white wine), while others only contain ingredients containing alcohol (such as miso or tamari). Refer to the Allplants 'Help' section for the full list of the alcohol-free meals.
How spicy are Allplants meals?
Some of the Allplants meals are quite spicy, where others are medium or mild, and there are some that aren't spicy at all.
Where can I find the allergen information for the Allplants meals?
To find the allergen information, click on the photo of the dish you're interested in. You can also use a filter to find meals that are made without gluten, soy, or nuts. However, you should know that Allplants cannot guarantee its dishes will be completely free from traces of key allergens.
How should I store my Allplants meals?
Once you receive your order, you should put it in the freezer (at -18°C), unless you're planning to eat it within the next 24 hours. Then you can put it in the refrigerator, however, you should refrain from freezing the food after it's been in the fridge. Your meal should not stay in the freezer longer than 6 months.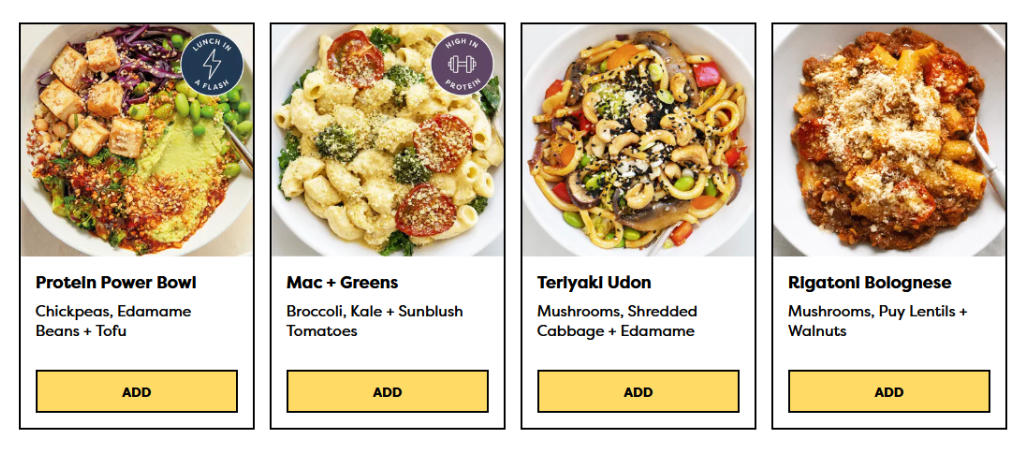 Allplants Reviews
According to more than 5,200 customer reviews on Trustpilot, Allplants offers 'wonderful, colourful and delicious tasting food'. With a TrustScore of 4.5/5 stars, it's rated as excellent, and more than 90% of the reviewers were satisfied with their orders. You can also view individual ratings for Allplants meals on their site. These ratings are gathered from a post-purchase survey sent to Allplants customers.
Related Offers
Feast Box offers a food subscription box with delicious recipes sourced from all around the world, while our Mindful Chef discount code allows you to save money while enjoying a recipe box service committed to locally grown, fresh ingredients.
Check out Gousto for a wide variety of recipes to choose from each week, or try Hello Fresh, who have great vegetarian options available.
Related Offers

PLANTY
£10 off your first order
Planty is a plant-based food delivery service that delivers delicious, nutritious meals to their customers' doors. They offer the first 100% plant-based meal program with chef-crafted recipes and fresh ingredients delivered on time. Add your email address to the Planty newsletter before signing up for your first delivery to receive £10 off your first order. 



KBK is the UK's cheapest meal prep website. They offer free nationwide delivery for life, carbon neutral deliveries and they count calories on their products! You can get 3 meals per day for £14.79 which saves you time in shopping every week at a cheaper price than most other competitors like Tesco or Marley Spoon. Their packaging is sustainable too so it doesn't waste any trees either! Don't miss our exclusive KBK Meal Prep new customer welcome offer, everyone who signs up via our link will receive 35% off and and extra 5% off your first order! 



GOUSTO
65% off first box + 30% off first month
Gousto makes cooking easy with fresh ingredients and delicious recipes. You can get your meals delivered weekly, changing the way you eat to something simple and healthy! Sign up today and receive 60% off your first box (via our referral link) & 30% off all subscription boxes for your first month.