How to claim your free Mindful Chef discount code
Click on the 'Get Code' button and copy your Mindful Chef discount code from a pop-up window. Proceed to the Mindful Chef website and click on the 'Choose Your Recipes' button.
Select when you'd like to start your weekly deliveries and for how many people are you cooking. Add recipes and once you're done, click on the 'Continue' button in the bottom right corner.
Review your order and paste your Mindful Chef discount code to the empty box below if it isn't automatically applied. Proceed to checkout.
Enter your contact details, set your password, and add your delivery details. Go to payment details. Add your card details and click on the 'Place Order' button below.
More recipe boxes brands similar to Mindful Chef
About Mindful Chef
Mindful Chef is one of the UK's highest rated and most trusted recipe box delivery services. The company was established in 2015 by three school friends, Rob, Myles, and Giles, and ever since has been helping its customers lead a healthier life by making healthy eating easy. Every week, you can choose from 2 to 5 different recipes from the menu. Pescaterian and vegan recipes are available, as well. Before placing our order, you can review the recipe description for more information about allergens and nutritional values. 
In your Mindful Chef recipe box, you'll get precise ingredients for zero food waste, as well as easy-to-follow instructions. The meat you'll get is of the highest quality. The box contains recycled denim insulation that will keep the ingredients fresh and cool. With every meal you purchase, another one is donated to a child in poverty. Mindful Chef is an official partner to the British Heart Foundation.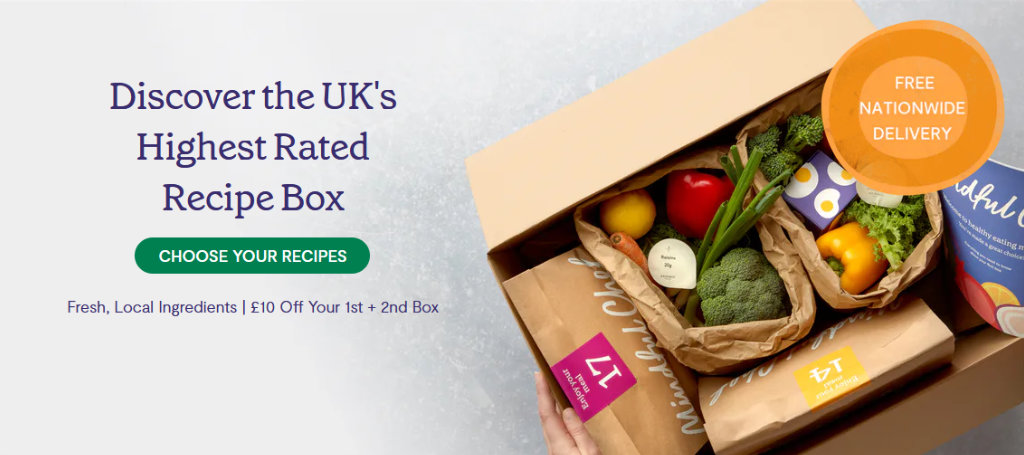 Mindful Chef Delivery
Mindful Chef delivers its orders nationwide, including Wales and certain parts of Scotland. Orders are delivered free of charge, 7 days a week (between 8 am and 7 pm). When placing your order, you can choose a safe place where you'd want the courier to leave your order if you're not at home.
Mindful Chef Returns Policy
Because their products are fresh and perishable, Mindful Chef unfortunately do not accept returns. If you have an issue with your order, you can contact their customer services team at hello@mindfulchef.com.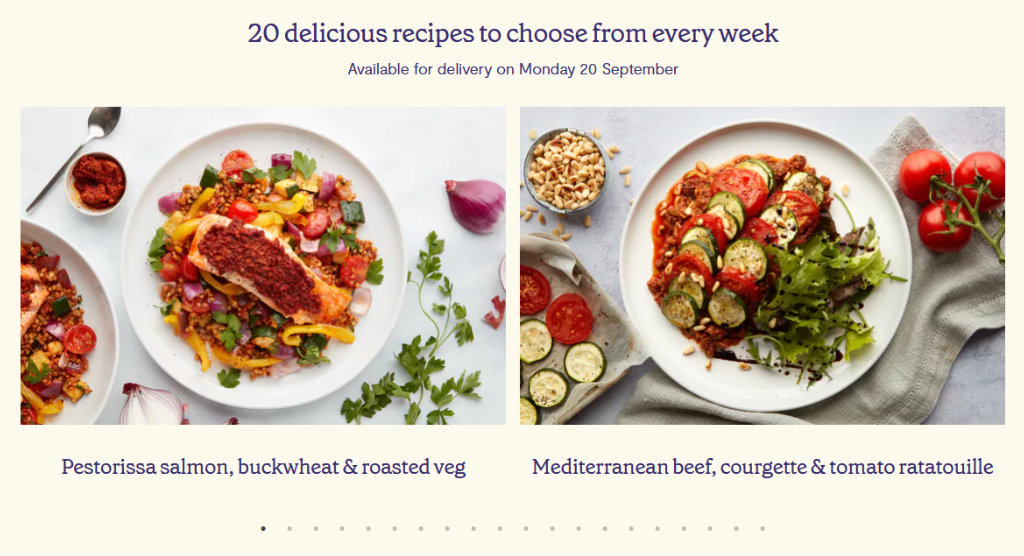 Mindful Chef FAQs
How much does Mindful Chef cost?
Meals for 1 person start at £8.50, meals for 2 people start at £9.95, and family meals start at £17.00. The price will depend on the number of recipes you add to your box.
How does Mindful Chef work?
Mindful Chef is a subscription based service. However, there's no minimum subscription, tie in, or hidden fees. The subscription is open and flexible so you can tailor it to fit your lifestyle. Every week you'll get an email notification about your upcoming recipe box delivery. You can swap the recipes or completely skip the box.
How can I cancel Mindful Chef?
You can manage your subscription from the Mindful Chef website or app. Select the order you'd like to cancel and click on the 'skip delivery' button. You should cancel your order by midnight, four days before each scheduled delivery. Individual deliveries can be canceled up to 8 weeks in advance. If you'd like to completely cancel your Mindful Chef account, you should sign in and select 'Your Preferences'. Scroll down and click 'Amend Subscription'. Click on the 'Cancel Subscription' button and complete the prompts to provide feedback. If you have any problems, contact the Mindful Chef Customer Service team.
How often do Mindful Chef recipes change?
Mindful Chef recipes change weekly. Every week, there'll be 20 delicious recipes to choose from. You can select 2 to 5 recipes if cooking for two, 3 to 5 if cooking for one, and 2 to 3 recipes if cooking for a family.
Does Mindful Chef have an NHS discount?
Yes, Mindful Chef has an NHS discount. If you work for the NHS, you'll get a 30% discount. If you're a new customer, you should sign up, place an order, and make a note of your customer ID number (you can find it in the welcome email). Fill out the form you can find in the help section, and the discount will be applied to your account. If you're an existing customer, you should email Mindful Chef from your account email and with your NHS email cc'd in.
Does Mindful Chef offer frozen meals?
Yes, in addition to recipes, Mindful Chef also offers ready-made frozen meals you can prepare in your oven or microwave in just 8 minutes. Frozen meals are available for £6.95, and are suitable for one person.
Does Mindful Chef offer smoothies?
Mindful Chef also offers smoothies. You can order one for £12.00, and you'll get the ingredients pre-chopped and ready to blitz. All you have to do is add some water.
Does Mindful Chef offer anything else?
Yes, in its offer, Mindful Chef also has healthy broths and soups you can enjoy on their own or add to one of the recipes. The price will depend on the number of servings (1, 3, 5m or 10), starting from £4.95 or £5.45 for one serving.
Does Mindful Chef offer gift vouchers?
Yes, Mindful Chef offers vouchers you can purchase as a gift. Select the amount and number of vouchers and place your order. You can expect it within 48 hours. There's no time limit to redeem the voucher.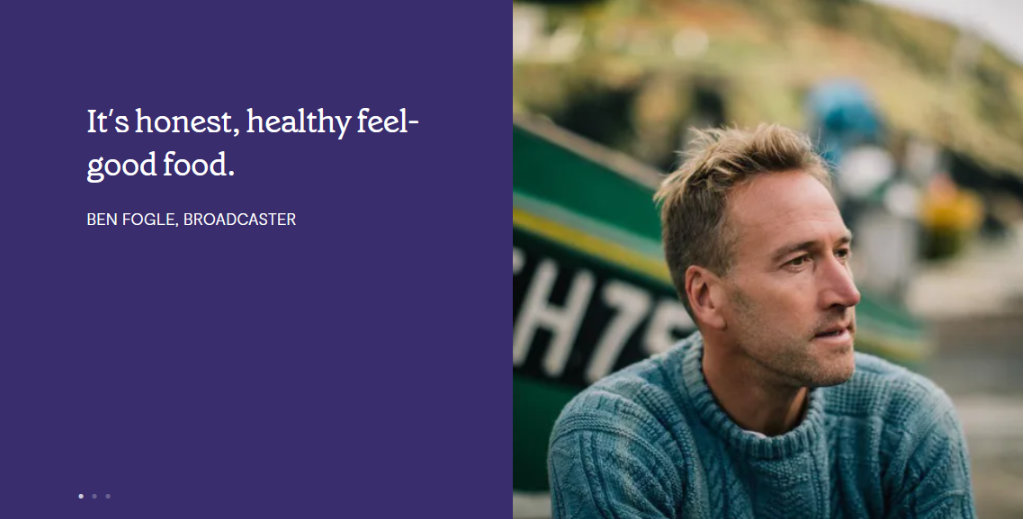 Mindful Chef Reviews
According to more than 14,000 customer reviews on Trustpilot, Mindful Chef has a TrustScore of 4.7/5 stars and is rated as excellent. It's in the top half out of 103 ranked companies in the online food ordering service category on Trustpilot. Reviewers have praised the quality of the products and the ease and clarity of the cooking instructions.
Our Mindful Chef referral codes can offer significant savings when making a new purchase.We update our promotional codes frequently, so make sure to check back before making your purchase.
Check out the latest Mindful Chef referral codes to make huge savings. At Newbie Deals, we actively seek out the best offers for our readers to ensure you make significant savings. If Mindful Chefv offer a refer a friend program, we'll publish it. If they offer a discount code, we'll show it. If they have an exclusive offer, you got it, we'll bring it to you. By shopping with Newbie Deals and taking advantage of our Mindful Chef referral codes, you can ensure you get the best deal in town.
Why Use a Mindful Chef Referral Code?
Simply put, it can save you money, and who doesn't like making savings? With Newbie Deals, you can save up to 25% on your next Mindful Chef purchase, by simply using our links. When you use our referral codes(or refer a friend scheme) nothing else changes other than the price you pay, it really is as simple as click, buy and save.
Related Offers



GOUSTO
65% off first box + 30% off first month
Gousto is an online food delivery service that sends you a box of fresh ingredients and recipes to cook at home. The company aims to save time and money, while improving the quality of your cooking by providing daily meal plans with pre-packaged produce, meat and fish. Gousto wants to change the way people eat by using their expertise in food preparation to deliver delicious dishes without any fuss or mess. Ready to change the way you cook at home forever? At NewbieDeals you can claim a Gousto discount code giving you a whooping 60% off your first receipt box delivery, whats not to love about that!