How to claim your free My Vegan discount code
Click on the 'Get Code' button, and copy your free My Vegan discount code from a pop-up window. Continue to the My Vegan website and start creating your order.
Select flavour and quantity, and add products to the basket. Once you're done, click on the 'View Basket' button or the shopping basket icon in the top right corner of the website.
Review your order. Paste your free My Vegan discount code to the text box below the basket subtotal and click on the 'Add' button on the right.
Select your prefered checkout method, fill out all of the required information, and finish your order.
More vegan brands similar to Myvegan
About My Vegan
My Vegan is the UK's top online vegan nutrition brand. It was established with the idea of making a plant-based well-being simple. It offers vegan food, snacks, and drinks, such as bars, cookies, butter, sparkling protein water, protein shake, and much more. In its range of products, you can also find high-quality vegan protein powders. My Vegan has been accredited by The Soil Association, The Vegan, and The Vegetarian Society. By using the finest ingredients, My Vegan creates products that taste amazing, and do well for both you and the planet.
My Vegan Delivery
When ordering to the UK, you can choose from several delivery options. Standard Delivery (2-3 working days) is available for £3.99 (free on orders over £40), while the Next Day Delivery is available for £5.99 (free on orders over £60). Orders are delivered Monday to Sunday. To be eligible for the Next Day Delivery, your order must be placed by 11 pm. Postcode restrictions apply. Contact Free Delivery is also available. For just £2.99, you can collect your order 24/7 from more than 1000 InPost Lockers nationwide. Standard 'Click & Collect' Delivery is also available. You can choose this option for £3.99 (free on orders over £40). There are more than 5000 collection points available. For additional information about the delivery within the UK, refer to the 'Delivery Information' page on the My Vegan website.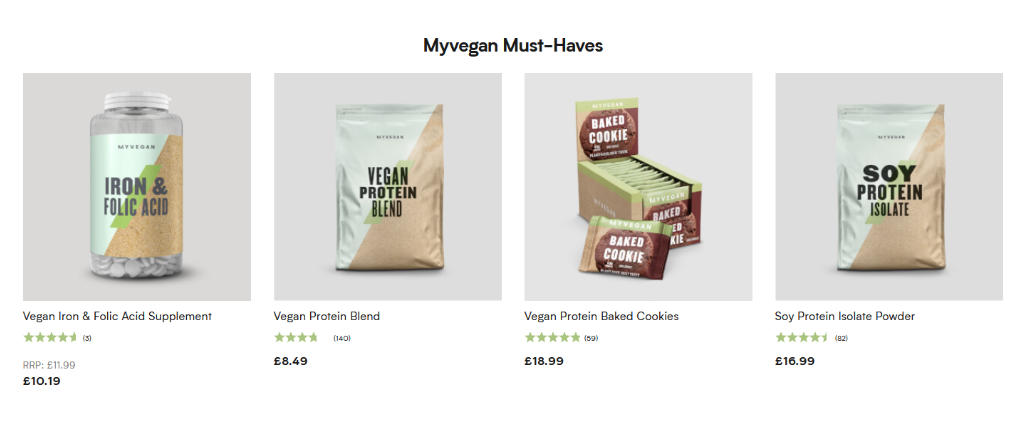 My Vegan Returns Policy
To be eligible for a return, the item must be unused so make sure you inspect it as soon as possible and always before use. You can return the item within 14 days, starting from the day you received your order. You'll be responsible for all postage costs when returning the item, unless the item has been sent by mistake, or is damaged or faulty. My Vegan will also cover postage costs when you're returning a substitute or replacement item you don't need. For more information about the returns process, refer to the 'Returns Policy' page on the My Vegan website.
My Vegan FAQs
Does MyVegan offer soy protein?
Yes, My Vegan offers soy protein. You can shop for Soy Protein Isolate Powder (Strawberry Cream or unflavoured). It's available in a bag of 1kg.
Where can I find the nutritional information?
You can find the nutritional information for every My Vegan product when you open the product page. Click on the 'Nutritional Information' card and you'll see the information per 100g and per serving, as well as reference intake of an average adult.
Is the list of ingredients available?
Yes, the list of ingredients is available on the product page. You can see the full list of the ingredients. If you're looking for allergens, pay attention to the ingredients in bold.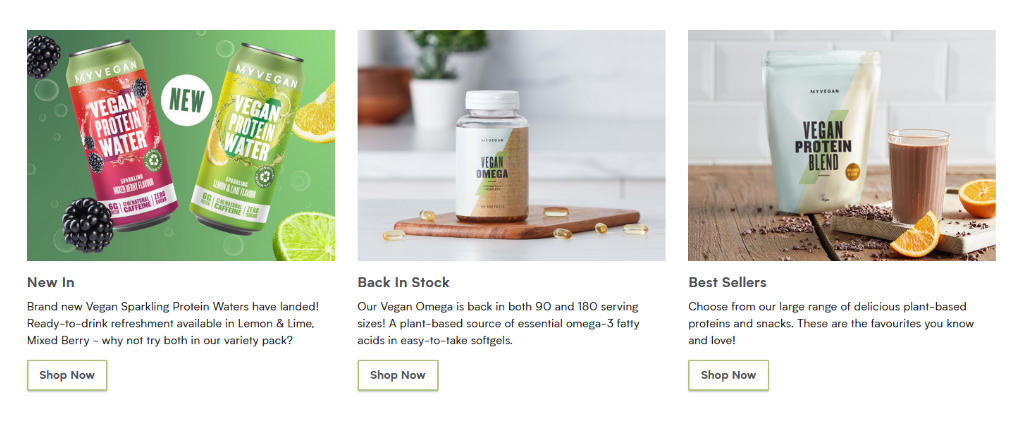 Are My Vegan products GMO free?
Yes, My Vegan products are GMO free. It actively sources GMO free products and raw materials. 
Are My Vegan products free of alcohol?
Although alcohol isn't added directly, some flavourings and colours are based on alcohol preparations. However, the products are still suitable for non-alcoholic diets. For more information, contact the My Vegan Customer Care Service.
Where can I find inspiration for vegan recipes?
If looking for inspiration and new tasty recipes you can try, refer to the 'Recipes' page on the My Vegan website. There you'll find well-balanced, indulgent meal ideas you can prepare for yourself or your friends. 
What else can I find in the 'Recipes' section?
The 'Recipes' section is not only for recipes. Once you open the page, you'll see several tabs, including 'Supplements', 'Nutrition', and 'Lifestyle'. There you'll find various articles about global topics surrounding sustainability and environmental issues, as well as helpful tips on incorporating an optimal source of supplements for your body.
Does My Vegan have an app?
Yes, My Vegan has an app for Android and iOS devices. Download the app from Google Play or App Store, and not only will you be able to shop for all your plant-based favourites on the go but you'll also have early access and exclusive offers direct to your phone. 
Does My Vegan have a refer a friend programme?
Yes, My Vegan has a refer a friend programme you can use to introduce your friends to My Vegan products and get rewarded for it. For every friend you successfully refer, you'll get £10 as well as 40% of their order, while your friend will get a great discount.
What is the My Vegan current recyclability state?
My Vegan has partnered with RePurpose Global and is committed to reducing the amount of plastic waste. This partnership makes My Vegan the World's First Plastic Neutral Sports Nutrition Brand. This means that My Vegan is funding the production of life changing infrastructure and removal of plastic from the oceans and landfill, equal to the amount it uses throughout our operations.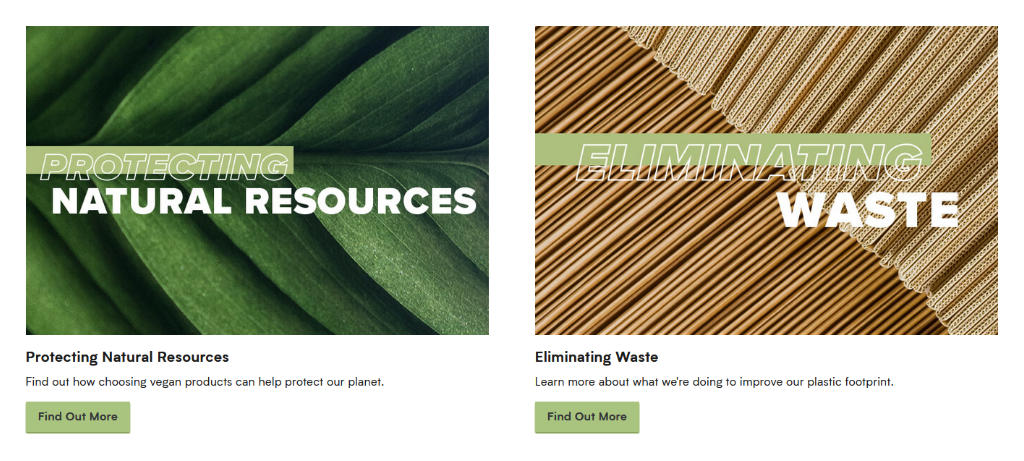 My Vegan Reviews
My Vegan has an average score of 3.9 out of 5 stars on reviews site TrustPilot and is rated as "Great". If you're looking for individual product reviews, you can find them when you open the product page. Scroll down to the customer reviews where you'll see an overall star rating as well as the actual reviews.
Related Offers
You can find a great range of organic vegan supplements at The Good Guru. Better yet, our Good Guru discount code lets you save as you shop!
If you're interested in putting great tasting, organic food on your table, you should check out the delicious and healthy groceries on offer at Abel & Cole. Or if you'd like to eat a more healthy diet but struggle to find the time to prepare balanced meals, our Love Yourself Meals voucher code can save you money on ready-made healthy meals.
Interested in teaching the little ones about cooking and the food that they eat? Little Bakers is a great place to start. They offer easy recipes and fun activities to teach kids how to bake.
Our Myvegan referral codes can offer significant savings when making a new purchase.We update our promotional codes frequently, so make sure to check back before making your purchase.
Check out the latest Myvegan referral codes to make huge savings. At Newbie Deals, we actively seek out the best offers for our readers to ensure you make significant savings. If Myveganv offer a refer a friend program, we'll publish it. If they offer a discount code, we'll show it. If they have an exclusive offer, you got it, we'll bring it to you. By shopping with Newbie Deals and taking advantage of our Myvegan referral codes, you can ensure you get the best deal in town.
Why Use a Myvegan Referral Code?
Simply put, it can save you money, and who doesn't like making savings? With Newbie Deals, you can save up to 30% on your next Myvegan purchase, by simply using our links. When you use our referral codes(or refer a friend scheme) nothing else changes other than the price you pay, it really is as simple as click, buy and save.
Related Offers



GOUSTO
65% off first box + 30% off first month
Gousto is an online service that provides you with easy to follow recipes and fresh ingredients. They deliver the boxes 7 days a week, so it's perfect for anyone who has trouble cooking or even time! Best new customer Gousto offer I hear you ask? It has to be their refer a friend offer that gives you 60% off (normally 50%) off your first box, and 30% off all boxes for the first month. It must be time to try Gousto!