How to claim your free Little Cooks Co voucher code
To claim your free Little Cooks Co voucher code, start by clicking the get free discount icon. Copy your discount code and proceed to Little Cooks Co.
Add all the items you want to your basket. Click the basket icon and confirm that you have added all items.
Paste your free discount code in the empty discount voucher code box and click apply.
Proceed to checkout. Finish your order by entering your billing, shipping and payment information.
More baking brands similar to LittleCooksCo
About Little Cooks Co
Founded by Helen Burgess, Little Cooks Co is a company that aims to empower a generation of children to live healthy and happy lives. By purchasing the happy little boxes, children not only get to enjoy the art of cooking but also engage in fun activities, giving them a break from mundane activities such as watching the television. The company bases its recipes on real food. This means that all the ingredients supplied are as natural as possible. As such, you will always get a box with fresh fruits, vegetables, meat and natural sugars. And in most cases, organic products will be supplied. The wide variety of cooking kits and fun accessories will keep your kids entertained for as long as you order.

Little Cooks Co Delivery
Little Cooks Co ships in the UK. Orders delivered under standard shipping will be delivered via Royal Mail 2nd class and should take 2-3 days. With Express shipping, your order will be delivered via Royal Mail first class and will take 1-2 days. However, this should be ordered before 1 pm. If you have any order delivery delays, reach out to the Little Cooks Co team for speedy assistance.
Little Cooks Co Returns Policy
Little Cooks Co aims at ensuring you get the best out of your orders. If you have any issues, reach out to the team for help via support@littlecooksco.co.uk.
Little Cooks Co FAQs
What's inside a Little Cooks Co box?
Each Little Cooks Co box includes a record book, organic ingredients, fun extras and recipe cards. The record book helps the children record their baking journey. It also includes a collectable sticker and other surprises. All the ingredients are dry and organic. They are also packaged in compostable bags. To help nurture a child's curiosity and creativity, the fun extras could be anything from fun games to fun activities such as lessons about the origin of certain foods and how they are grown from seeds. The recipe cards teach children new healthy baking recipes.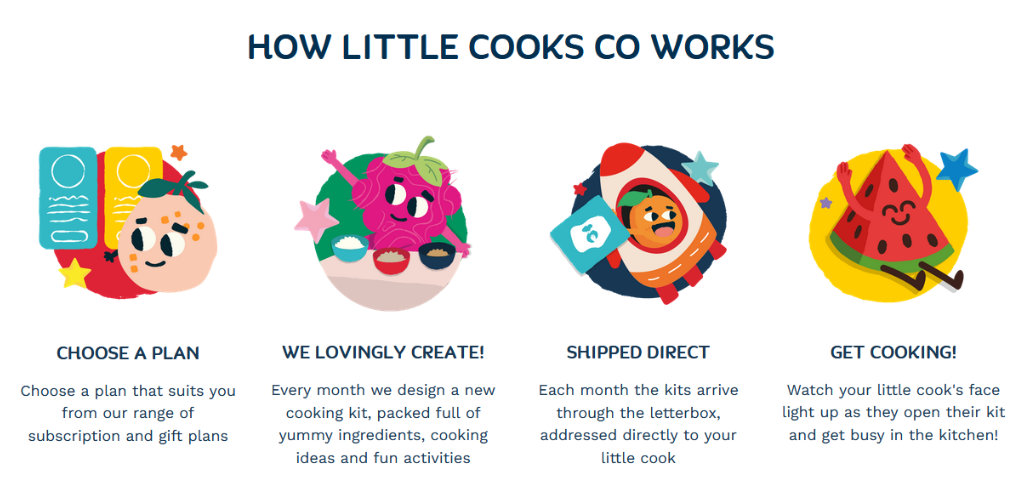 Do Little Cooks Co provide recipes?
Yes. Little Cooks Co provides recipes designed for little minds and hands. The recipe cards include a savoury family meal and a healthy baking recipe.
Why should I get a subscription plan?
With subscription plans, you get a 1, 3, 6 or 12 month plan that is perfect for the whole family. By bundling your plans through a subscription, you not only get to save money but also avoid the inconvenience of making monthly orders. And you are not limited to when you can renew or cancel. A 1 month plan costs £12.99 per box while a 3 months plan costs £12 per box. If you opt for a 6 month plan, you get to pay £10 per box and save 23%. A 12 month plan will cost just £8.33 per box, saving you 36%.
All subscriptions contain organic and healthy ingredients and fun extras! They are delivered via Express shipping.
Does Little Cooks Co have gift plans?
Yes, the company offers gift plans. You get to choose between 3, 6 or 12 month one-off plans.  And with these gift plans also comes free P&P. A 3 months plan will cost you £35,99, a 6 months plan £59.99 and a 12 months plan £99.99.
What does a Little Cooks Co gift hamper include?
Little Cooks Co gift hampers include an annual Little Cooks Co subscription, a Little Cooks Co Apron that is not only ethically made but also child-sized and a Little Cooks Co recipe binder. This is filled with 20 Little Cooks Co recipes. The gift hamper also includes a children's utensil starter bundle which includes colourful and child-friendly cooking utensils and two "Eat a Rainbow" placemats. These include fun-food-related games and a pen.
What if I want my Little Cooks Co box to arrive on a certain date?
If you want your box to arrive on a certain date, be sure to select a date when shopping for the kit. However, ensure you ship your box 5-7 days before the desired delivery date.
Is there an age limit for the Little Cooks Co boxes?
While there are no age limits for the cooking plans, children between 3-10 years will benefit most. Younger children will require additional support while older children can make most recipes independently.
Can I place one order for multiple gifts?
If you are placing one order with multiple gifts, the orders will arrive separately. This is because each order is personalized. As such, all orders are assigned unique order numbers to avoid cases of mix-ups.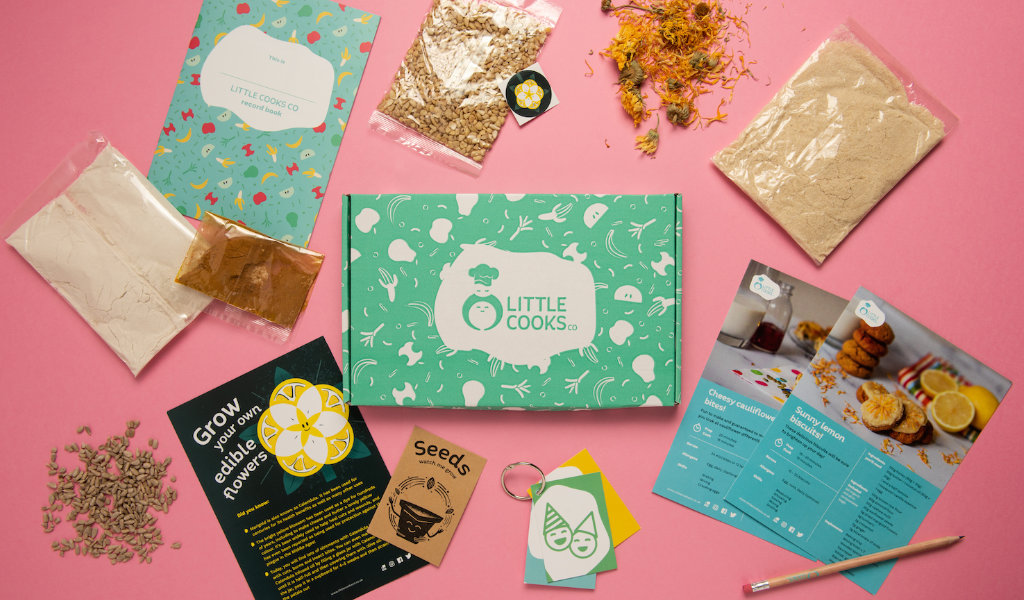 Do I need extra ingredients?
Little Cooks Co ensures that all ingredients required to bake are delivered. However, you may be required to purchase some seasonal ingredients such as lemon juice. In this case, you will receive an email to let you know of any additional ingredients to purchase.
Are Little Cooks Co plans available for children with allergies?
Yes, Little Cooks Co has all types of plans. As such, you can get dairy-free, wheat-free and meat-free recipes.
What if I want to cancel my subscription?
You can cancel your subscription anytime from your account. You can also reach out to the company via support@littlecooksco.co.uk. Please ensure to cancel your subscription before a payment goes through. However, you can always get a refund if the payment is processed before the cancellation.
Little Cooks Co Reviews
Little Cooks Co has an average score of 4.5 out of 5 stars on reviews site Trustpilot and is rated as Excellent. Customers have praised both the quality of the products and the clarity of the instructions.
Related Offers
Our Little Bakers discount code can save you money on fun baking kits for kids, to encourage your little ones to learn how to bake.
If you want to save money on healthy meals for all the family, try our Love Yourself Meals discount code. We also have great savings on offer for Allplants, an entirely plant-based meal delivery service.
If you're interested in getting healthy, organic food for your family, try Abel & Cole, who deliver sustainably sourced groceries right to your door.
Our LittleCooksCo referral codes can offer significant savings when making a new purchase.We update our promotional codes frequently, so make sure to check back before making your purchase.
Check out the latest LittleCooksCo referral codes to make huge savings. At Newbie Deals, we actively seek out the best offers for our readers to ensure you make significant savings. If LittleCooksCov offer a refer a friend program, we'll publish it. If they offer a discount code, we'll show it. If they have an exclusive offer, you got it, we'll bring it to you. By shopping with Newbie Deals and taking advantage of our LittleCooksCo referral codes, you can ensure you get the best deal in town.
Why Use a LittleCooksCo Referral Code?
Simply put, it can save you money, and who doesn't like making savings? With Newbie Deals, you can save up to 25% on your next LittleCooksCo purchase, by simply using our links. When you use our referral codes(or refer a friend scheme) nothing else changes other than the price you pay, it really is as simple as click, buy and save.