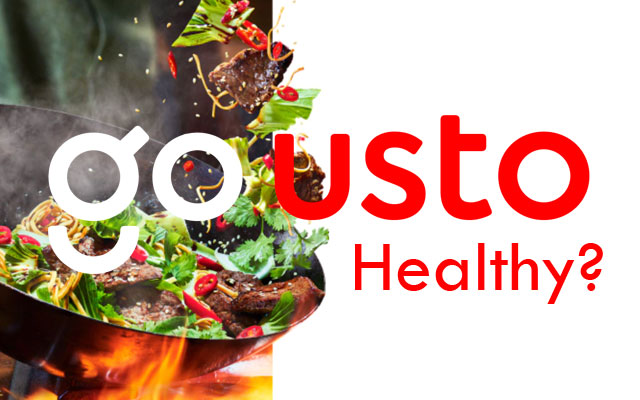 GOUSTO
65% off first box + 30% off first month
Fresh food & recipes delivered
Gousto is one of the most popular and reliable meal kit service providers in the UK. The concept behind Gousto is quite simple; they take care of planning the recipes, shopping, and delivering precise, pre-measured ingredients to your door. All that's left is to put together delicious meals for you and your family in as little as 10 minutes.
One of the most commonly asked questions among people considering this meal subscription box is: is Gousto healthy? And if you're looking to cut weight, you may wonder, "is Gousto good for weight loss?" In this post, we'll cover these pressing questions and much more.
Is Gousto Healthy?
Yes, Gousto meals can be healthy depending on your selected recipes. The Gousto menu comes with several lighter meal options. Each week, you can choose from around 10 calorie-controlled meals under 600 calories.
Also on the weekly menu are more than 20 options under the 'Healthy Choices' tab.
Furthermore, Gousto has a few recipes that allow users to swap out meat for fish, and create much healthier meals. If you're in the market for a healthy meal delivery service, Gousto is an option worth considering.
How Many Calories Are There in Gousto Meals?
Gousto offers over 75 recipes every week, each with varying calories. It's, therefore, not uncommon to come across low-calorie meals and some indulgent comfort options on the same weekly menu.
Each Gousto recipe provides details on the number of calories in the meal. This makes it easier to choose dishes that fit your diet plan.
If you're primarily interested in low-calorie meals, you can order from Gousto's 'Calorie Controlled' section. Some of their tasty options include;
Chilli Crab and Spring Green Noodles – 374 calories
Smoky Roasted Veg, Rice, and Red Pepper Salsa – 392 calories
Warm Lemony Chickpea Tabbouleh – 407 calories
Aromatic Sri Lankan-Style Aubergine Curry – 457 Calories
High-calorie options at Gousto include the likes of Pork and Apple Stuffing Burger with Parsnip Relish and Sage Chips (1003 calories) and Sticky Hoisin Sausage Tray Bake with 817 calories. If you purchase a high-calorie Gousto dinner, you can still structure your other meals of the day to ensure that you're sticking to your eating plan.
Healthy Gousto Recipes - Our Picks
With Gousto, you can enjoy healthy meals without sacrificing flavour or variety. Some of our favourite Gousto healthy recipes are;
Sticky Sweet Chilli Pork with Rice
Chilli Con Tofu with Crispy Tortillas and Avocado Salsa
Courgette and Greek Cheese Gratin with Hazelnut Gremolata
Crispy Chicken with Butternut Squash Rice and Basil Oil
Chicken and Cheese Veg-Packed Pasta Bake
Sesame Salmon and Crunchy Black Rice Salad
Smoky Chorizo Cod with Crispy Potatoes and Aioli
One-Pot Spicy 'Nduja, Pepper, and Roasted Tomato Orzo
Herby Roast Chicken Tray Bake
Warming Harissa Aubergine and Lentil Pie
Keep in mind that the Gousto menu is regularly updated, and therefore, the available options will vary from week to week. To better understand how Gousto compares to similar services in the market, check out our comprehensive Gousto v Hello Fresh post.
Gousto Low Carb Options
Unfortunately, Gousto lacks low-carb meal options. You'll not find a designated section for low-carb dishes on their menu.
Gousto is keen on providing well-balanced meals. Therefore, their recipes feature all the main food groups, including carbohydrates. Some of the most prevalent carbs on the menu are potatoes, rice, sweet potatoes, and various pasta dishes.
It can be hard to maintain a low-carb lifestyle with Gousto recipes. Keep reading as we provide healthy Gousto alternatives that offer low-carb options.
Is Gousto Good For Weight Loss?
Every weight loss journey is different from the next. Gousto can however be a valuable weight loss tool in various ways.
Portion control – The healthiest of meals can be detrimental to your weight loss journey if you overindulge. Gousto sends you precise, pre-measured ingredients, eliminating the possibility of cooking too much food.
Fewer grocery trips – Supermarket trips may provide the opportunity and temptation to pick up unhealthy foods. By delivering your meal kits, Gousto helps limit your supermarket runs.
Low-calorie options – Gousto's 'calorie-controlled' meals and 'healthy choices' are suitable for individuals on a weight loss journey. These recipes generally have lower calories, making it easier to eat in a calorie deficit.
Healthy Recipe Box Alternatives to Gousto
Balance Box Premade Meals
Balance Box delivers ready-to-eat meals designed by nutritionists and prepared by expert chefs. As the name implies, their healthy meals are balanced, and they consist of all essential food groups – healthy fats, lean proteins, and complex carbs. Further, each dish is free from refined carbs, refined sugars, and uncalled-for additives or preservatives.
Balance Box delivers all the food you need in a day – 3 meals and 2 snacks. They have four plans to cater to different dietary preferences
Classic Box – suitable for users who have no dietary restrictions.
Vegetarian Box – no meat or fish in their diet.
Pescatarian Box – no meat, only fish in this plan.
Plant-based programs – for customers who want no animal products or gluten in their diet.
Balance Box allows for a great deal of customisation as customers can choose their ideal plan based on their health goals. The lighter plan provides 1200 - 1300 calories daily, making it an excellent choice for users wanting to lose weight.
The market plan on the other hand, provides 1700 - 1800 calories per day and is designed for people who'd like to maintain their current body weight.
New to Balance Box? Use our Balance Box discount code to save as you explore and enjoy the convenience of pre-made healthy meals.
Green Chef A Great Healthy Gousto Alternative
While Gousto lacks a dedicated low-carb plan, Green Chef offers both lower-carb and keto diet plans. Besides these meal plans, Green Chef also caters to vegans, vegetarians, flexitarians, and pescatarians.
Green Chef users get two box options – a 2 or 4-person box. You can select up to 5 recipes for your chosen box from a menu that changes weekly. This constantly changing menu means you're never stuck in a rut when cooking dinner.
Like Gousto, you can leverage Green Chef meals to suit your health goals. Each recipe provides a full breakdown of nutritional information, including calories, allergens, and macros. This allows you to select the dishes that you find appealing and further your health goals. Our Green Chef referral code allows you to save as you take advantage of this ultra-convenient recipe box service.
Riverford Organic - Veg Box Alternative to Gousto
If you want to incorporate more vegetables and/or fruits into your diet, you may want to consider Riverford Organic. This company delivers an assortment of seasonal organic veggies and fruit fresh from the farm.
Depending on your preferences, you can opt for;
Veg only boxes
Fruit and veg boxes
Salad boxes
Fruit boxes
Riverford Organic allows you to supplement your fresh fruit and veg with their meat boxes which are filled with organic free-range meat.
But wait, there's more…While Riverford Organic is best known for its veg boxes, you can also shop from a range of recipe boxes on the site. You can easily view the nutritional information of each dish before making your order. Take advantage of our Riverford Organic £15 off your second box to save on your order.
Mindful Chef - Healthy Change From Gousto
Mindful Chef is a popular meal kit delivery service that offers a range of healthy recipes. Customers shopping on the site get three plan options – all recipe boxes, vegan recipe boxes, and family recipe boxes. Depending on your inclination, you can pick the plan that best works for you. With this service, you can customise your order further by choosing a 1, 2, or 4-person box, and selecting up to 5 recipes per week.
Mindful Chef delivers high-quality ingredients to their customers with no refined carbs. Each recipe provides the relevant information to help you make healthy choices for your specific goals. You can leverage the calorie and macro information to ensure that your Mindful Chef meals will help you meet your health goals.
With our Mindful Chef discount code, you can get 25% off your first four boxes. Enjoy significant savings as you decide whether Mindful Chef is the right option for you long-term.
Grubby - Vegan Gousto Alternative
If you're solely interested in healthy and delicious 100% plant-based recipes, Grubby is the way to go. With over 150 Grubby recipes to choose from, users are assured of a diverse collection of vegan recipes.
Grubby offers two box options;
Regular box – serves two to three people, with 2 -4 recipes per week.
Family box – serves four to five people, with 2 recipes per week.
As with most recipe boxes, Grubby allows you to view the details on calories, macros, allergens, and cooking times of recipes before you make an order. This makes it possible to select the recipes that best suit your goals and lifestyle.
The price of Grubby starts from £5.75 per serving, and the company offers free nationwide delivery. Your first grubby order can be even more inexpensive when you use our discount code to Get 50% off your first Grubby box.