How to claim your free Cocktail Delivery discount code
To claim your Cocktails Delivery free discount code, click the get discount code icon and copy your discount code.
Proceed to the Cocktail Delivery website, add all the items you want to purchase to your cart and checkout.
Paste your free discount code in the empty gift card or discount code box and hit the apply button.
Finish your order by entering your contact information and shipping address and proceed to ship.
Make your payment and wait for your delivery.
More alcohol brands similar to Cocktail Delivery
About Cocktail Delivery
Cocktail Delivery is a brand that specializes in the delivery of professional craft cocktails. With skilled mixologists on board, you are assured of perfectly mixed cocktails, ones that you cannot get elsewhere. All you need to do is add juice or ice and for some, all you need to do is shake and you are good to go. Whether you are looking for cocktail picnic hampers, party bundles or even gift boxes, Cocktail Delivery is your go-to shop!
Cocktail Delivery Delivery
Cocktail Delivery delivers in the UK. The company offers free deliveries on UK next-day deliveries, Monday- Friday. For Saturday deliveries, you will be charged a delivery fee of £4.99. Saturday deliveries are, however, not available for all UK locations. As such, ensure you check whether the service is available to your location before ordering. Also, you should order before 1 pm Friday for your products to be delivered on Saturday.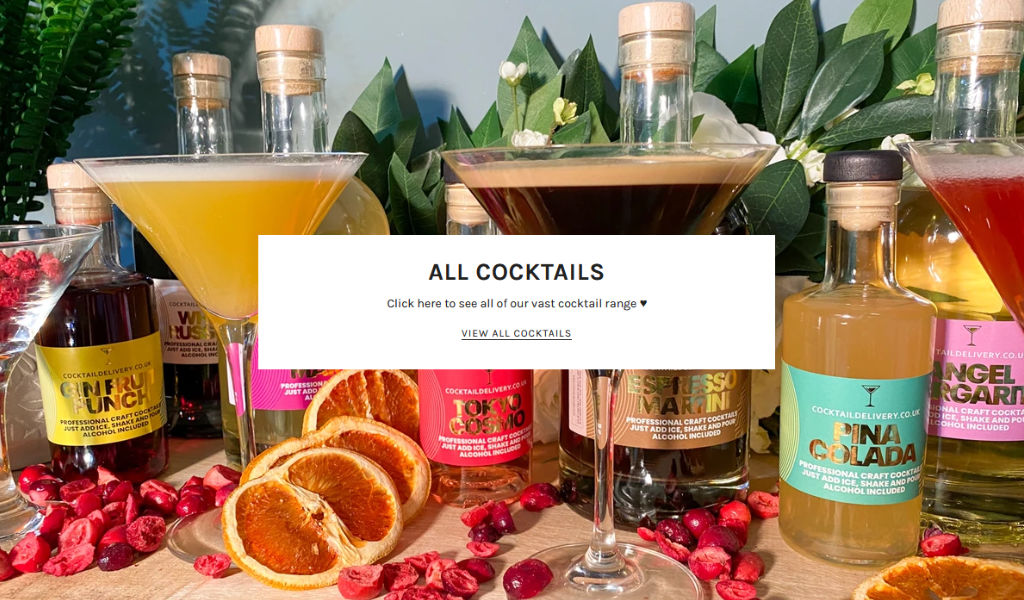 Cocktail Delivery Returns Policy
Cocktails Delivery offers refunds within 7 days of delivery. To be eligible, your products must be unused and unopened. They also must be in the same condition delivered and in the original packaging. Please note that the company does not accept returns of perishable goods such as flowers, drinks, magazines and newspapers. Also, gift cards, sale items and downloadable software products cannot be returned. You will be required to provide proof of purchase. Cocktail Delivery only accepts the replacement of damaged or defective items. Please note that all refunds will be made in the original payment method.
Cocktail Delivery FAQs
What are some of the cocktails available at Cocktail Delivery?
The company has different types of cocktail flavours such as raspberry, espresso, berry, unicorn gin, Gin fruit punch and party bundle, just to mention a few. For the full cocktail selection, check out the cocktail section on the Cocktails Delivery website.
How long should my cocktails last?
Since they are freshly made, Cocktail Delivery cocktails can last for 6 weeks. To ensure they last longer, perishables such as juices are sent separately.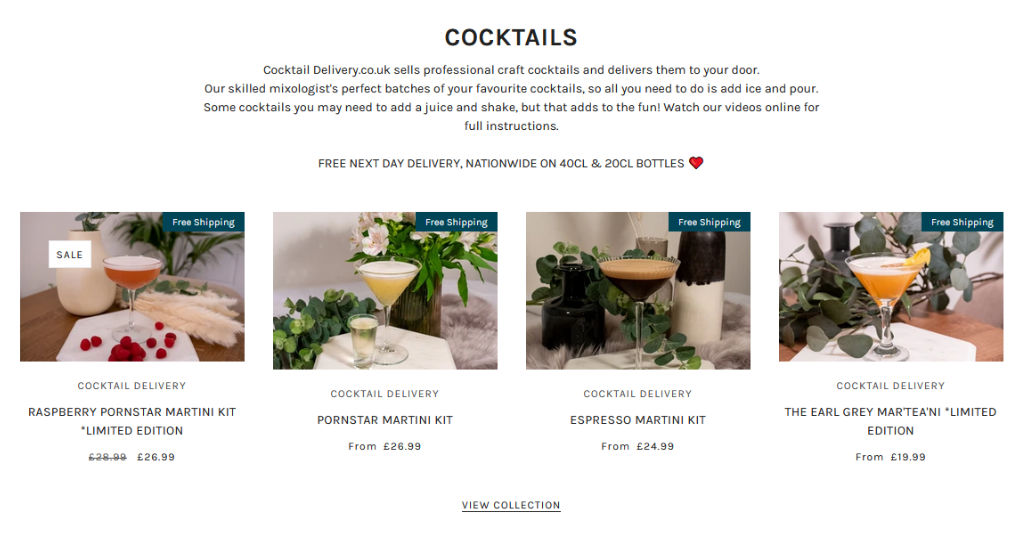 How should I store my Cocktail Delivery cocktails?
Your cocktails should be kept in sealed bottles in a cool and dry place.
Do Cocktail Delivery offer gift boxes and hampers?
Yes. Cocktail Delivery offers fantastic gift boxes and hampers. The company has various types of gift boxes and hampers such as picnic hampers, a jewellery gift box and even a traditional cocktail hamper. You also get the option to build your cocktail gift box.
Does the Cocktail Delivery service cover all of the UK?
Yes. Cocktail delivery offers nationwide deliveries all over the UK. The company offers free Monday-Friday deliveries and charges $4.99 for Saturday deliveries.Saturday deliveries are, however, not available to all regions in the UK. 
I want to send my friend a gift. Can I add a special message?
Yes. Cocktail Delivery has customized tags at £3.99. You can opt for a circle tag, thin tag or even wide tag. This is a quality tag that matches your cocktails. All you have to do is indicate the person's name, the message and the occasion.
What if I need multiple cocktails for my corporate gig?
If you want multiple cocktails, reach out to the Cocktails Delivery team at hannah@cocktaildelivery.uk or call 03333 660 893. The team will help you maximize your budget and present you with the best offers for your team.
Does Cocktails Delivery offer cocktail-making lessons?
Making cocktails is an exciting adventure. The company offers cocktail masterclasses at £44.99. This is a per person per zoom class. You will learn bartending skills and trends, a skill that will help you make your cocktails like a pro. You will also receive a package that you will use to make the cocktails as you learn. Get in touch with the Cocktails Delivery team at info@cocktaildelivery.co.uk.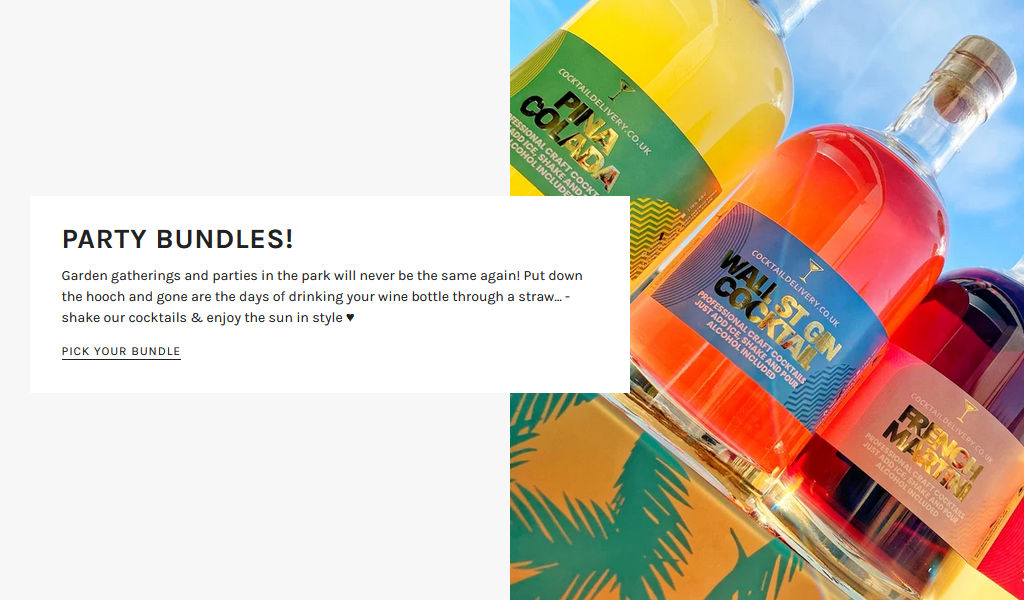 What payment methods does Cocktails Delivery accept?
The company accepts all major payment methods including Apple Pay, Diners Club, Google Pay, Maestro, Mastercard, PayPal, Shop Pay, Visa and Discover.
How can I contact Cocktail Delivery?
You can contact Cocktail delivery via email at info@cocktaildelivery.co.uk or call 03333 660 893.
Cocktail Delivery Reviews
Cocktail Delivery has a 4.6 rating among 382 reviews on Trustpilot. The company offers amazing cocktails at fair prices. The customer service is also excellent not to forget the quick delivery services.
Related Offers



Sign up for the Wine Plan to explore a new world of wine. Every 4, 8 or 12 weeks you will receive an expertly curated case delivered straight to your door with tasting notes and £100+ off first order. 
Join Laithwaite's today!