How to claim your free Fragrance Direct discount code
To claim your free Fragrance Direct discount code, copy the code and continue to the Fragrance Direct website.
Pick a product and add it to the bag. Once you're done, click on the 'View Bag/Checkout' button or the shopping bag icon in the upper right corner of the website.
Review your order, and paste your free Fragrance Direct discount code into the text box below. Click 'Apply'.
Checkout with PayPal or proceed to regular checkout. Fill out all of the required details and finish your order.
More fragrances brands similar to Fragrancedirect
About Fragrance Direct
Fragrance Direct is one of the UK's leading retailers when it comes to beauty products. It stocks more than 14,000 products across 600 famous brands and designer labels, as well as your high street favourites. Get best selling fragrances from brands such as Roberto Cavalli, Hugo Boss, Carolina Herrera, or shop for Maybelline, L'Oreal, Rimmel, and Elizabeth Arden makeup and accessories. Browse through thousands of products by price, name, brand, or category, and find perfect products for all your beauty needs. Fragrance Delivery has a dedicated Customer Service, available 7 days a week, as well as free delivery on all UK orders over £25.
Fragrance Direct Delivery
When placing an order within the UK, you can choose between several shipping methods, including the Standard and Express Delivery, as well as the Next Day and Next Day Guaranteed Delivery by 4 pm. Shipping time and cost will depend on the shipping method you've chosen. Overseas delivery is also available. Your order will arrive within 3-6 working days from the date of dispatch. Refer to the 'Delivery Information' page on the Fragrance Direct website for full details.

Fragrance Direct Returns Policy
Any unwanted item can be returned within 60 days of receiving it, as long as it's unopened and in its original condition. You'll be refunded the original price to your original payment method, excluding shipping charges. Use the Royal Mail Post Office for free returns within the UK. If you want to receive faulty or damaged items or the one you received by mistake, you should first contact the Fragrance Direct Customer Service via email or phone. Engraved products can only be returned if they are faulty or damaged. For more details on Fragrance Direct Returns Policy and details on using the Royal Mail Post Office system, refer to the 'Returns Policy' page on the Fragrance Direct website.
Fragrance Direct FAQs
What can I do if I cannot find what I want?
If you're having trouble finding the item you want on the Fragrance Direct website, it's possible that the item is out of stock. You should contact its Customer Service via email or you can use Live Chat to get some help.
Why do some fragrances come with no cellophane/plastic wrapping?
Some manufacturers have decided to remove the cellophane/plastic wrapping from their fragrances. This is done both as a cost-cutting and environmental measure. Also, the cellophane/plastic wrapping will be removed if you've opted to have a fragrance bottle engraved.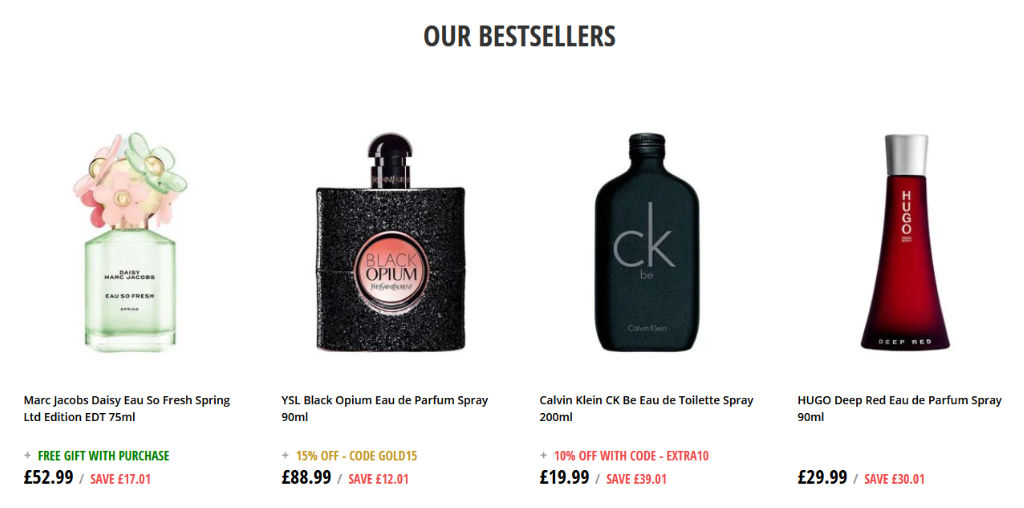 Does Fragrance Direct offer gift wrapping service?
Yes, Fragrance Direct offers gift wrapping service. It'll be available at checkout. The service is charged per item and is available for £2.99. Click on the 'Gift Wrap Items' button above your order's total. Pick the item you'd want gift-wrapped, and choose the gift wrapping paper for each of the items. You can also add a message for each of the gift-wrapped items.
Are the products Fragrance Direct sells genuine?
Yes, all of the products Fragrance Direct offers are completely genuine. In its store, you won't find any counterfeit or fake products.
How are the products so much cheaper than in other stores?
Fragrance Direct gets its products directly from manufacturers ors licensed distributors. Products are then sold directly to the customers, skipping the middleman and passing the savings onto you. 
Does Fragrance Direct offer student discounts?
Yes, Fragrance Direct offers a 10% student discount. Visit myunidays.com where you'll be able to access all of the current promotions.

Fragrance Direct Reviews
Fragrance Direct has an excellent score on Trustpilot. With more than 28,600 customer reviews, it has a TrustScore of 4.5/5 stars. Its customers were satisfied with excellent service, quick delivery, and a wide choice of products.