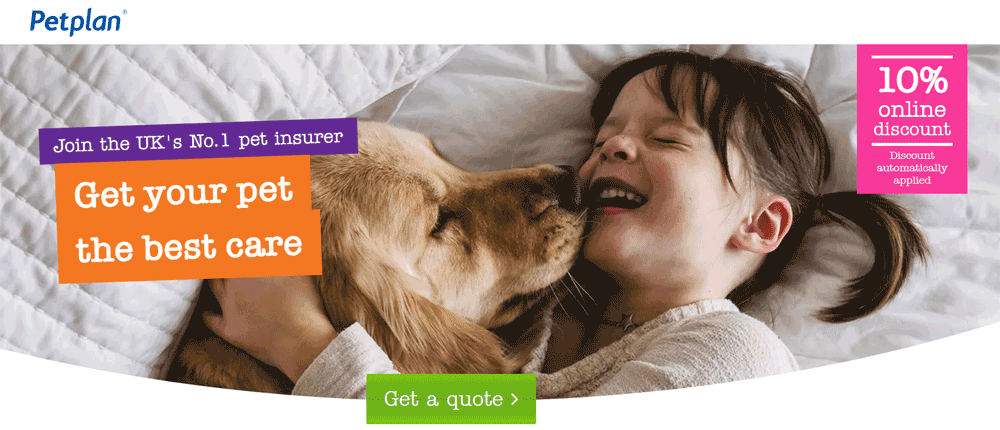 How to claim my PetPlan 10% discount?
To claim your discount, click on "Get it".
On the PetPlan website click on "Get a quote". The discount is automatically applied and no voucher code is necessary.
Fill in the information regarding your pet and click on "Continue".
Fill in your information, and get the quote.
Enjoy your discount of 10% for your new plan.
More pet insurance brands similar to Pet Plan
How does PetPlan help my pet?
PetPlan is a very friendly pet insurance provider that offers insurance plans for your pet. They are insuring over 1.3 million pets in the UK, and that's a lot more than any provider has insured until now. Their unbeatable knowledge and experience in pet health allow them to cover a variety of illnesses and injuries and be able to pay around 97% of the claims we receive. And probably, that is the main reason why over 90% of their customers are renewing their membership every year, and are continuing to give their trust for pet health to PetPlan. On their website, you can see new offers and services for your dog or see recommendations from experts about new products for cats.
Do PetPlanthey have a "refer a friend" program?
Yes. You should select your voucher, fill in your name and policy number, save and give the voucher to your friend, or send it to him/her by email. As soon as your friend makes a subscription on an annual policy and pays their first premium, you will get your gift and receive free £20 worth of M&S vouchers. They will also receive a bonus of 2 months of free insurance for their pet.
What makes PetPlan different from its competitors?
They are offering different kinds of policies, and you get to choose whatever suits you and your pet's needs. They have Covered For Life policies that are offering you a lifetime value for your pet, and there are also Essential policies that are providing valuable protection for 12 months after an injury or illness. With PetPlan, you can claim without any doubt or any thought that you will be paying more for taking your pet to a vet. Your pet's health is the most important thing to them. And they can also pay directly to the vet, so you do not have to worry about money, but for your pet's health.
Doo they collaborate with other businesses?
Yes. PetPlan is striving to collaborate with different businesses that can help the pet's healthiness. They are partnering with a lot of companies from the veterinary industry, to help their customers in the best possible way. Also, they are supporting over 1.000 charities to help pets have better lives.
Is there any discount when taking plans for multiple pets?
Yes. You are getting a discount for insuring more pets at once. If you insure more than one pet, you will automatically get a discount. There is a £12 discount per pet every year if you insure two or more pets. You can also pay for the plans with just one payment.
What type of pets do PetPlan insure?
Mostly they are offering insurance plans for dogs, cats, and rabbits. But, there are also options for other pet insurance. They can also provide insurance for horses, birds, reptiles, etc. Check out their website to see more options.
Complimenting services for PetPlan
If you have taken care of your pet's health, then you should also check out our complimentary offers and see how they can help your pet. Visit Rover if you need to book a sitter for your pet, or you need someone who will look out after your dog, or cat while you are away. If you are thinking about what is the best food choice for your dog, then go and check out Butternut Box. You will be amazed by their services.