How to claim your free Tide referral code.
Follow these simple steps to take advantage of our referral code and earn free cash with Tide. 
Click on the 'Get Code' button of our Tide referral deal.
Copy our code and proceed to the Tide website by following our link. 
Click on the 'Open an account' button. Depending on your business, you can choose to get an account for either a registered company or as a sole trader. 
Enter your email address when prompted and click continue. 
At the top of the webpage, click on 'Add referral code'. Paste our referral code and click the 'Save' button. Your referral code has now been added. 
Follow the steps and finish opening your account. 
More business brands similar to Tide
About Tide.
Tide was founded by George Bevis in 2015, and has since grown to be the UK's leading provider of digital business banking services. Tide is headquartered in London, and currently serves over 300,000 businesses in the UK.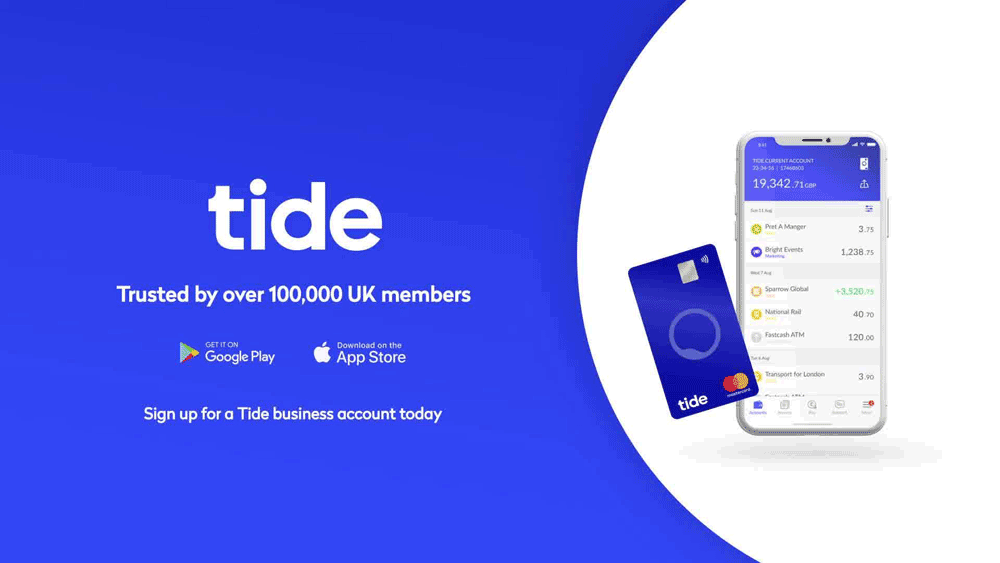 The Financial platform gives you the time to focus on the things that you love by helping you manage the financial aspect of your business. With Tide, you can easily set up and manage your scheduled payments, have your income and expenditure auto-categorised, and link your account to accounting software such as Xero, Crunch and QuickBooks. You can also easily manage your invoices with Tide. 
Tide is ideal for different types and sizes of businesses. You can opt for a free business account, the Tide Plus account, or the Tide Cashback account depending on the size and requirements of your business. 
You can also take advantage of the various perks that Tide offers to its members. These include exclusive offers and deals from companies such as The Telegraph, General Assembly, Work Life, PeoplePerHour, and Urban. 
A Tide account is easy to open, and it makes it simpler to manage the admin aspects of your business. Take advantage of our Tide referral code to earn free cash when you sign up and spend on the platform.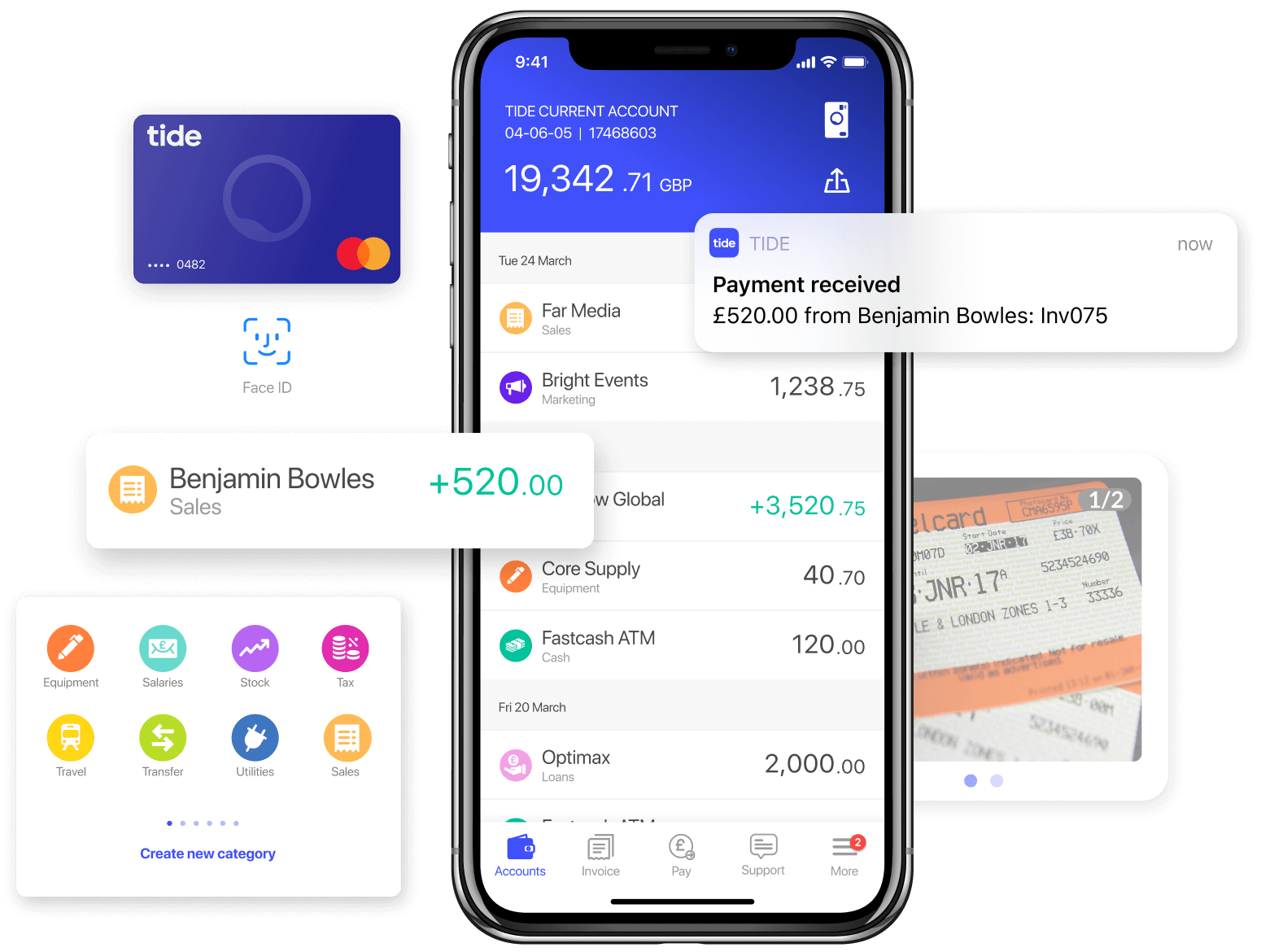 Tide FAQs.
What types of business banking accounts does Tide offer?
Tide offers three types of business accounts;
Free business accounts (Free).
Tide Plus account (£9.99 monthly).
Tide Cashback account (£49.99 monthly).

The Plus and the Tide Cashback accounts both offer some extra features including 24/7 access to legal advice, increased free transfers, and priority in-app telephone support. 
How can I deposit cash into a Tide account?
You can deposit cash into your Tide account through the Post Office or PayPoint with this simple process. 
Visit your nearest PayPoint or Post Office and inform them that you'd like to deposit cash into your Tide account. 
Give over the cash that you intend to deposit and your Tide card.
They'll swipe your card, complete the transaction, and give you a receipt. 
The Post Office charges £1 for Tide deposits, while PayPoint has a fee of 3% of the total deposit value. 
Is my money safe with Tide?
Absolutely!
If you're operating a ClearBank account, the FSCS safeguards your eligible deposits up to £85,000. With an e-money account, your money is not invested or loaned out, only stored for safekeeping. 
Tide has additional security features including a PIN, face ID, and thumbprints to further safeguard your account. You can also easily add limits to payment amounts. 
How can I contact Tide customer support?
You can reach the Tide customer support via the in-app chat or through email at hello@tide.co. 
If you either lose your Tide card or it's stolen call +44 (0) 333 121 0266. 
Which accountancy software does Tide sync with?
You can link your account with various software including Xero, Crunch, ClearBooks, QuickBooks, Sage, and Free Agent. 
Does Tide have an app?
Yes. You can download the Tide app from Google Play or the App Store. 
Is Tide a registered bank?
No, Tide is not a bank. 
Tide is a financial service that offers digital business banking services.  It is regulated by the Financial Conduct Authority. (FCA)
Tide Reviews.
Tide has garnered over 8,000 reviews on Trustpilot and it has an excellent 4.1-star rating. Most of the users find the service to be quick and easy-to-use, and love the good range of services provided. Reviewers also appreciate the value and excellent support offered by Tide. 
On Smart Money People, Tide has over 450 reviews and an impressive 4.6-star rating. 

Related Offers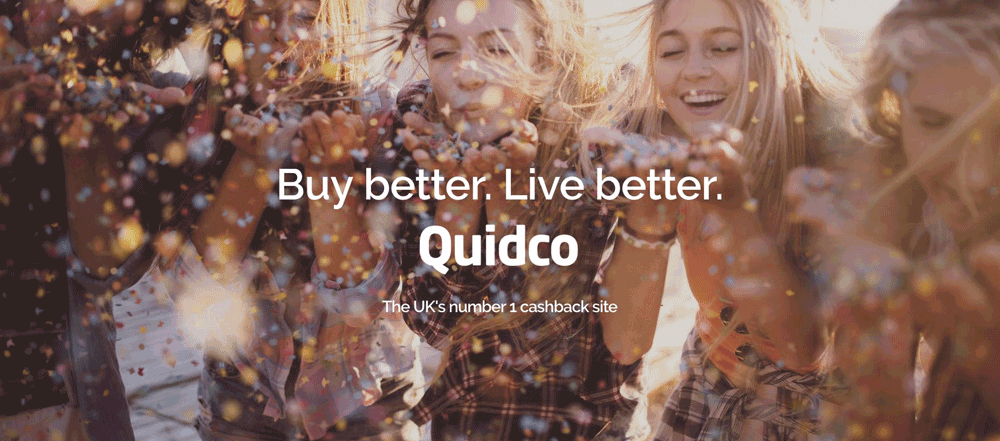 QUIDCO
£10 free cash when you sign up
Quidco is the site that gives you cashback, which means a rebate of money when shopping online and offline. Quidco operates in over 40 countries worldwide and has paid out more than $1 billion to customers since its founding five years ago. You can earn between 5% - 20% on your purchases depending on what brand or retailer it is as well as how much value there was for sale at any given time so be sure to check back often! Join the cashback revolution today and bank a £10 Quidco cashback bonus!