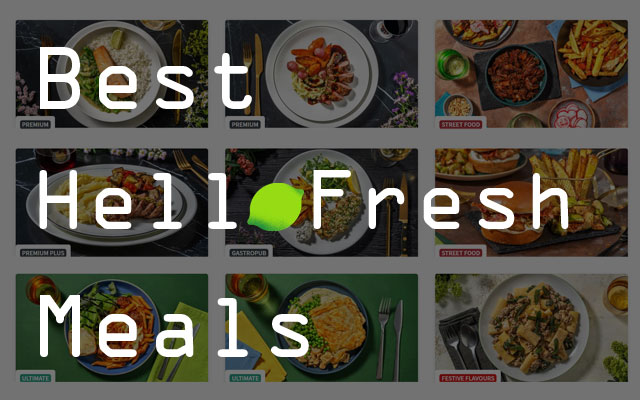 Want to know what the best Hello Fresh meals are right now? By using these simple hacks, you can get far more out of your Hello Fresh subscription, getting premium meals for the same low price. Find out how you can get these awesome Hello Fresh meals without affecting your budget.
Hello Fresh Meal Delivery


HELLO FRESH
£47 off your first order
#1 recipe box delivery service, dinner is solved
It's hard to find a meal kit delivery service that checks all the boxes. However, Hello Fresh comes pretty close. This meal delivery service offers the ultimate convenience at reasonable prices (full breakdown of Hello Fresh costs) while being mindful of the environment. It's, therefore, no surprise that this long-standing company has seen exponential growth over the last decade.
If you're considering HelloFresh, it's only natural to be curious about their food.
What meals does HelloFresh offer? Does HelloFresh have meals catered to my dietary lifestyle? How long does it take to prepare a HelloFresh recipe? These are only some of the questions you may ask as a new user, and fortunately, we have the answers.
We've rounded up some of the best Hello Fresh recipes to help you determine what you can expect from this recipe box service. Keep reading to discover what meals you get with HelloFresh.
Hellofresh Example Meals
The HelloFresh menu changes from week to week. Every seven days, users will pick from an almost entirely new HelloFresh meal list, which keeps things fresh. And with over 44 recipes on offer each week, you never have to worry about lacking variety in your meals.
We've established that HelloFresh comes with a diverse, ever-changing menu. But exactly what meals does HelloFresh offer? Let's take a look at some HelloFresh example meals.
Indonesian Style Coconut Diced Chicken Breast Curry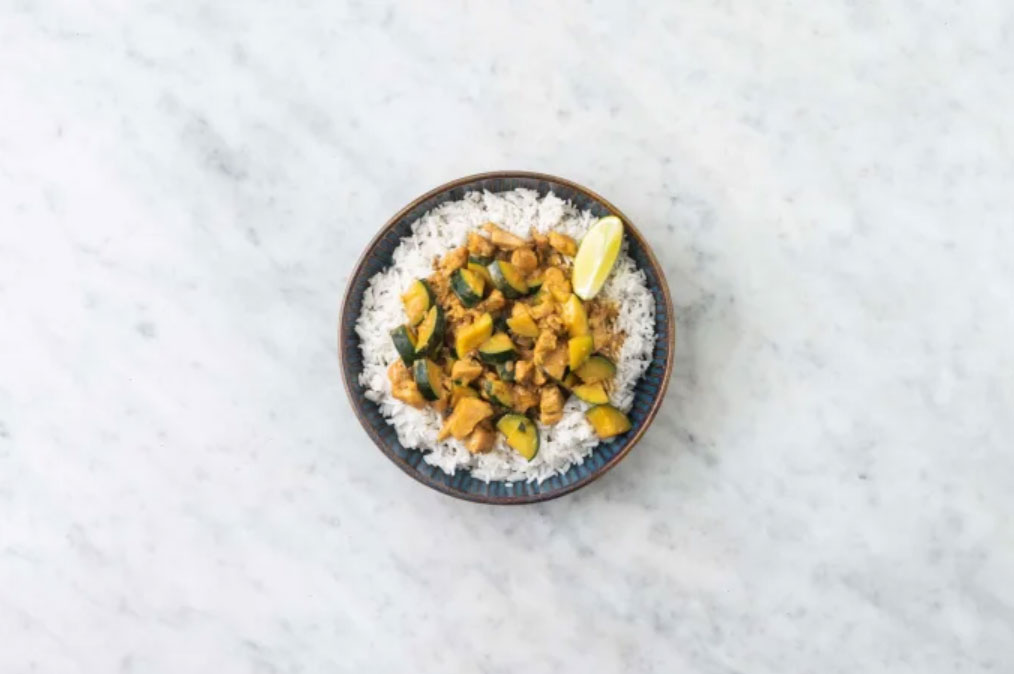 Key Features
Total cooking time: 30 minutes
Cooking difficulty: medium
Calories: 564
Chicken curry recipes are a staple on the HelloFresh meal list. In this rendition, the fragrant curry is seasoned with an Indonesian-inspired spice mix. The tender chicken and zesty basmati rice come together deliciously in this recipe. It's healthy too, at only 564 calories, which is great for customers looking for lower-calorie meals.
Take a look at our post asking "is HelloFresh healthy?" for more information about HelloFresh nutrition.
Refried Bean and Portobello Mushroom Tacos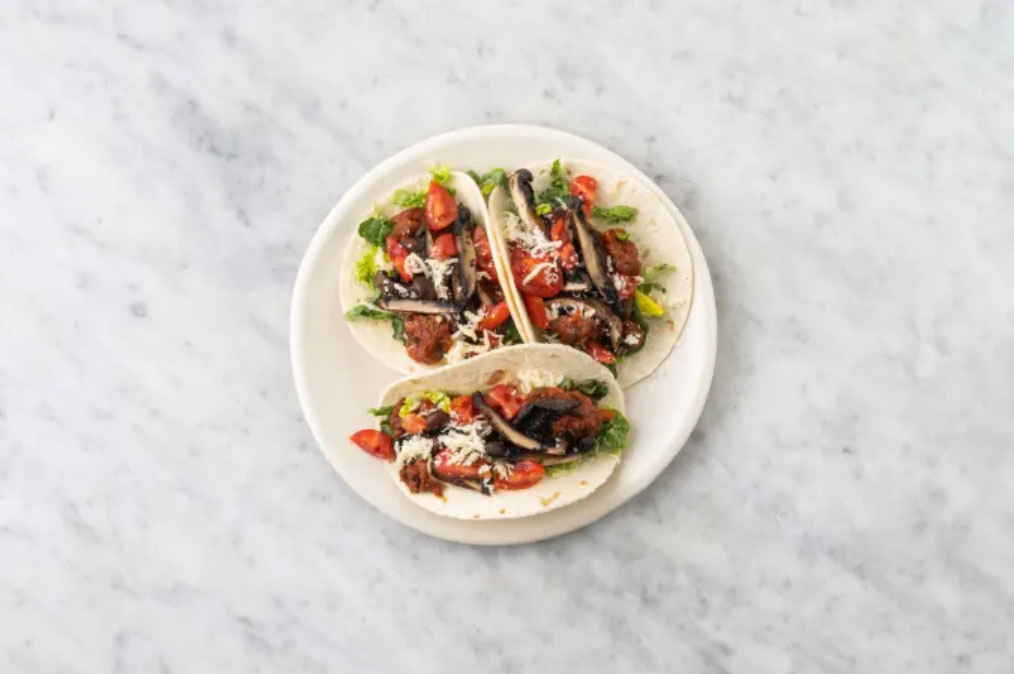 Key Features
Total cooking time: 35 minutes
Cooking difficulty: medium
Calories: 563
Everyone loves a taco dinner. And HelloFresh offers a great selection of simple yet flavourful taco recipes. The tacos with refried beans and portobello mushrooms are a great meal for the whole family that is full of healthy vegetables. It is dressed with sriracha salsa, baby gem, and cheddar cheese, further elevating the flavours.
Tasteology Prawn and Crème Fraîche Rigatoni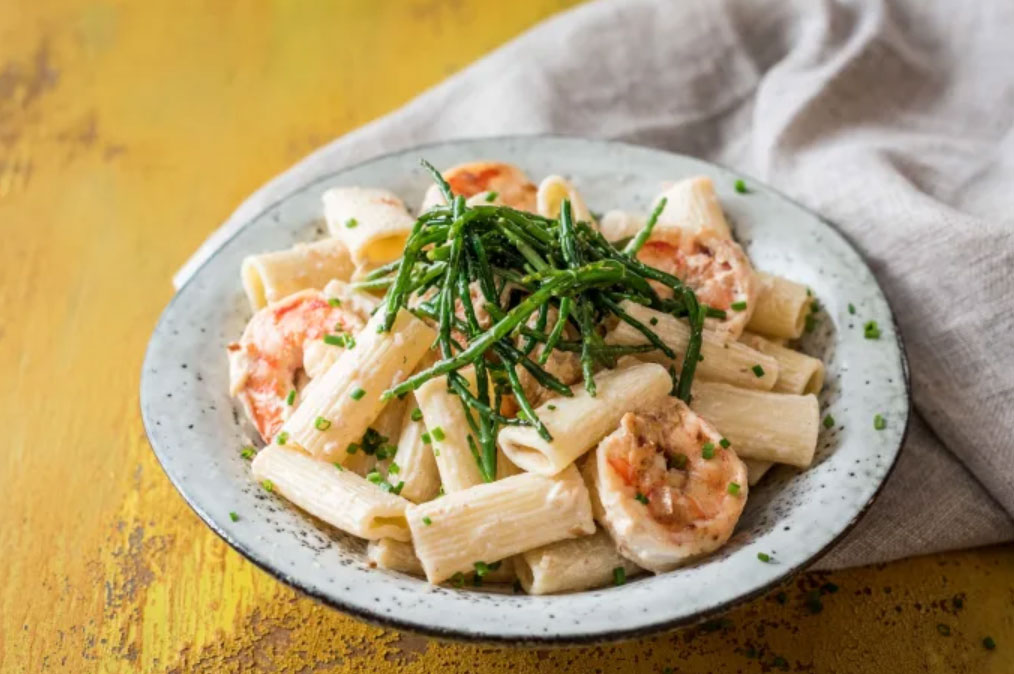 Key Features
Total cooking time: 25 minutes
Cooking difficulty: medium
Calories: 674


HELLO FRESH
£47 off your first order
#1 recipe box delivery service, dinner is solved
Pasta is always a firm family favourite. Whether you're a meat lover or a veggie enthusiast, HelloFresh has a variety of tasty pasta dishes to choose from.The prawn and crème fraîche rigatoni from Tasteology screams crowd-pleaser. The recipe instructs you on how to make a creamy prawn pasta sauce. Green beans bring the dish's vegetable count up, as does the samphire.
How to Choose Your HelloFresh Meals
Choosing your HelloFresh meals is quite simple, as the website walks you through the process. First, you'll need to select your preferred box size. You can opt for a 2, 3, or 4-person box with 2, 3, 4, or 5 recipes.
Depending on your preferences, you can then choose one of the following six meal plans; mostly meat, veggie, family, quick cook, calorie smart, and pescatarian. Note that you'll still be able to pick recipes from the other meal plans as well.
You're now ready to build your HelloFresh box with the meals that most appeal to you. Each recipe has details about the number of calories, cooking time, allergens, and difficulty level of the meal. HelloFresh comes with the option to add extras such as indulgent desserts and sides to your recipe box. When satisfied with your chosen HelloFresh meals, all that is left is to make an order and wait for your delivery.
What are Some of the best HelloFresh Meals Our readers Choose?
Let's now review some of the most popular HelloFresh meals in the UK.
Chicken and Spinach Curry
Key Features
Total cooking time: 20 min
Cooking difficulty: Easy
Calories: 756
The spicy chicken and spinach curry is a perfect example of the things that HelloFresh does well. While this may not be the most ambitious recipe on the HelloFresh menu, you can whip up a delicious dinner in just 20 minutes.
The dish is served with basmati rice and mango chutney, a classic accompaniment to spicy curry. Talk about a no-fuss meal!
Roast Potato, Bacon, and Crispy Kale salad.
Key Features
Total cooking time: 40 minutes
Cooking difficulty: medium
Calories: 510
There is something to be said about an elevated salad that is both filling and bursting with flavour. With a mix of roast potato, bacon, and crispy veggies dressed with honey and balsamic glaze, this recipe is bound to catch your attention. The toasted almonds are a tasty add-on that takes the meal to the next level.
Pepper Crusted Rump Steak and Red Wine Jus
Key Features
Total cooking time: 40 minutes
Cooking difficulty: medium
Calories: 693
Ranked as one of HelloFresh best meals in 2022, this is the perfect recipe for nights when you're looking for a luxurious dining experience at home. It's rated as medium difficulty, making it suitable for individuals looking for a bit of a challenge in the kitchen.
This recipe will deliver a rump steak cooked to your liking served with a creamy mash and perfectly roasted radishes and chantey carrots.


HELLO FRESH
£47 off your first order
#1 recipe box delivery service, dinner is solved
Do Hellofresh Offer Protein Meals?
Yes. HelloFresh meals are curated with the major food groups, including protein, in mind. With a variety of recipes using ingredients such as beef, pork, lamb, chicken, fish, seafood, and cheese, there is no shortage of animal protein sources.
What about users who'd prefer HelloFresh plant protein meals? HelloFresh incorporates high-quality plant-based protein sources such as tofu, lentils, peas, nuts, and beans.
Can you Get Hellofresh Meals for one?
HelloFresh does not have a recipe box specially designed for just one person. However, this should not put you off this meal delivery service. You can easily order a two-person box and use the second portion for lunch the next day.
Are Hellofresh meals better than Gousto?


GOUSTO
65% off first box + 30% off first month
Fresh food & recipes delivered
HelloFresh and Gousto are some of the biggest names in the UK recipe box market. So which one is better? To answer this question, let us compare these companies in the relevant areas.
Variety
Gousto users can choose meals from a menu with over 75 recipes. Conversely, the HelloFresh meal list has just over 44 recipes in any given week. However, while Gousto has a larger recipe offering, HelloFresh extensively varies its recipes each week. This presents customers with an almost entirely new menu.
Box Options
At HelloFresh, you can order for 2, 3, or 4 people, and depending on the number of recipes, there are a total of 11 box options. Gousto boxes are designed for either two or four people, and customers choose from seven box options. HelloFresh, therefore, caters to a wider range of users.
Affordability
When choosing a meal delivery service, you should think about how much your meals will cost. At Gousto, you can order meals starting at £3.14 per serving, which costs even less with our Gousto refer a friend discount. HelloFresh's best value box delivers meals at £3.15 per serving (again, make sure to take advantage of our Hello Fresh discount code for maximum value). Therefore, considering the best value, these two companies are pretty evenly matched. If ordering a 2-person box, HelloFresh is more affordable. Gousto has the edge cost-wise when it comes to a 4-person box.
What meal alternatives are there to HelloFresh?
Over the past ten years, many meal delivery services have come and gone, with some making a bigger splash than others. If you'd like to mix things up a bit, we've compiled some excellent HelloFresh alternatives. You can also check out our view on the best healthy meal delivery services in the uk.
Mindful Chef

MINDFUL CHEF
25% off your first 4 boxes
Healthy eating recipe boxes
Like HelloFresh and Gousto, Mindful Chef allows users to build a custom recipe box for up to 4 people. Each recipe tells you how many calories it has, so you can choose the ones that work best for your diet. The Mindful Chef menu comprises over 20 recipes with meal plans such as high-quality meat and fish recipes only, and pescetarian recipes only. healthy vegan recipes, and all-healthy recipes.
In addition to its recipe boxes, Mindful Chef offers a ready-to-go range that includes frozen ready meals, nutritious smoothies, breakfast boxes, soups and broths, and desserts.
Simply Cook

SIMPLYCOOK
Exclusive Try your first box for Free
Spices, pastes & recipe cards
Simply Cook is designed to help users prepare restaurant-quality meals at home in 20 minutes or less. Each week, you'll receive 4 recipe kits accompanied by easy-to-follow recipe cards. To cook your meals, you'll then combine items from the Simply Cook kit with 4 to 6 ingredients from your fridge or cupboard. New Simply Cook customers can try a recipe kit for just £3 with no shipping charges.
Balance Box

BALANCE BOX
3 balanced meals and snacks for just £26.99 per day
Healthy prepared meal delivery
An excellent choice for those trying to lose weight is the Balance Box. Their food is selected by nutritionists and made by talented chefs. Balance Box offers two meal plans, each tailored to different health objectives. With 1200 -1300 calories per day, the lighter plan is built for weight loss. Their market-based diet offers 1700–1800 calories daily and is better suited for people who want to maintain their weight.
You receive 3 meals and 2 snacks each day. It only gets better from here. Balance Box caters to your dietary needs with options like the classic box, vegetarian, pescatarian, and plant-based programmes.
Tastily


TASTILY
From £6.00 per meal
Prepared meals delivered to your door
Tastily specialises in pre-prepared meals that require 3 minutes or less to heat up. You'll be in control of how many meals you get each week, with the number ranging from 6 to 14. Tastily meals can be kept in the fridge for up to 7 days without freezing thanks to innovative packaging.
With this service, you have a choice between two serving sizes. A regular portion has an average of 530 calories while a large portion has about 700 calories. The chef-prepared Tastily meals start at just £6.74 per serving.
Conclusion
HelloFresh boasts one of the best menus in the recipe box scene. While it may not be as extensive as the meal list on Gousto, it changes more frequently and substantially. For this meal box service, the focus is on appealing recipes that feature fresh ingredients, simple cooking methods, and bold flavours.
You can choose HelloFresh recipes based on your preferences. The site allows you to sort the meals using filters such as ingredients, dietary lifestyles, and difficulty level. HelloFresh extras, including desserts and sides, are designed to help you take full advantage of the convenience of a meal delivery service.