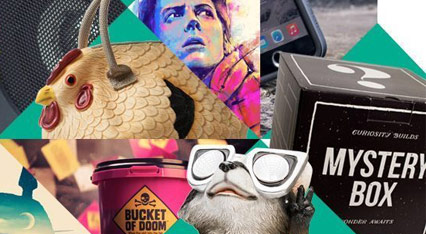 How to claim your free Firebox discount code
To claim your free Firebox discount code, you should first click on the 'Get Code' button. Copy the code, and continue to the Firebox website.
Pick a product, add it to the basket, and select a gift wrapping option if needed. Click on the 'Checkout' button.
Paste your free Firebox discount code into the empty box on the right, and click on the 'Apply' button next to it.
Select one of the available express checkouts on the left, or fill out your contact, delivery, and payment details.
More gifts brands similar to Firebox
About Firebox
Firebox is an online store founded in 1998. Ever since it has been offering a wide range of unusual gifts such as its first original creation - The Shot Glass Chess Set. You can find more products invented by Firebox by selecting the 'Top 50 - Firebox Creation' from the menu. Whatever the occasion, you'll surely find the perfect gift here. Firebox offers food and drinks, gadgets, tech, toys, and much more. There's also a variety of gifts, such as mugs, socks, cushions, and more, you can personalise. And if not sure what to get, think about the Mystery Box.
Firebox Delivery
When ordering any of the direct dispatch or personalised products, refer to the important information on the individual product page. Free Delivery (2-3 working days) is available across the mainland UK on orders over £50. Otherwise, you'll be charged £3.99 for the Standard Delivery, or £5.49 if you select the Next Day Delivery. Depending on the location, orders are delivered by Yodel or Royal Mail. When placing an order outside of the UK, shipping charges will depend on the weight, size and value of your order. You can find more information in the FAQs page on the Firebox website, just refer to the 'Shipping' section.

Firebox Returns Policy
Firebox offers a free returns service. You should use Collect Plus to return the product. To be eligible for a refund, the product must be returned within 60 days of the delivery. If returning an item that weighs more than 10kg, you should first contact Firebox to arrange a collection. When returning a product outside of the UK, you'll be responsible for shipping charges, however, you can keep the receipt so Firebox can refund the shipping charges (up to a maximum of £7 per kg). You can find more information in the FAQs page on the Firebox website, just refer to the 'Returns' section. You can also select the 'Returns' page from the bottom menu, to read the refunds policy.
Firebox FAQs
Do Firebox offer student discounts?
Yes, Firebox offers a 10% student discount. To access the Firebox student discount, you should visit the myunidays.com where you'll be find all of the current discounts and promotions 
Do Firebox have gift ideas for different recipients and occasions?
Yes, Firebox offers gifts for him and her, as well as gifts for various occasions such as anniversaries, birthdays, Valentine's Day, Christmas, and others. You can also look through its selection of personalised gifts.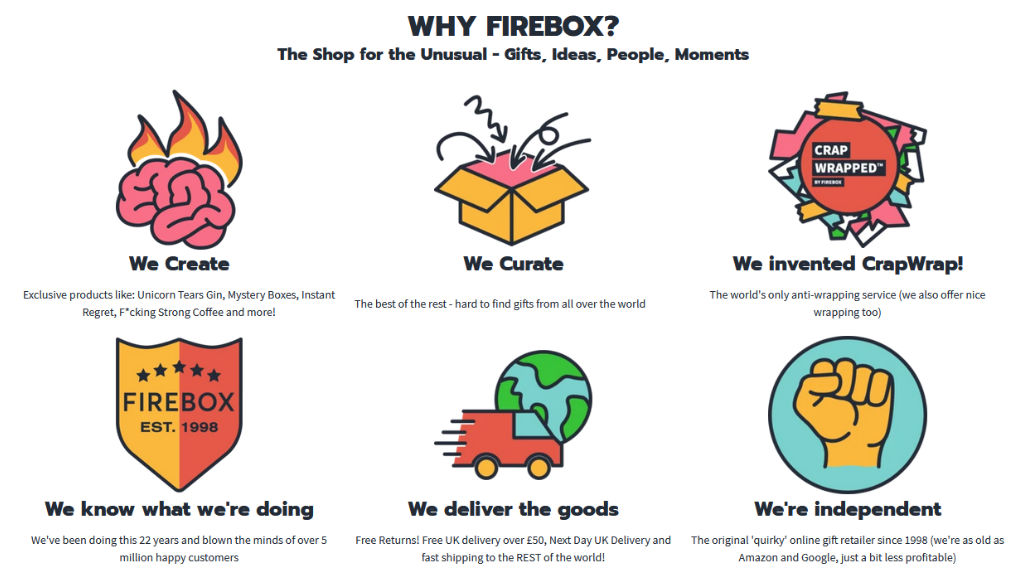 What's in the different Firebox mystery boxes?
With a Mystery Box, not even you'll know what the lucky recipient will receive. The box contains several secret Firebox bestsellers that will surprise everyone. Take the pressure off and let the Firebox team pick the gifts.
Does Firebox offer gift vouchers?
Yes, Firebox does offer gift vouchers in different amounts (£10.00, £25.00, £50.00, and £100.00). It's a perfect solution if you can't decide what to get or you're buying a present for a total stranger. Vouchers are sent via email and can be delivered instantly or on a specific date. 
Does Firebox offer a gift wrapping service?
Yes, Firebox does offer a gift wrapping service. You can choose its CrapWrap service for just £3.99 and get your gift wrapped with recklessly ripped paper and lots of tape, or, if looking for something neater, select the Golden Gift Wrap and get your present neatly wrapped in a shiny gold paper. 
Is there a clearance section?
Yes, you can access the clearance section by selecting the 'Sale' from the menu.

Firebox Reviews
If looking for Firebox reviews, vist the reviews.io. There you'll find more than 3,600 company and product reviews. Firebox has a 4.58/5 stars rating and is recommended by 89 % of its reviewers.