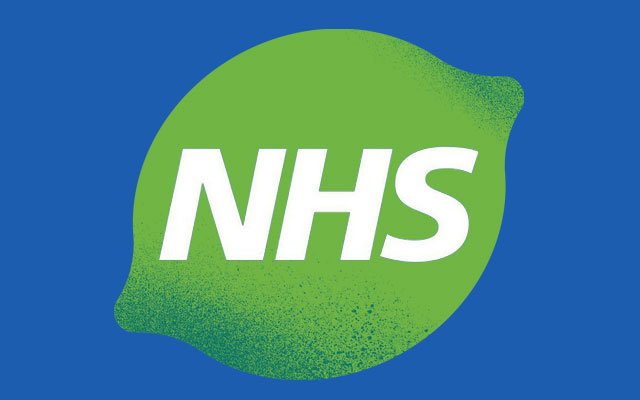 HelloFresh is a convenient way to cook great tasting dinners at home from scratch. The HelloFresh NHS discount makes this service worth exploring for National Health Service staff.
HelloFresh is one of the marketplace's most dominant meal kit delivery services, with operations in 13 countries across three continents. When choosing HelloFresh, you can choose the recipes that appeal to you from an ever-changing menu and place your order. HelloFresh will then ship your weekly box of fresh ingredients and easy-to-follow recipes, making meal times more manageable.


HELLO FRESH
60% off your first order
#1 recipe box delivery service, dinner is solved
You may be asking: how much does HelloFresh cost? HelloFresh meals start at just £3.14 per serving, and if you are a key worker, like someone that works in the NHS, you're eligible for a big discount as a new user.
Once you apply your HelloFresh NHS discount, it is a remarkably affordable way of feeding yourself and your family. Read on to find out exactly how to claim your free NHS Hello Fresh discount and how to get further offers when they become available.
Do Hellofresh Offer An NHS Discount Code?
Yes. HelloFresh offers an NHS discount code to new customers who can verify their employment. You can then use this discount code for £15 off 4 boxes.
At the time of writing, there is a better introductory offer available for Hello Fresh than the keyworker discount. You can get £47 off your first box with NewbieDeals.
The HelloFresh NHS discount is part of their key workers discount. Other workers eligible are military personnel, police and fire service, teachers, supermarket staff, delivery and transport staff, charity workers, government employees and social workers.
How To Claim An NHS Discount Code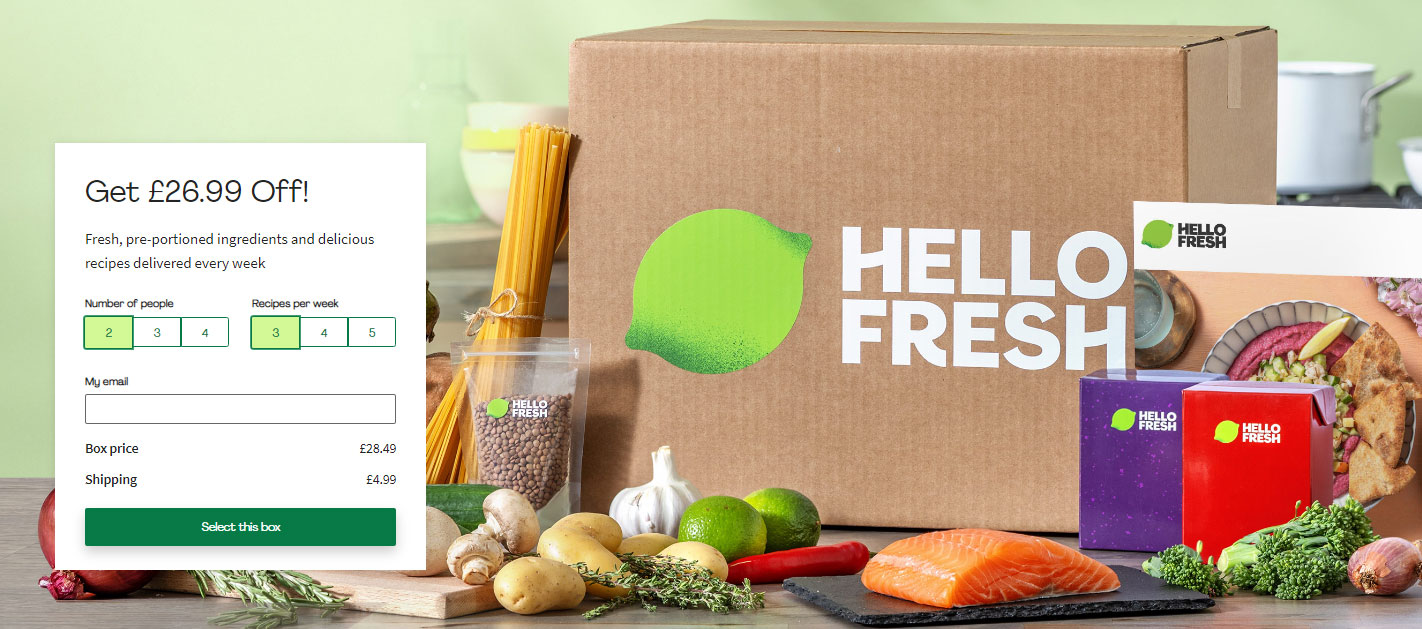 It's always great when you don't have to pay full price for a service. Claiming your offer is quite straightforward.
Here is how you can take advantage of the exclusive NHS discount and save extra money when shopping at HelloFresh.
On the HelloFresh homepage, scroll to the bottom of the page and under the HelloFresh tab click on "Key Workers discount."
This will redirect you to gocertify.me. From the numerous key workers' discounts displayed, select 'Healthcare and NHS discount.' Enter your mobile number and click the Login/ Sign up button. You'll receive a text message with a verification pin code which you'll use to verify your mobile number. gocertify.me is used tol you verify your employment.
You can follow their straightforward prompts to certify that you're a healthcare/ NHS worker. You'll need to upload your NHS or ERS medical badge. You will receive a NHS discount code after you've verified your employment.


HELLO FRESH
60% off your first order
#1 recipe box delivery service, dinner is solved
Once you have your HelloFresh discount code, making your HelloFresh order should be straightforward. First, you'll need to choose your preferred plan size – 2, 3, 4, or 5 recipes for 2, 3, or 4 people.
Choose your selected diet plan – mostly meat, veggie, calorie-smart, quick cook, family, and pescatarian.
In the 'Enter Promo Code' box, fill in your NHS discount code and click 'Apply'
Follow the prompts to fill in your address and payment details.
Build your HelloFresh box with your chosen recipes.
Complete your order, and wait for fresh and quality ingredients to be delivered to your door.
Claiming and using the NHS discount code will sign you up for a flexible HelloFresh weekly subscription.
Should you want to cancel your subscription for any reason, you can do so on Tuesday, the week before your next delivery is due, to avoid any charges.


HELLO FRESH
60% off your first order
#1 recipe box delivery service, dinner is solved
What Do You Get When You Order Hellofresh With An NHS Discount?
The HelloFresh NHS discount works like any other discount provided by this service. However, it's always worth checking to see if a better offer is available on our HelloFresh discounts page, as these can sometimes provide more money off.
Are There Any Nhs Existing Customer Offers?
At the moment, HelloFresh does not have any existing NHS customer offers. If this changes, we'll post an update, so check back to ensure you're not missing out.
Are There Any HelloFresh Alternatives For NHS Staff?
Yes. If you love the idea of a meal delivery service, here are some HelloFresh alternatives that you should consider.
Mindful Chef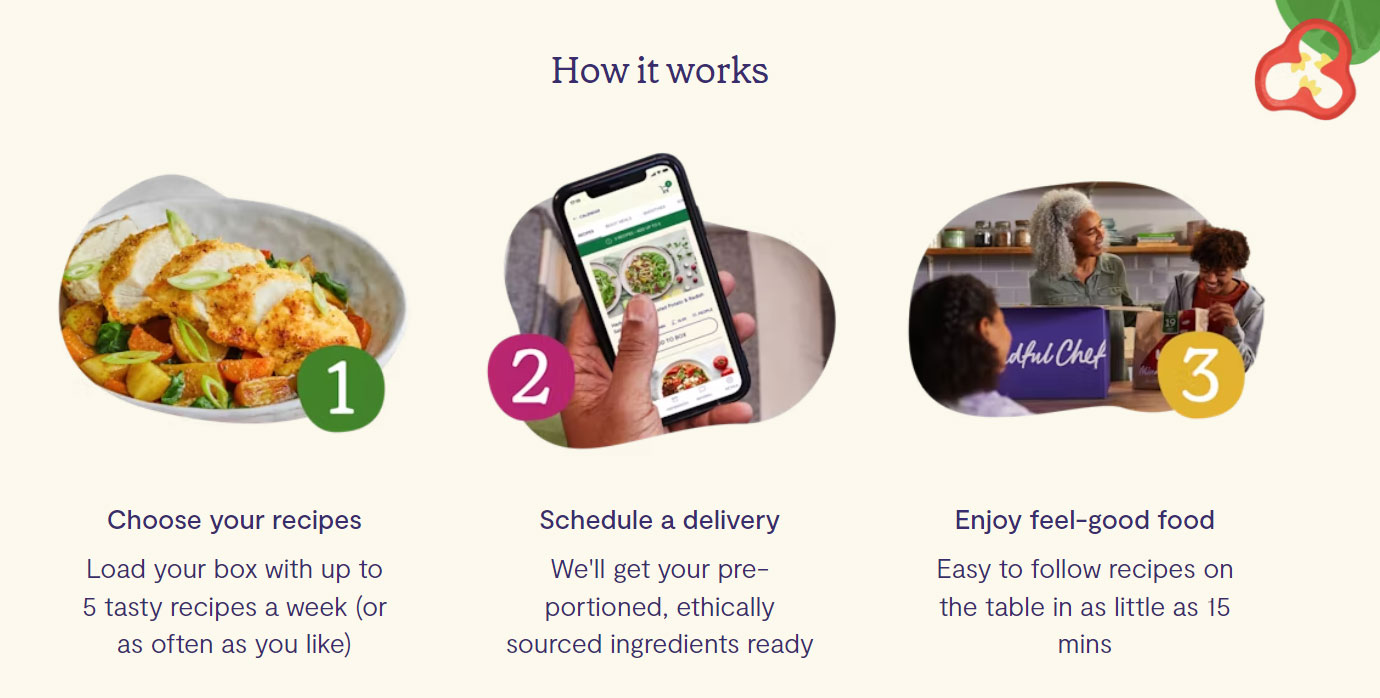 MINDFUL CHEF
25% off your first 4 boxes
Healthy eating recipe boxes
Mindful Chef is at the top of our list as this is one of the companies passionate about supporting the NHS. They have a permanent 10% discount in place for NHS staff, both new and existing. All you need to do to enjoy this offer is sign up at Mindful Chef (for new users) and email hello@mindfulchef.com using your personal email, with your NHS email cc'd in. The discount code should be in effect within 48 hours.
Besides an additional discount code, what else does Mindful Chef have to offer? You can enjoy a diverse range of healthy, no shopping required, hassle-free recipes delivered to your door. Mindful Chef users can order up to 5 recipes per week and customise their menu to feature meat & fish, pescatarian, vegan, or all available recipes.
Mindful Chef is very diverse and even comes with a ready-to-go range. If you are pressed for time, you can opt for their frozen ready meals, smoothies, healthy bundles, desserts, soups & broths, and snacks & vitamins.
Gousto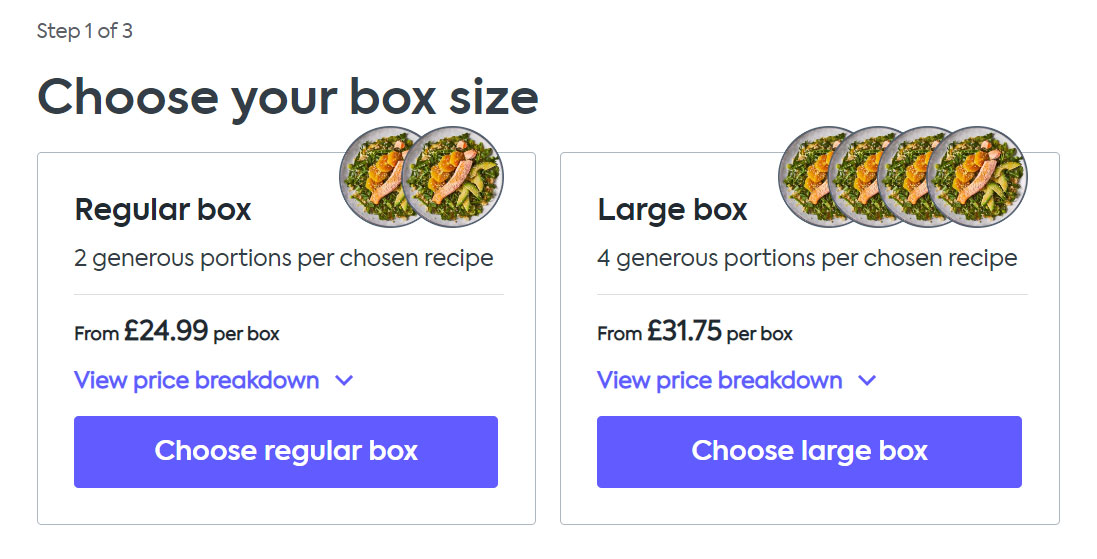 GOUSTO
65% off first box + 30% off first month
Fresh food & recipes delivered
Like HelloFresh, Gousto is widely popular in the recipe box industry. They provide customers with over 75 recipes each week and cater to a range of diet plans, including veggie, vegan, quick & easy, calorie-controlled, chicken, beef & pork, fish, plant-based, and much more.
You can choose between regular and large boxes, depending on how many people you'd like to feed. Gousto's strongest suit is that they empower you to try new cuisines confidently while reducing the time required to prepare homemade meals.
Unfortunately, Gousto does not currently have an exclusive NHS discount; however we've found an impressive Gousto refer a friend code giving you 65% off your first box and 30% off all other boxes for the first month.
We'll keep you updated should an NHS discount become available..
After you've used up your Gousto discount, meals start at £3.14 per serving, which is highly competitive.
Balance Box


BALANCE BOX
3 balanced meals and snacks for just £26.99 per day
Healthy prepared meal delivery
As a healthcare worker, time to cook healthy yet delicious meals daily can be tough. And if you're looking to lose weight or just want to eat more healthily, Balance Box can be a lifesaver.
This service delivers ready meals designed by a nutritionist and prepared by chefs. Each day you get breakfast, lunch, dinner, and 2 snacks. And the best part? You only need to heat your meals for up to 3 mins, and you're ready to dig in.
You can have a variety of delicious meals without sacrificing your health goals. The lighter plan will be ideal if you want to lose weight. The Balance Box market plan is perfect for people wanting to maintain weight.
Currently, Balance Box does not have an NHS discount. However, if you're new to the service you can enjoy £20 off your first order by using the code 'Welcome20' at checkout using our Balance Box discount code.
Simply Cook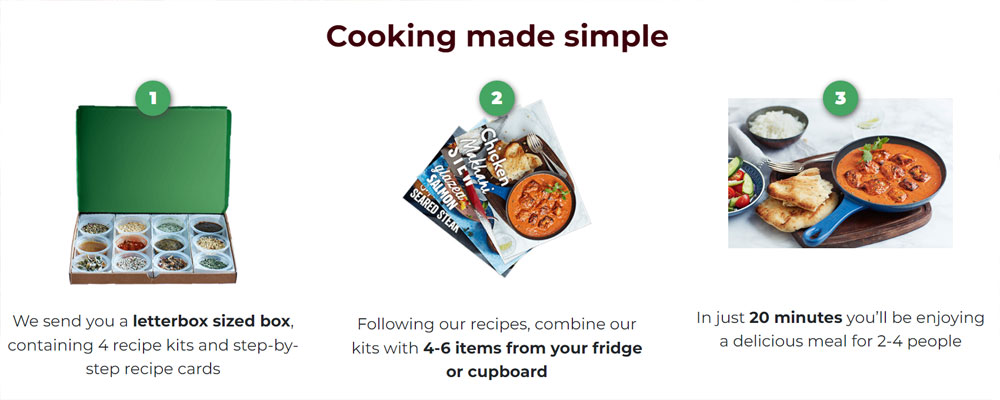 SIMPLYCOOK
Exclusive Try your first box for Free
Spices, pastes & recipe cards
Unlike HelloFresh, Simply Cook delivers recipe kits, and users will then need to combine these ingredients with 4-6 items from their refrigerator to prepare their meals. Simply Cook can be a fun way of making your favourite dishes or pushing the boundaries with tricky speciality dishes. And with over 140 recipes to choose from each week, there'll undoubtedly be no monotony with Simply Cook. from Cuban prawn pasta to Balinese chicken to Thai Basil Pork; your taste buds are in for a treat.
Simply Cook lacks an NHS discount at the moment. However, as a new customer, you can try your first Simply Cook recipe kit for free. Your spice kit comes as a letterbox-sized box with four recipe kits and recipe cards.
Moreover, you don't need to pay shipping fees for your first box. After your trial box, a Simply Cook recipe kit will cost you £9.99. The service is flexible; you can change, pause, or cancel your subscription anytime.
Conclusion


HELLO FRESH
60% off your first order
#1 recipe box delivery service, dinner is solved
HelloFresh makes mealtimes easier in every single way – no menu planning, stressful grocery trips, and the same few recipes on rotation.
As a busy NHS worker, enlisting the help of such a service can make life a lot easier and less stressful. This convenience is why many people have integrated HelloFresh recipe boxes into their weekly routines.
If you're a new customer of HelloFresh and an NHS worker, you can take advantage of their NHS discount. Keep in mind that you'll need to verify your employment to qualify.
Mindful Chef also has an NHS discount for new and existing customers. So why not give them a try?
While Gousto, Balance Box, and Simply Cook do not have a specialised NHS discount, their introductory offers are pretty generous and can be a good way to save money while trying out different meal kits.