How to claim your free KBK Meal Prep discount code. 
With these simple steps, you can use our discount code to save on your KBK Meals. 
Click on our KBK Meal Prep deal and copy our discount code.
Proceed to the KBK website by clicking on our link.
Browse through the various plans and select the plan and options that best work for you. Add your meal plan to your basket.
Fill in your name, email address, and phone number to create a KBK account.
Click on the "Go To Checkout" tab.
At checkout, click on "Enter Discount Code" and paste our code. Click on "Apply Coupon."
Fill in the delivery address and complete the purchase to receive delicious and Healthy KBK Meal Prep.
More prepared meals brands similar to KBK Meal Prep
About KBK Meal Prep. 
KBK Meal Prep offers a range of meal prep plans that make it easier to achieve your weight and fitness goals. Diet is a crucial part of health and fitness, and KBK will sort out your nutrition and calories depending on your goals. 
If you're looking to get in shape, you can opt for the Get Lean plan, and choose the number of meals you'd like to receive per day. KBK Meal Prep also offers the KBK Everyday plan to help you keep in shape, the Build Muscle Plan, a vegetarian, and plant-based plan. You can also choose to have a KBK Juice cleanse or KBK Soup cleanse delivered. 
Your KBK meals will be prepared by a team of experienced chefs, and the ingredients used are fresh and of premium quality. This guarantees you flavoursome and healthy meals you'll be delighted to have. KBK Meal Prep is also kind to our planet as all their packaging is 100% recyclable. 
You can take advantage of our discount code to save on your KBK Meal Prep and achieve your health and fitness goals.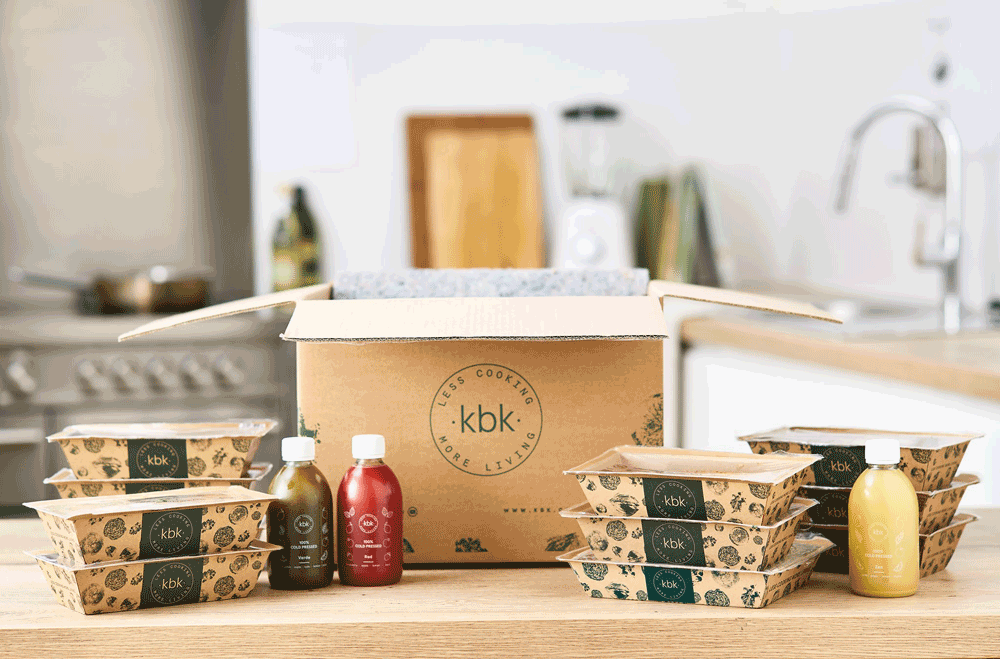 KBK Meal Prep Delivery.
KBK meals are delivered on Wednesdays and Sundays, and you can opt for either one or two deliveries a week. If you order two deliveries per week, you can have them delivered at two different addresses. You can also choose to have your package dropped off at work.
KBK Meal Prep Return Policy.
All KBK products are perishable, and therefore, they do not accept returns. The company also doesn't accept returns of gift cards. 
However, if you receive a defective or damaged product you can get in touch with their customer service by sending an email at office@kettlebellkitchen.co.uk and request a replacement. 
KBK Meal Prep FAQs. 
Can I track my KBK delivery?
Yes. Your order will be delivered via DPD, Parcel Force or KBK delivery vans. Regardless of the courier, you'll receive updates on your package including a delivery window. 
Can I skip a week of KBK Meal prep delivery?
Yes. KBK meal prep is a flexible service, and you can skip orders as needed. However, you'll need to notify the company 7 days in advance. 
Where can I find the nutritional information for my KBK meal plan?
Before your order is delivered, you'll receive an email with the exact nutritional information of your KBK meals. You can also find estimates of calories and macro information on the KBK website. 
How long should I heat my KBK meals?
Some KBK meals require heating while others can be consumed directly, and this information can be found on the bespoke menu that is emailed to you. If you need to heat a KBK meal, 3 minutes will be enough. 
How can I get in contact with the KBK customer service? Do they have a phone number?`
You can email the KBK team at mealprep@kbk.co.uk. Alternatively, you can call them through 0161 536 0801. 
Can I upgrade or downgrade my KBK plan?
Yes. You'll only need to notify the team 7 working days in advance. 
Who owns KBK?
Carley Jones. She launched the company in 2016 with the aim of establishing a healthy fast food phenomenon. 
How does the KBK juice cleanse work?
Your KBK juices will contain activated charcoal which helps clean the liver and improve its function. You'll also be less hungry during your KBK juice cleanse thanks to the fibre Pectin.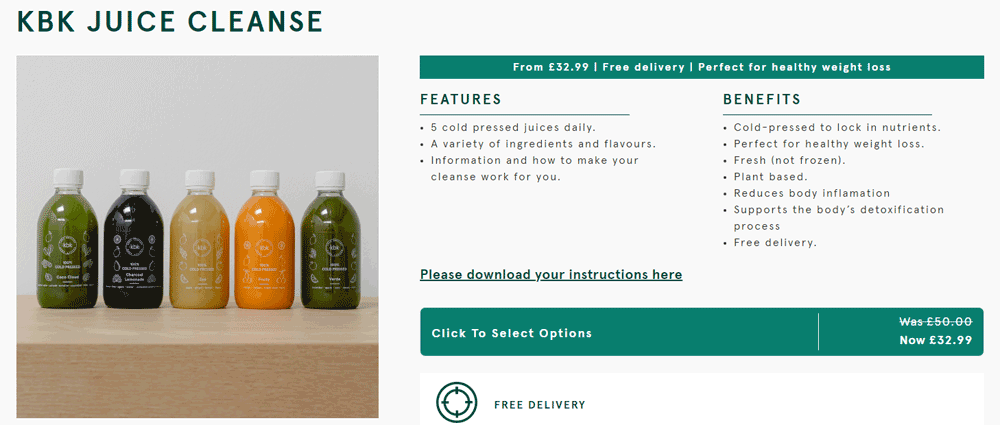 KBK Meal Prep Reviews. 
KBK has been reviewed over 1000 times on TrustPilot and it has an excellent 4.3-star rating. Most users are pleased with the convenient, healthy, and delicious cooked meals. Customers have also praised the quality of products used, the packaging, and the effective juices. 

Related Offers


The Mindful Chef is a box of healthy meals that you can cook. It has all the ingredients and instructions to make different types of delicious food like grass-fed Yorkshire beef! We have a cracking sign up offer for you, so act fast! Via Newbie Deals we have been able to get you £20 off your first order, providing you with another epic new customer welcome offer and a super cheap Mindful Chef offer. 

PLANTY
20% off your first order
Planty is a company that believes in sustainability. By delivering healthy, delicious, well-balanced meals to your door you can save time and money while reducing food waste and your carbon footprint. The variety of plant based dishes will leave you feeling satisfied without compromising on taste or nutrition. All their products are flash-frozen at source to lock in all the goodness then delivered straight to your door with recyclable packaging for convenience and minimal environmental impact. Planty's not just about great tasting food though - we also want you to be able enjoy life! For all Newbiedeals users, Planty offers a 20% discount code when they sign up. 



GOUSTO
65% off first box + 30% off first month
Gousto lets you change the way you eat with their easy to follow recipes that are delivered fresh every day. Whether it's for breakfast, lunch or dinner they have a meal plan just for you! What an offer we have for you today, via our Gousto refer a friend offer you will receive 60% off your first delivered subscription box and 30% off all others boxes delivered for your first month!