HelloFresh is one of the most popular recipe box services in the industry. But does HelloFresh do vegan meals? And how much does HelloFresh cost per week? Let's find out if there are HelloFresh vegan options.
More and more people are adopting a vegan lifestyle and for good reason. It can be instrumental in achieving a healthy body weight, better mental health, reducing the risk for some chronic diseases, and reconnecting with the natural world.
However, in this busy and fast-paced modern-day life, finding the time to menu plan, shop, prep, and cook a fresh meal can be seemingly impossible. Enter meal kit delivery services. These companies present you with a diverse menu each week; all you need to do is select recipes that appeal to you. They'll then deliver fresh and precise ingredients accompanied by easy-to-follow recipe cards. All that is left to do is put together homemade meals in as few as 15 minutes.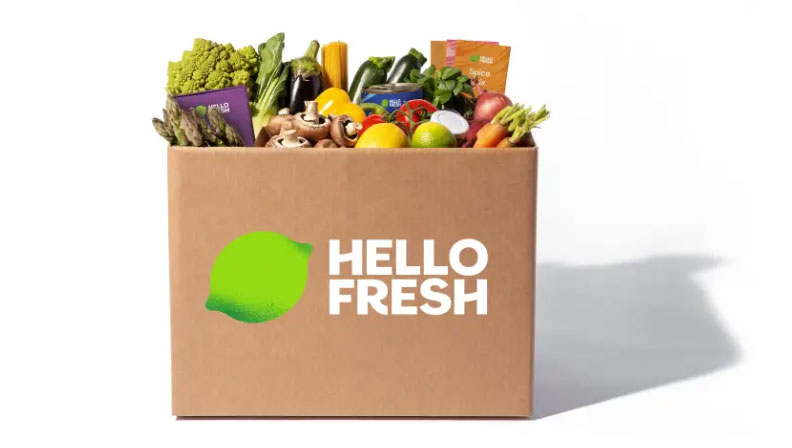 How to Find Vegan Recipes With HelloFresh
HelloFresh offers users six diet plans; mostly meat, pescatarian, calorie smart, quick cook, family, and veggie.
It is a bit disappointing to find out that HelloFresh does not focus on vegan dishes. However, you'll be able to find some HelloFresh vegan options on the menu. Further, some of their vegetarian dishes can be easily adapted to be vegan by removing or swapping a few ingredients. Since all their ingredients come packaged separately, this should not be too difficult.
When ordering HelloFresh vegetarian meals as a vegan, you can expect to mainly replace milk, cheese, yoghurt, sour cream, or mayo with vegan alternatives from your pantry. With some dishes, you may get away with skipping these ingredients altogether while maintaining the dish's quality.
If you're looking to create custom HelloFresh vegan dishes from veggie recipes, here are a few tips and tricks to guide you.
Avoid dishes with a non-vegan ingredient as the dish's main component. For instance, an egg-based or cheese-based recipe would require more effort to customise. And what's the point of a recipe box service if you need to source the core ingredient from your pantry?
Second, you'll need to review the ingredients list for recipes before making an order. Be on the lookout for mayo, butter, honey, dairy products, eggs, and gelatine. Some ingredients that may appear vegan but aren't include bread, buns, and tagliatelle pasta.
HelloFresh Vegan Options - A Few Vegan Recipes
Some HelloFresh vegetarian recipes are actually vegan as they do not contain any animal products. Some of the best HelloFresh meals for vegans are;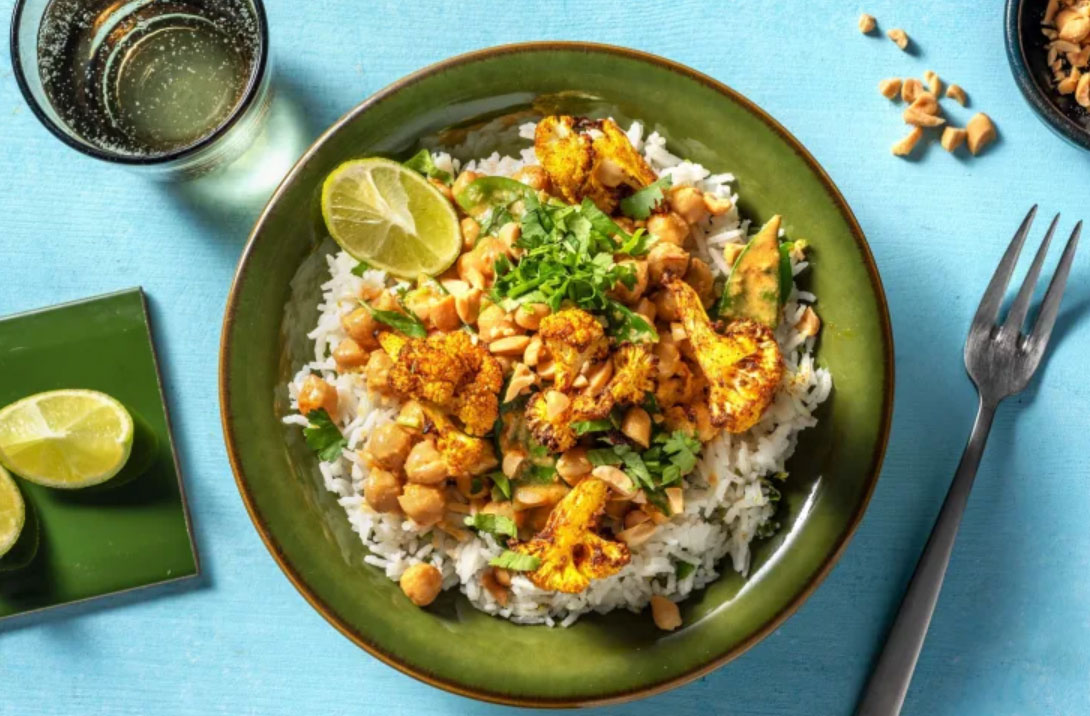 Red Thai Style Chickpea Curry
Massaman Style Aubergine Curry
Sri Lankan Style Lentil Sambar Curry.
Some weeks, however, you may not find a naturally vegan option like the ones listed above. However, you can still create vegan dishes by making some small changes here and there. Some HelloFresh vegetarian dishes that are easily customisable include;
Chipotle Black Bean Enchiladas – Replace the mozzarella with vegan cheese.
Sundried Tomato Risotto – Swap the Italian-style cheese and butter with their vegan alternatives.
Korma Glazed Tofu Wraps and Chips – Hold the greek yoghurt.
Baharat Roasted Root Veg and Aubergine – Replace the yoghurt topping with a vegan alternative.
Chermoula Cauliflower on Harissa Lentils – The last step calls for topping the dish with cheese which you can easily skip or swap.
You can use HelloFresh discounts to save significantly on your first couple of boxes too.
HelloFresh Vegan Recipe Box Alternatives
As a vegan, you may be accustomed to manoeuvring through non-vegan-friendly menus and moulding them to fit your lifestyle. And this will certainly be the case if you opt for HelloFresh. But when you constantly need to tweak recipes and swap ingredients, you may be asking:: is HelloFresh the most convenient meal delivery service for you?
Let's look at some HelloFresh alternatives for vegans and see how they match up. We'll also cover some of the best recipe box deals and vegan discounts to save you some money..
Green Chef - Vegan Recipe Box Options Available


GREEN CHEF
£77 off your first 4 boxes
Keto, lower carb, balanced, vegan and vegetarian recipe boxes
Price: from £4.94 per serving

Green Chef is a recipe box service that caters to a range of diet plans,i.e., vegan, vegetarian, lower carb, flexitarian, keto, and pescatarian. Vegan users will be pleased with the variety of delicious meals that change weekly, eliminating the monotony of eating the same things over and over.
Green Chef allows users to build a 2 or 4-person box with up to 5 recipes a week. At the time of writing, you can get 3 meals for just £4.99 with our Green Chef discount code.
You can also opt for add-ons, such as soups, snacks, and desserts, at an extra cost. You'll be able to view the menu up to 3 weeks in advance, allowing you to better plan ahead.
Besides their tasty and convenient vegan meals, Green Chef enables you to live more sustainably. They deliver precise, pre-measured ingredients that help reduce food waste. The company also offsets 100% of its operational and distribution-related carbon emissions and in-box plastics.
Sample Green Chef Vegan Options:
Curious about what your vegan Green Chef meals would look like? Here are a few vegan recipes from their menu.
Dukka chickpea rice bowl with harissa and cashew butter sauce and pistachios.
Pinto bean and mushroom enchiladas with sheese and an avocado salad.
Crispy chickpea tacos with guacamole and sheese.
Grubby - Exclusively Vegan Recipe Boxes


GRUBBY
Exclusive 50% off your first week then 30% off next 3 weeks
Plant based recipe box
Price: from £3.79 per portion, with free nationwide delivery.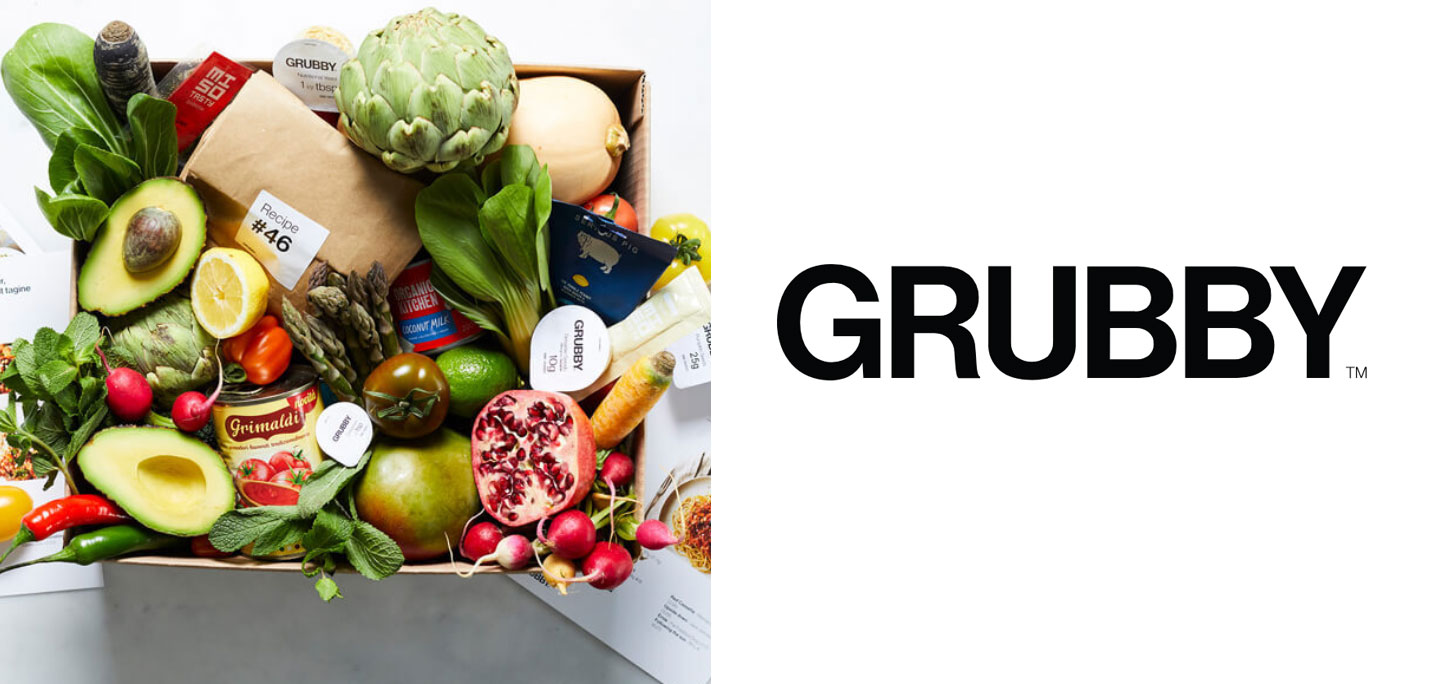 Grubby is a 100% plant-based recipe kit, and all their dishes are vegan. They deliver quality and fresh ingredients paired with easy-to-follow recipe cards, which is bound to make dinnertime a breeze. And the best part? You need not worry about variety because there are over 150 grubby recipes, with the available options changing weekly.
Grubby offers two box options – regular and family box – and you can order up to 4 recipes a week. Each dish provides details about the potential allergens, cooking times, calories, and macros. You also get to feel good about your order because, for every box sold, the company donates a meal to a child living in poverty.
You can get 50% off your first Grubby box, when you sign up as a new customer.
Sample Grubby Vegan Options
Here are a couple of Grubby vegan dishes to give you a taste of what to expect from this meal service.
Satay Glazed Aubergine, Spicy Green Bean, and Carrot Salad.
Portobello Mushroom Fajitas, Guac, and Smokey Corn on the Cob.
Spinach and Chickpea Curry with Cumin Roasted Cauliflower.
Jackfruit Chilli Sin Corne, Avocado, and Rice.
Mindful Chef - Great Alternative to HelloFresh for Vegans

MINDFUL CHEF
25% off your first 4 boxes
Healthy eating recipe boxes
Price: from £4.25 per portion. Get 50% off with our Mindful Chef discount code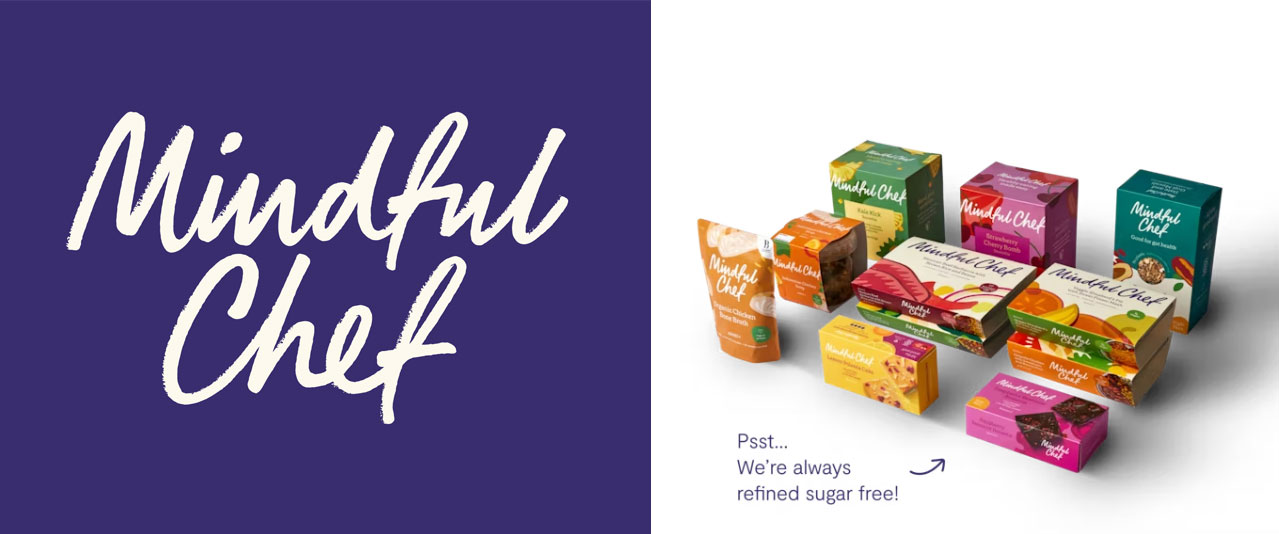 Mindful Chef is another popular recipe kit service that offers customers convenience, flexibility, and variety. When browsing through the menu, you can set your meal preference to all recipe boxes, vegan recipes, or family recipe boxes.
Once you've selected your preferred diet plan, you can build your Mindful Chef box with up to 5 recipes for one, two, or four people. Each week, you'll have a selection of over 20 recipes to choose from, with several being vegan. The available dishes change every week, providing you with a diverse and fresh Mindful Chef experience.
Mindful Chef recipes provide details on each dish's calories, cooking times, and nutritional information. You can use this information to ensure that your meals align with your eating plan. Mindful Chef can be a valuable partner in making healthy vegan choices and keeping your meals diverse.
Sample Mindful Chef Vegan Options
Here are some sample vegan meals available at Mindful Chef.
Butternut Squash and Brussel Sprouts Pasanda Curry.
Mushroom and Bean roasted with Creamed Leeks.
Italian Tomato Ragu with Butter Bean Mash.
Speedy Black Bean Chilli with Mexican Quinoa
Balance Box - Vegan Option Available Unlike HelloFresh
Pricing: Starts at £26.99 for a day's worth of meals.

Balance Box is one of the best prepared meal delivery services. They deliver ready meals eliminating the hassle of shopping, prepping, and cooking your meals. Users can choose from four different menu plans; classic, vegetarian, pescatarian, and plant-based. Balance box plant-based recipes are free from any animal products.
Balance Box vegan meals are both delicious and nutritious. They provide adequate protein, complex carbs, and healthy fats. Each day, you'll receive breakfast, lunch, dinner, and 2 snacks. You can also specialise your meals to suit your health goals. If you want to lose weight, you can opt for the lighter plan with 1200 - 1300 calories. The market plan, 1700 -1800 calories, is built for maintenance.
Sample Balance Box Vegan Options
So, what would a full day of eating vegan meals from Balance Box look like? Here is their sample vegan menu.
Breakfast: Peanut butter, mixed berry jam, and gluten-free bread.
Snack 1: Pear and Pistachio nuts.
Lunch: Marinated tofu and tomato ceviche salad.
Snack 2: Homemade cacao, date, and chia seed bar.
Dinner: Chilli con beanie with black eyed beans, brown rice, and mixed peppers.
HelloFresh For Vegans - Final Thoughts
HelloFresh may not be the best choice for vegans as they do not specifically cater to vegan users. However, some of their vegetarian dishes are easily customisable to fit a vegan lifestyle. By removing or swapping some ingredients, you'll be able to make HelloFresh work for your vegan lifestyle. Note that HelloFresh issues a disclaimer that their recipe boxes are produced in shared facilities, so cross-contamination may be a possibility.
If you're looking to skip the hassle of reading through ingredients and ensuring that you have alternatives for non-vegan components, there are a couple of vegan meal delivery services that we'd recommend. These include Green Chef, Grubby, Mindful Chef, and Balance Box.