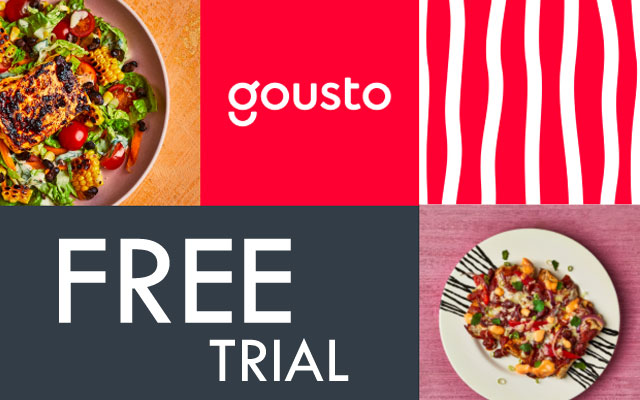 Gousto is one of the leading meal kit delivery services in the UK. It offers an excellent selection of recipes each week, and users can order options suitable for their lifestyles. The ingredients and cooking instructions are then delivered to your door, saving you valuable time and money. Gousto is a flexible subscription service and an excellent way to explore both new and staple recipes.
If you're unfamiliar with the world of recipe boxes, a service like Gousto may seem like a huge investment. A Gousto free box would, therefore, go a long way in helping you acquaint yourself with the brand and determine if the service works for you.


GOUSTO
65% off first box + 30% off first month
Fresh food & recipes delivered
In this post, we'll cover all you need to know about a Gousto free trial. Read on if you're interested in a high-quality meal kit that has revolutionised home cooking.
Gousto Free Trial? Is There One Available Right Now?
At the moment Gousto does not have a free trial. However, with their new customer discount, you get 50% off your first box. And it gets better. If you order more Gousto boxes during your first month, you'll also receive a 30% discount on these subsequent purchases.
How to Get a Gousto Free Box
Besides new user discounts, there are other ways to save on your Gousto boxes. As is often the case with food box subscription services, Gousto has a referral scheme that allows existing customers to earn free credit. You can share your unique referral link with friends and earn £20 credit for everyone who signs up using your link and makes a purchase. Note that you'll need to use your credit within 3 months or it'll expire.
Gousto also has a student discount in place. Of course, you'll need to verify your student status with Student Beans or Totum to be eligible for this promotion.


GOUSTO
65% off first box + 30% off first month
Fresh food & recipes delivered
How Does Gousto Work?
Gousto is a meal kit delivery service designed to fit a range of lifestyles. Each week, it offers over 75 recipes under different categories including gluten-free, dairy-free, plant-based, vegetarian, chicken, fish, beef & pork, and 10-minute meals.
You can browse Gousto recipes, their cookbook, and box prices before making an order or even signing up for an account. Alternatively, you can look at our full breakdown of how Gousto works to get the complete picture.
Once you're ready to make your Gousto order, you'll need to select a box option that is ideal for your household. This can be either a 2 or 4-person box, with 2, 3, 4, or 5 recipes. Next, you'll pick your desired Gousto recipes and add them to your box. After you've confirmed and paid for your order, you can now wait for your Gousto food box delivery.
Unlike other companies that deliver once or twice per week, Gousto sends out deliveries every day of the week. Boxes are carefully packaged to ensure that you receive the highest quality ingredients. Inside your Gousto box, you'll also find recipe cards with clear and straightforward cooking instructions. Even a novice cook can follow these directions and whip up great-tasting homemade meals.
Gousto is undoubtedly a convenient service that can help you switch up your meals. But is Gousto healthy? The simple answer is that it depends on your order. On Gousto, you'll come across indulgent recipes, some with over 900 calories per serving. However, there is also no shortage of options that align with your health goals. Gousto's 'Healthy Choices' tab is a great section for customers seeking healthier meals. If you're pursuing weight loss, the 'calorie-controlled' category is worth exploring.
Gousto Recipe Options
Gousto offers one of the most impressive menus that we've come across. Users can choose from over 75 recipes each week, and this has to be one of the most extensive collections for a recipe box service.
Further, this menu is designed with a diverse variety of meal preferences in mind. Gousto have vegan recipe options, and gluten free too. You can also order vegetarian, healthy choices, dairy-free, fish, chicken, beef & pork, calorie-controlled, and 10-minute meals. Each Gousto category comes with an ample selection of recipes, making it easier to build your desired box.
Everyone is bound to find tasty recipes suitable for their lifestyle on Gousto. And with the menu constantly updated, there is always something enticing to look forward to.


GOUSTO
65% off first box + 30% off first month
Fresh food & recipes delivered
Some of the most popular Gousto recipes include;
Simply Perfect Beef Spag Bol.
Creamy Spinach & Tomato Chicken with Crispy Potatoes.
Crispy Tofu Nuggets with BBQ Beans and Wedges.
Sweet 'N' Smoky BBQ Chicken Fajitas.
Gousto Pricing After Discounts
Gousto is one of the most affordable services in the recipe box industry. It offers better value than most of its counterparts without compromising on the quality of services.
Gousto prices will vary depending on how many meals you purchase and the number of people you're ordering for. Overall, the more you order, the cheaper each meal becomes. Here is our full guide on Gousto pricing.
Currently, you can enjoy 50% off your first box, and 30% off your first month thanks to Gousto's introductory deal. Suppose you're ordering their best value box (4 recipes for 4 people); you'd pay £23.93 for your first food box with this discount. This works out to £1.50 per serving.
If you order more food boxes in your first month, you'll get a 30% discount on those purchases. You'd therefore pay £33.50 for a Gousto box, or £2.09 per serving.
Before discounts, Gousto's best-value box costs £47.85, which translates to £2.99 per serving.
Other Recipe Box Free Trials
In recent years, the recipe box industry has seen a tremendous increase in the number of providers. Let's explore Gousto alternatives and recipe box free trials you need to be aware of.
Simply Cook

SIMPLYCOOK
Exclusive Try your first box for Free
Spices, pastes & recipe cards
Simply Cook is a highly-rated recipe kit delivery service that is a bit different from the likes of Gousto and HelloFresh. Instead of sending you all the ingredients you require to create a dish, they'll deliver speciality items that elevate your home cooking to restaurant quality. These items can range from culinary pastes, infused oils, and garnishes to herbs and spice blends, rubs, and specialist stocks.
Simply Cook recipe kits are carefully curated by expert chefs, and you'll come across items that are a fusion of up to 18 ingredients. Once your letterbox-sized Simply Cook box is delivered, you'll need to combine these ingredients with 4-6 items from your cupboard or freezer to prepare tasty global cuisines. Most of the menu items can be prepared in 15 - 20 minutes.
With the Simply Cook free trial, you'll get 4 free recipe kits delivered. You'll only need to pay the £1 postage fee. This deal also gives you 50% off your 3rd and 5th Simply Cook boxes. This is one of the most generous offers we've come across, and it's certainly too good to pass up.
Green Chef


GREEN CHEF
£77 off your first 4 boxes
Keto, lower carb, balanced, vegan and vegetarian recipe boxes
Green Chef has made its mark in the meal kit industry as the UK's first keto-friendly recipe box. If you're looking to reap the many benefits of ketosis, this service is the way to go. Besides the keto diet, Green Chef accommodates a variety of other meal preferences, including vegan, vegetarian, lower carb, flexitarian, and pescatarian. If you'd prefer to order from several diet plans rather than stick to one meal preference, Green Chef has also got you covered. This recipe box is ideal for many lifestyles, making it a practical option for many households.
Besides the diverse menu, there is another solid reason to love Green Chef – its efforts in being eco-friendly. All Green Chef boxes are filled with sustainable ingredients. Further, this company offsets 100% of its carbon emissions and inbox plastics.
We love to see a brand that offers quality services while being proactive about sustainability. Take advantage of our discount code and pay only £4.99 for 3 meals for 2 people when you order at Green Chef. This works out to less than £1 per serving!
Riverford Organic


RIVERFORD
£15 off second order + tree planted
Organic veg boxes delivered
Riverford Organic is a haven for seasonal organic vegetables and fruit. They offer small, medium, and large veg boxes, fruit boxes, salad boxes, fruit & veg boxes, and even meat boxes. If you're looking for a complete dinner-time solution, you can order their recipe boxes and kits with options ranging from vegan and vegetarian to meat and comforting family favourites.
On the Riverford Organic website, customers can also order dairy, eggs, cheese, cookbooks, gift vouchers, and different types of breads. With these organic essentials, you can reduce the need for exhausting supermarket trips.
Organic food is better for you and the planet. Enjoy £15 off your second order when you shop from Riverford Organics. The company will also plant a tree when you make this second purchase.
Grubby


GRUBBY
Exclusive 50% off your first week then 30% off next 3 weeks
Plant based recipe box
Grubby exclusively offers 100% plant-based dishes. Looking at the recipes available, it's clear that the Grubby team is committed to creating diverse, imaginative, and interesting plant-based recipes. And with over 150 vegan recipes on offer, you can expect meals that help you step out of your comfort zone and expand your repertoire.
High-quality ingredients are essential for great-tasting meals. Grubby recipes typically utilise seasonal produce that is grown on British family-run farms. And for every Grubby box purchased, this company donates a free meal to a school child in need. You can, therefore, enjoy tasty vegan meals while supporting a worthy cause.
New to Grubby? Enjoy 50% off your first week and a further 30% off the next 3 weeks. This offer provides a fantastic introduction to Grubby's range of vegan dishes. Before the discount, Grubby meals start from £5.75 per serving. Once this discount is applied, you can order for as low as £2.86 per serving.
Conclusion
At some point, most of us have been too busy to plan, shop, prep, and cook meals. Recipe boxes are the perfect solution to lighten the workload and simplify home cooking.
Ideally, you'll want to try out a meal kit service and determine whether you like it before making the full financial commitment. While Gousto does not have a free trial at the moment, you can take advantage of their generous introductory offer to familiarise yourself with the service. Other similar services with new customer discounts include Simply Cook, Green Chef, Riverford Organic, and Grubby.


GOUSTO
65% off first box + 30% off first month
Fresh food & recipes delivered