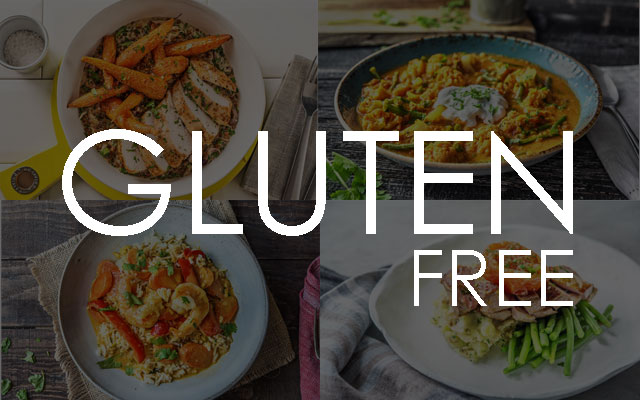 HelloFresh is one of the biggest names in the recipe box industry. They do the meal planning and grocery shopping for you, making homemade meals simple and straightforward. But does HelloFresh do gluten-free meals? And what is the HelloFresh weekly cost?
Today more than ever, a gluten-free diet is becoming increasingly popular. If you're not gluten-free, you certainly know someone who is. Gluten-free labels can also be found almost everywhere.
Cutting gluten from your diet can be life-changing for people with health issues such as coeliac disease, wheat allergy, gluten intolerance, and gluten ataxia. Other people without a specific medical condition have reported benefits such as reduced inflammation, higher energy levels, and a healthier lifestyle by switching to gluten-free.
There are undeniable perks to adopting a gluten-free diet. However, if you're following a specific diet, organising a delicious, well-balanced, and nutritious weekly menu can be hectic. Choosing a gluten-free meal kit delivery service will save you precious time to redirect to the things that matter.
Let's dive deeper into HelloFresh gluten-free meals.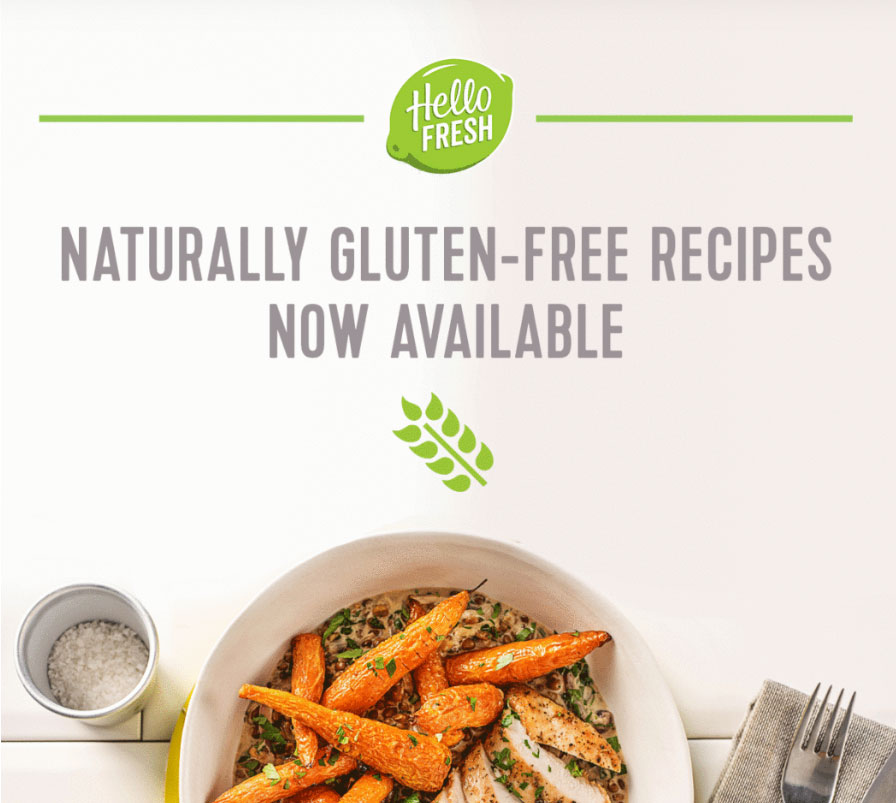 HelloFresh Gluten-Free Recipes - Our Top Picks
We've compiled some of the best HelloFresh meals that are also gluten-free. Keep in mind that the recipes vary from week to week, and therefore the available options may be different.
Lamb Rogan Josh Pilaf with Green Beans, Mango Chutney, and Yoghurt.
Ultimate Cheesy Lamb Shepherd's Pie with Creamy Mash and Butter Glazed Vichy Style Veg.
Orange Glazed Duck with Crushed Potato, Green Beans, and Roasted Tomato.
Red Thai Prawn Curry with Carrot, Red Pepper, and Easy Basmati Rice.
Tandoori Hasselback Chicken with Turmeric Rice, Green Beans, and Red Chilli Yoghurt.
Lime Glazed Halloumi with Charred Corn, Tomato Salsa, and Spiced Rice.
Warm Indian Potato and Roasted Cauliflower with Mango Yoghurt Dressing.
Roasted Duck Breast and Redcurrant Jus with Roasted Garlic Mash and Chantenay Carrots.
Fillet Steak and Creamy Wild Mushroom Sauce with Fondant Potatoes and Cavolo Nero.
Sausages in Mushroom Sauce with Garlic Mash and Roasted Carrots.
How to Choose HelloFresh Gluten-Free Recipes
HelloFresh caters to a range of dietary preferences through six meal plans; mostly meat, veggie, family, quick cook, calorie smart, and pescatarian. While this service does not focus on explicitly gluten-free recipes, you can easily find gluten-free friendly options on the menu.
Before selecting your HelloFresh gluten-free recipes, you'll first need to choose your preferred box. The options are a 2, 3, or 4-person box, which you can fill with 2, 3, 4, or 5 recipes per week. The price of HelloFresh ranges between £3.15 and £5 per serving, depending on the total number of meals ordered. A HelloFresh discount code will help you save significantly on your recipe box.
The HelloFresh menu will have at least 44 recipes each week, which will extensively change every 7 days. Every dish comes with comprehensive details that include a list of allergens, cooking times, calories, and other nutritional information. To find out if a recipe is gluten-free, you only need to click on the recipe and ensure that gluten is not listed as an allergen.
If you find a non-gluten-free recipe that you particularly like, it may still be possible to customise it to fit your diet. Some easy changes you can make are swapping pasta with rice or replacing soy sauce with tamari or coconut aminos.
HelloFresh Gluten Free Recipe Box Alternatives
While there are some HelloFresh gluten-free recipes, the recipe boxes are prepared in shared facilities, which means that cross-contamination is always possible. If you have a severe wheat allergy, or you're just not up to looking through the ingredients list, you should consider other gluten-free recipe kits.
Let's take a look at some HelloFresh alternatives that are better suited to a gluten-free diet. We'll also cover any gluten-free offers you need to be aware of.
Gousto - A Great Gluten Free Alternative to HelloFresh


GOUSTO
65% off first box + 30% off first month
Fresh food & recipes delivered

Unlike HelloFresh, Gousto has a dedicated gluten-free section. Here you'll find over 20 recipes to choose from, which will change from time to time.
Gousto's gluten-free selection is healthy, delicious, and varied. Dishes range from quick 10-minute options – like Spanish Garlic and Chilli King Prawns – to Fine Dine In recipes – like the 21-Day Aged Sirloin with Chunky Chips and Truffle Mayo. Other tasty gluten-free recipes on the site include;
Veggie Shepherd's Pie with Garlicky Greens
Smoky Chicken Skewers with Pepper and Onion Salsa
Chickpea Tikka Masala with Fragrant Rice
You can opt for either a regular or large recipe box at Gousto, with prices starting at £3.14 per serving, but you can get 50% off your first box and a further 20% off your first month with our Gousto refer a friend code. If you're keen on gluten-free meals, Gousto is an excellent alternative to HelloFresh.
Mindful Chef - All Recipes Are Gluten-Free Unlike HelloFresh

MINDFUL CHEF
25% off your first 4 boxes
Healthy eating recipe boxes
Mindful Chef is a haven for healthy and tasty recipes that are also 100% dairy and gluten-free. When you shop from this healthy meal delivery service, you'll not need to sift through the menu as all options presented are gluten-free.
At any time, users can choose from 20 Mindful Chef recipes. The menu items change from week to week, and this keeps your gluten-free meals interesting. Mindful Chef allows you to customise their gluten-free menu further by selecting preferred food groups, cuisines, cooking times, and ratings
You can build your 1-person, 2-person, or family box with flavourful options such as;
Rump Steak with Mustard Mash and Roasted Root Vegetables
Jackfruit Festive Burger with Sage Fries
Venison Haunch with Parsnip and Carrot Dauphinoise.
You can indulge in Mindful Chef gluten-free meals for as low as £4.25 per portion. With their amazing introductory offer, giving you 25% off your first order, the cost per serving is even lower.
Green Chef - More Gluten Free Options than HelloFresh


GREEN CHEF
£77 off your first 4 boxes
Keto, lower carb, balanced, vegan and vegetarian recipe boxes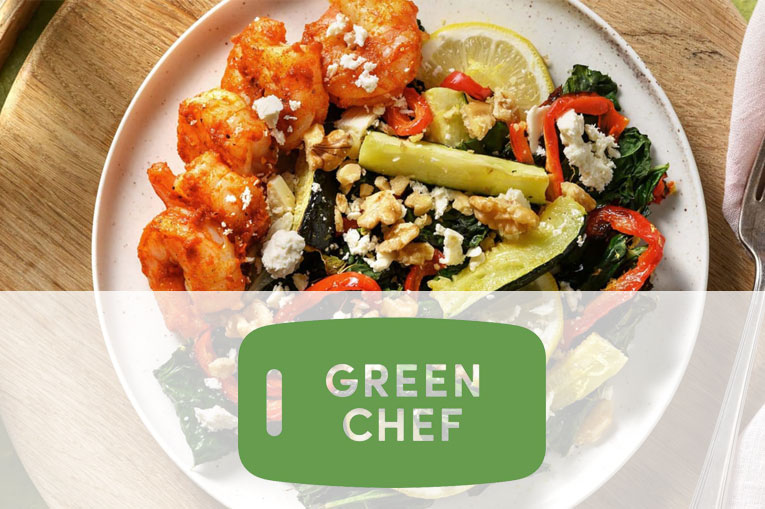 Green Chef has six different diet plans – keto, vegetarian, vegan, pescatarian, flexitarian, and lower carb. They deliver a 2, or 4-person box, with prices per serving starting at £4.94. What's even better, is that you can get 3 meals for 2 people for just £4.99 with our Green chef discount code.
Like HelloFresh, Green Chef is conspicuously lacking a gluten-free filter. To identify compliant meals, you'll need to click on the recipes and ensure that gluten is not listed as an allergen for that particular dish.
You're bound to find several gluten-free dishes from the collection of recipes on the menu each week. Some of the best Green Chef gluten-free recipes are;
Whole Roast Cauliflower in Truffle Sheese Sauce with Thyme Roasted Potatoes and Sprouts.
Pork Steaks in Sage Brown Butter with Cheesy Cauli Mash and Kale.
Ginger and Green Chilli Butternut Squash Dal with Basmati Rice and Cashews.
If you're looking to cook simple gluten-free dishes using quality ingredients that are conveniently delivered to your home, Green Chef may be the service for you. However, its recipe boxes are prepared in shared facilities which increases the risk of cross-contamination.
Riverford Organic - Great For Vegetarians and Gluten-Free Diets


RIVERFORD
£15 off second order + tree planted
Organic veg boxes delivered

Riverford organic is best known for its organic boxes that feature a range of seasonal produce. Users can opt for veg boxes, fruit and veg boxes, salad boxes, fruit boxes, or meat boxes, depending on their preferences. These boxes come in a range of sizes – small, medium, or large – and this helps you get just enough to produce for your needs. Riverford Organic boxes are gluten-free.
Once you've picked a box you can add veg, fruit, meat, dairy, and even a recipe box to your order. If you choose recipes as add-ons, you need to be aware that while some are gluten-free, others are not. You'll therefore need to look through the list of ingredients and allergens to keep your Riverford Organic box gluten-free.
You can currently get £15 credit on your second box by using our Riverford discount code.
Abel & Cole - Fresh Veg, Fruit, and Meat Boxes


ABEL AND COLE
50% off first two fruit and veg boxes
Organic food box delivery

Similar to Riverford Organic, Abel & Cole stands out with their organic fruit and veg boxes and you can get £10 off your first Abel & Cole order. This service is, therefore, ideal for people looking to incorporate more veggies and fruits into their diet.
To get started, you'll need to choose your preferred weekly box. This can be a veg-only box, fruit-only box, mixed fruit and veg box, or a juicing and smoothie box. Once you've tailored your box to your needs, you can add essentials. This includes organic meat and sustainably caught fish, milk, eggs, butter, and greek yoghurt.
Abel & Cole allows you to shop for organic veg and fruits and all your weekly essentials in one convenient place. They are then delivered straight to your door, eliminating grocery shopping hassle.
HelloFresh For Gluten Free - Our Verdict
While HelloFresh lacks a dedicated section for gluten-free recipes, there is no shortage of compliant dishes on the site. You'll, however need to review the allergens list for each meal to ensure that the dish is gluten-free. Once you've filled your box with appealing dishes, the company will deliver your gluten-free recipes to your door, making dinner cooking stress-free.
However, if you have coeliac disease or a severe gluten allergy, we'd recommend trying out HelloFresh gluten-free alternatives. Gousto and Mindful Chef are ideal for users interested in recipe boxes, while Riverford Organic and Abel & Cole are suitable if your diet is veg and fruit intensive.