How to claim your free Protect My Pet discount code
To claim your free Protect My Pet discount code, start by clicking the get discount code icon. Copy your free discount code and proceed to the Protect My Pet website.
Click the subscription box icon and start creating your pet's box.
You can either choose the cat or dog option and click next.
Enter your dog's name, gender, breed, date of birth, weight and proceed to select the flea or worm treatment.
Your order total will be displayed once you complete these details. You can also opt to include treats.
Paste your free discount code in the discount code box, apply and proceed to checkout.
Complete your subscription by entering your shipping and billing information.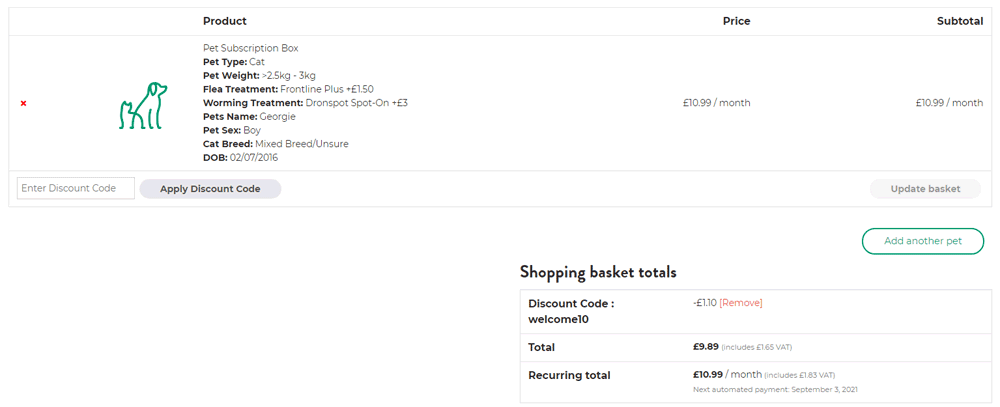 More cats brands similar to Protect My Pet
About Protect My Pet
Protect My Pet is an independent business born after the increased need for flea and worm pet treatments. The company was formed by a small group of pet lovers out of their true passion for pets. The subscription method enables clients to remember when to treat their pets for parasites. And given the high cases of pet parasites annually in the UK, Protect My Pet helps to protect pets from diseases and illnesses. The entire team at Protect My Pet comprises veterinary professionals who want to benefit pets using their extensive knowledge in the field. And with the vet-recommended products and grain-free treats, you get to safeguard the health of your pet while also playing a role in environmental conservation.

Protect My Pet Delivery
Protect My Pet offers free deliveries. The company ships to any address in Northern Ireland and Great Britain. Orders are dispatched within 2 working days and delivered via Royal Mail. Although the delivery time frame is 3 working, allow up to 5 working days. And with the letterbox-friendly packaging, your order can be delivered even if you are not at home.
Protect My Pet Returns Policy
If you have any issues with the Protect My Pet delivery, please reach out to the company's customer service team for speedy assistance via email at help@protect-mypet.com. You can also call 020 4538 1537.
Protect My Pet FAQs
Why is the Protect My Pet subscription vital?
Administering worm or flea treatments can be difficult to remember. The Protect My Pet hassle-free subscription model ensures that you not only remember to administer the treatments but also have the correct dose.
What do Protect My Pet products treat?
Protect My Pet treats external parasites found in cats and dogs including ticks, fleas and lice as well as intestinal worms such as roundworms, whipworms, tapeworms and hookworms.
Are Protect My Pet products safe for my furry friend?
Yes. All Protect My Pet products are safe for use on or in pets. All products are vet-recommended.
What is the minimum subscription period?
Protect My Pet does not have a minimum subscription period. However, you can cancel or pause your subscription at any time.

Why am I receiving different products yet the cost of my subscription does not change?
Protect My Pet sends the flea treatment monthly and the worming treatment every three months. The company spreads these costs equally, ensuring that the monthly costs are equal. However, if you select the flea-only option, you will receive the same flea product monthly. Please note that failure to deworm your pet poses health risks for the pet.
I have not seen fleas on my pet. Is regular flea treatment necessary?
Yes. You need regular flea treatment even if there are no visible fleas on your pet. The flea treatment also kills eggs which are the major cause of flea infestations in homes. Fleas also carry different types of worms such as tapeworm, hence the need for regular treatment.
Are spot-on flea treatments effective?
Yes. The spot-on treatments work by interfering with the central nervous system of the parasites, killing them within 24 hours.
How long should I wait before bathing my pet after applying spot-on flea treatments?
You should wait 48 hours before letting your dog swim or bathing it.
Can I use one dose for my two pets?
No. This will not be effective at eradicating the parasites. Always give each pet the complete dose.
How should I give the Drontal tablet?
For easier consumption, you conceal the Drontal tablet with food. You can also give the tablet whole.
How can I contact Protect My Pet?
You can reach Protect My Pet via email at help@protect-mypet.com or call 020 4538 1537.
Protect My Pet Reviews
Protect My Pet has a 4.8 rating among 774 reviews on Trustpilot. The company offers products that are effective at managing parasites on pets. Also, the customer service is excellent not to forget the fast deliveries. 

Our Protect My Pet referral codes can offer significant savings when making a new purchase.We update our promotional codes frequently, so make sure to check back before making your purchase.
Check out the latest Protect My Pet referral codes to make huge savings. At Newbie Deals, we actively seek out the best offers for our readers to ensure you make significant savings. If Protect My Petv offer a refer a friend program, we'll publish it. If they offer a discount code, we'll show it. If they have an exclusive offer, you got it, we'll bring it to you. By shopping with Newbie Deals and taking advantage of our Protect My Pet referral codes, you can ensure you get the best deal in town.
Why Use a Protect My Pet Referral Code?
Simply put, it can save you money, and who doesn't like making savings? With Newbie Deals, you can save up to 10% on your next Protect My Pet purchase, by simply using our links. When you use our referral codes(or refer a friend scheme) nothing else changes other than the price you pay, it really is as simple as click, buy and save.